Today is the feast day of the Myrrhbearing Women and the day commemorating Joseph and Nicodemus – two Pharisees, two members of the council, who buried the Lord. This is a day celebrating fidelity, inasmuch as these were the only people who remained faithful to the Lord in the first days following the crucifixion. Nicodemus and Joseph believed the word of Jesus, but had previously been afraid to express openly their faith in the coming Kingdom of God. They had come to Him in secret. You will recall how Nicodemus came to Him by night so that his comrades would not see that he was turning to the persecuted Teacher.
Have not many of us also come to the Lord in this way, ashamed and hiding? I still have a picture in my memory of something I saw many years ago. It was far away, in Siberia, on Pascha. It was night, with people standing around the full church. A professor from the institute approached and, like the publican, stood in the back of the crowd, with his collar turned up and his hat pulled down. He crossed himself timidly, looking from side to side. His soul was drawn to the church, but he was scared. And can we judge him? After all, if someone had seen him there he would likely have experienced many bitter moments and difficulties, perhaps losing his job altogether.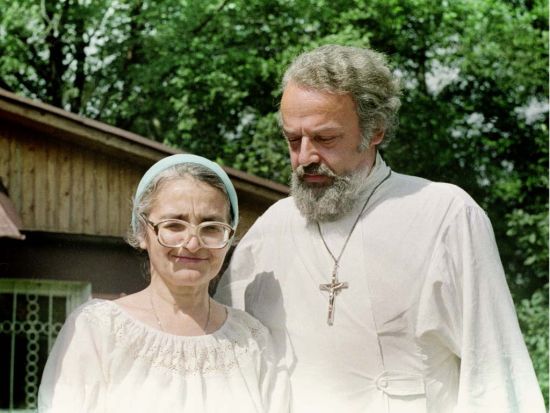 That is the way Nicodemus, too, had to come by night. Joseph of Arimathea, who at times spoke in defense of the Savior against His enemies, was also a secret disciple. They stayed faithful to Him during the most desperate and dire moments – when all the disciples, having forsaken the Lord, had fled. Joseph and Nicodemus, risking their positions, went to Pilate to ask permission to bury the body of the executed Teacher. The bodies of the executed were normally thrown into a common grave, but Pilate gave them permission. As we know, it was Joseph and Nicodemus who carried the Lord's body to the tomb, located in the garden.
Yet the women looked from afar, not daring to come closer – but, for all that, they had been at Golgotha, where few of those close to the Lord had been. The women, about whom we know almost nothing, stood supporting the Virgin Mary by the arms. We know only their names: Mary from Magdala (Mary Magdalene), Joanna (wife of Chuza, Herod's steward), Salome (mother of the Apostles James and John), and several other women from Galilee. They stood on the hill of Golgotha, watching how their Lord and Teacher died. Seeing where His body was laid, they made a vow: when the prohibited Sabbath day had passed – on which nothing could be bought or sold – they would go, buy fragrant oils, and anoint the Lord's body, performing the funeral rite themselves, since Joseph and Nicodemus had performed it in haste before the setting of the sun.
It is amazing that the Lord appeared first to precisely these women, and only later to Peter and the others. All the Evangelists tell us this. True, the Apostle Paul did say that He had appeared first to Peter, but he had in mind the first of the Apostles; he simply did not mention Mary Magdalene. And you know that the women bore the funeral necessities, the "myrrh," for which reason we call them the Myrrhbearers – and they were the first to see Him.
This was the joy of victory and faith, which had manifested itself as fidelity during a bitter and difficult moment. It was easy to be faithful in triumph and joy; it was easy to be faithful to the Lord on the day of His triumphant entry into Jerusalem, when the entire populace met Him with exaltation and praise. But to remain faithful to Him on the day of His shameful death – that was real fidelity.
So it is with our faith: it is not possible without fidelity, for there are different circumstances in life, different conditions of soul and body. When you are depressed, sick, and suffering; when you have gone to pieces and your heart is full of bitterness and you feel wronged by all of life – if then you remain faithful to the Lord, that is true faith.
Today we also glorify all women saints, because this is a blessed day for every Christian woman. Look at their entire assembly: here were mothers, and wives, and brides, and virginal nuns, and queens, and unknown pilgrims, and fools-for-Christ – women could, and can, serve the Church of Christ in various ways, for they are called to serve God through the Mother of God, who is more honorable than the Cherubim.
When the Lord was with Martha and Mary, He said that one does not need to engage only in housework and cooking, that one does not need to stay only in the kitchen. He said that Mary had chosen the good part – she had listened to His word. They had all listened to His word: the women martyrs, who laid down their lives for faith; the queens, such as Helen the Equal-to-the-Apostles and Princess Olga, who themselves converted and then contributed to the conversion of their citizens; and good mothers with a heap of children, like St. Juliana of Lazarevo, a wonderfully kind person who saved the hungry from death and who, during difficult years in ancient Rus', was mother for many, many people.
Not along ago we glorified the Blessed Xenia, who is not so well known in Moscow, being more honored in Leningrad, where there is a chapel in her name. I myself have seen how many people go there, thanking St. Xenia for healings. There are testimonies of how healing has occurred right on the spot. Here is a trustworthy example: a lame woman came who was taken around the chapel three times, and then the fourth time she walked on her own legs. This case is by no means unique.
Christian women have always served, and serve, the Lord. Not long ago a few nuns from India came here, to this church, that are forming a charitable order, a sisterhood of mercy. What do these girls, women, and old women possess? Their entire belongings consist of a mattress, a pail in which they put their toiletries, and white clothes – an Indian sari in which they go everywhere – and nothing more. Only the essentials. They save all the strength and love of their hearts for the unfortunate, sick, dying, and the victims of various calamities. There is no place on earth where these sisters of mercy have not gone when a misfortune has taken place. They are headed by Nun Teresa – Tarasia, in our language – an old woman from Albania who has devoted her entire life to the unfortunate, first in India and then in other countries.
Here we also honor the memory of Nun Maria, who lived in Paris, in the emigration. She perished in a German concentration camp just for saving people from persecution by the fascists. These women are heroines, saints of our time. In referring to them, I wish simply to demonstrate that the great ministry of women is not something of venerable antiquity, but something of the present day, something that is accessible to us, to you women. Today we congratulate you all – mothers, grandmothers, wives, sisters, daughters – with the shared name-day of Christian women, that the Lord might bless and strengthen you in your ministry to the Spirit and Truth of the Gospel.
Translated from the Russian.