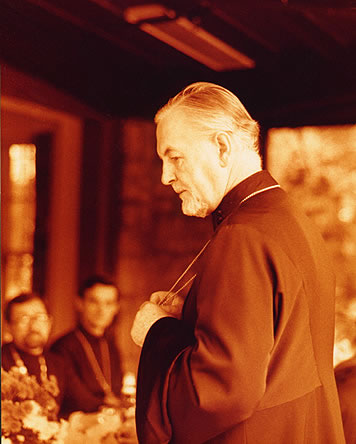 There is a long-standing custom that on New Year's, when the clock strikes midnight, people make a wish, turning with a dream to the unknown future, awaiting something needed and cherished.
Now it is New Year's again. What do we wish for ourselves, for others, for each and everyone? Where is our hope directed?
It is directed to one undying word: happiness. "To the New Year, to new happiness!" This happiness is addressed to each of us personally and individually. But the very faith that there may be happiness, that it can be expected and hoped for – this is a common faith. But when is a person truly happy?
Now, after centuries of experience and after everything we know about man, we can no longer equate happiness with any single outward thing – money, health, success – that we know does not coincide with that ever mysterious, ever elusive notion of happiness.
Yes, it is clear that physical contentment is happiness, but not complete happiness. That money is happiness, but also misery. That success is happiness, but also fear. It is striking that the greater the outward happiness, the more fragile it is, the greater the fear of losing it, of not holding on to it, of missing it. Perhaps this is why at midnight on New Year's we speak of new happiness, since the "old" happiness has never really been attained, that there is always something missing from it. And then once again we advance entreatingly, looking ahead with our dreams and hopes…
My God, how long ago were the words of the Gospel spoken about the man who grew rich, who built new barns for his crops, and who decided that he had everything, that he had every guarantee of success! He relaxed. And then that very night he heard: Thou fool, this night thy soul shall be required of thee: then whose shall those things be, which thou hast provided? [Luke 12:20].
Of course, it is this latent knowledge that nothing will last, that everything will come apart and reach an end, that poisons our small and limited happiness.
This is probably how the custom arose that on New Year's, when the clock begins to strike midnight, people clamor and shout, filling the world with racket and noise. This comes from the fear of hearing the striking of the clock – that implacable voice of fate – in quiet and solitude. One stroke, then a second, and a third – how implacable, precise, and terrible it is all the way to the end. Nothing changes, nothing stops.
So here are the two genuinely profound and ineradicable poles of human consciousness: fear and happiness, horror and dreaming. The new happiness about which we dream at New Year's is one that would wholly pacify, dissolve, and overcome fear. A happiness that would be without that terror nesting somewhere in the depths of our consciousness – from which we always protect ourselves with wine, cares, and noise – and whose quiet would overcome any noise.
"Thou fool!" Yes, in fact, our undying dream of happiness in this world stricken by fear and death is foolish. And man, at the summit of his culture, knows this. What mournful truthfulness and sadness there are in the words of the life-loving Pushkin: "There is no joy on earth"! [1] What great sadness pervades all genuine art! It is only there, down below, that the crowd roars and bellows, thinking that happiness comes from noise and turbid merriment.
No, happiness comes only when one peers at life truthfully, courageously, and profoundly; when one removes its veil of lies and self-deception; when one looks into the face of fear; and when one finally learns that happiness – authentic, solid, undying happiness – is in the encounter with Truth and Love, with that which is infinitely lofty and pure, with that which man has called, and continues to call, God.
In Him was life; and the life was the light of men. And the light shineth in darkness; and the darkness comprehended it not [John 1:4-5]. This means: do not be engulfed by fear and terror; do not become dissolved in sorrow and despair.
O, if only people in their vain thirst for momentary happiness would find in themselves the strength to stop, think, and look into the depths of their lives! If only they would hear what manner of words, what manner of voice, is addressing them in these depths! If only they knew what genuine happiness was!
And your joy no man taketh from you [John 16:22]. But is it really about this kind of joy, the joy that cannot be taken away, that we dream as the clock strikes? But how rarely we arrive at such depths! How we somehow fear it and keep putting it off: I will not take up that which is central and eternal today, but tomorrow or the day after. Not today. There is still time. But there is so little time! Just a little more, and the clock will cross that fatal line. Why then put it off?
Someone is standing here beside us: Behold, I stand at the door, and knock [Revelation 3:20]. And if we were not afraid to look at Him, we would see such light, such joy, and such fullness that we would most likely understand the meaning of that elusive and mysterious word: "happiness."
Translator's note:  
[1] A line from a poem of 1834 by Alexander Pushkin (as translated by Julian Henry Lowenfeld):
It's time, my friend, it's time! For peace the heart is calling.
Day flies by after day, and every hour is tolling
A bit of being away: together you and I
Suppose that we will live – but see! Just then – we die. 
There is no joy on earth, but there is peace and freedom:
Long time of enviable fate I have been dreaming,
Long time, I, tired slave, have dreamed of secret flight
Unto a distant shrine of toil and pure delight.
Source: Translated from the Russian
You might also like:
Protopresbyter Alexander Schmemann, The New Year: The Mystery of Time
Patriarch Kirill of Moscow and All Russia, Beginning of the New Year with Trust in God
Sermon on His Holiness, Patriarch Kirill of Moscow and All Russia, On the New Year
Metropolitan Anthony of Sourozh, At the Gate of the Year