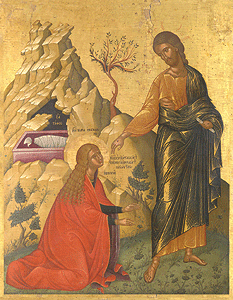 Today we should give thought to one important thing that not everyone remarks upon when turning to Holy Scripture, when reading about those bright days during which the Lord appeared after His Resurrection. He appeared to many, and to each person differently. In one circumstance it was the weeping Mary Magdalene, lonely and grieving at the empty tomb; in another it was Peter, bewildered and confused, having returned from the garden where He had found the stone rolled away from the tomb. Then we see the disciples on the sea. John senses Him in his heart and recognizes Him, while Peter throws himself into the sea and hurries to Him. And, as we read in the epistles of the Apostle Paul, among the last to whom the Lord appeared was he, Paul-Saul, who had persecuted the Church of God.
This continues even now. Christ, risen invisibly, appears tangibly to each person. In the lives of each of us who has felt the proximity of other worlds if only for a moment, a meeting with the Risen Lord is accomplished; He comes to each person, knocking at the door of his heart, finding words for each. It is our task to listen, our task to respond to this knocking, for the Lord has come to save, spiritualize, and transform the lives not just of everyone, but of each one of us.
Therefore today, on this Paschal day, let each of you, returning home, carry in his heart this joy and the thought that the Lord has appeared to me, too. He is risen for me, and speaks for me, and remains with me, and will forever be as my Lord, as my Savior, as my God. May the Lord protect you!
Christ is Risen!
Translated from the Russian.