At that time, Jesus taketh Peter, James, and John his brother, and bringeth them up into an high mountain apart, and was transfigured before them: and His face did shine as the sun, and His raiment was white as the light. And, behold, there appeared unto them Moses and Elias talking with Him. Then answered Peter, and said unto Jesus, "Lord, it is good for us to be here: if Thou wilt, let us make here three tabernacles: one for Thee, and one for Moses, and one for Elias." While he yet spake, behold, a bright cloud overshadowed them: and behold a voice out of the cloud, which said, "This is My beloved Son, in Whom I am well pleased; hear ye Him." And when the disciples heard it, they fell on their face, and were sore afraid. And Jesus came and touched them, and said, "Arise, and be not afraid." And when they had lifted up their eyes, they saw no man, save Jesus only. And as they came down from the mountain, Jesus charged them, saying, "Tell the vision to no man, until the Son of Man be risen again from the dead" (Luke 9:28-36).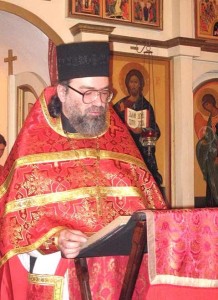 Today's feast day, dear brothers and sisters, offers us much food for thought. I would like to mention the following characteristic of the Gospel event now being commemorated. Disclosing to us His heavenly glory to the extent that we can perceive it on earth, Christ was revealed to Moses and Elias on Mount Tabor. The liturgical texts uncover for us one meaning of God's encounter with two of the greatest Prophets of the Old Testament: "Since Thou art the Master of Heaven, and the King of the earth, O Christ, before Thee stood the Apostles, who were of the earth, Elias the Thesbite, as it were from Heaven, and Moses from among the dead; and with one voice they sang: Supremely exalt Christ, O ye people, unto all the ages" (Canon, Ode Eight).
There was also something very personal in Christ's standing before precisely Moses and Elias, indicated by the festal Old Testament readings that were read yesterday at the Vigil. The Book of Exodus tells of how Moses cried out to the Lord: If then I have found grace in Thy sight, I pray: reveal Thyself to me, that I may evidently see Thee… Show me Thy glory. And the Lord answered Moses: Thou shalt not be able to see My face; for no man shall see My face, and live. And the Lord said: Behold, there is a place by Me, stand thou upon the rock; and when My glory shall pass by, then I will put thee into a cleft of the rock; and I will cover thee over with My hand, until I shall have passed by. And I will remove My hand, and then shalt thou see My back parts; but My face shall not appear to thee (Exodus 33).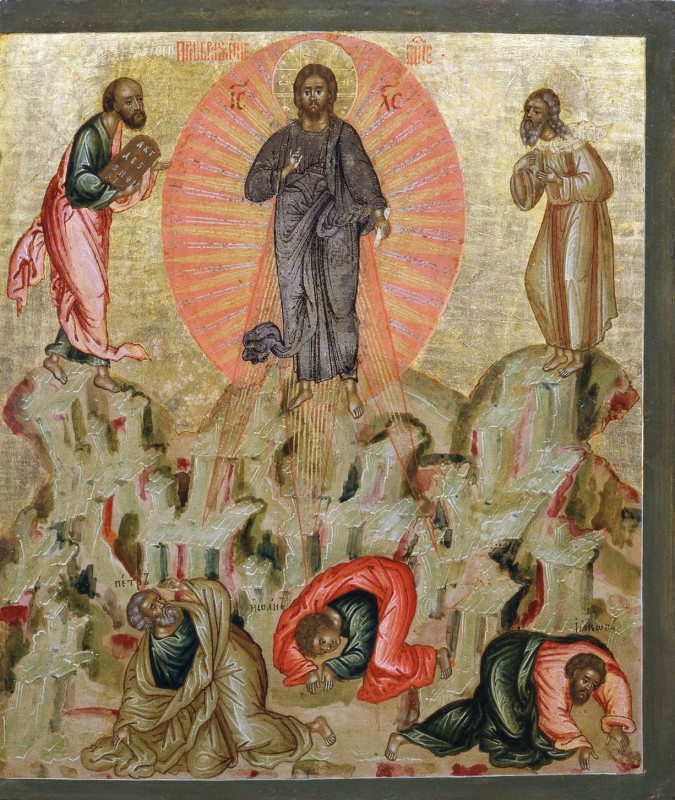 The Third Book of Kings tells of the Prophet Elias, who was zealous for the Lord God of Sabaoth. The Lord said to him: Thou shalt go forth, and shalt stand before the Lord in the mount, and behold, the Lord will pass by. And, behold, a great and strong wind rending the mountains, and crushing the rocks before the Lord; but the Lord was not in the wind; and after the wind an earthquake; but the Lord was not in the earthquake; and after the earthquake a fire; but the Lord was not in the fire; and after the fire the voice of a gentle breeze; and the Lord was there. Hearing this, Elias wrapped his face in his mantle (3 Kings 19).
Of course, Moses' and Elias' request and desire to see God came from some essential depths of the spiritual life, because one does not simply say to God: reveal Thyself to me, show Thyself to me. It is not possible to make this request of God from idle curiosity; it is born of the heart only when one wants with all one's strength to transform one's self and one's life so that God alone, and nothing but Him, would live and act in it. The fact that the Lord responded to such a request speaks to exactly this.
The Old Testament bears witness that God did not show Himself to either Moses or Elias, but only allowed Himself to be glimpsed, veiling their perception with His Right Hand. But the desire of Moses and Elias did not go unrealized. Moses had already departed into the land of the dead, Elias had been mysteriously taken up from the earth, and many thousands of years had passed – but their desire to see God was fulfilled in whole. On Mount Tabor, Moses and Elias beheld God face to face, while Christ's disciples could not look at it and fell to the ground in terror.
This is a great consolation and edification for us from God. Even when we ask for something from God with all our soul and with all our heart, the Lord does not fulfill it for certain reasons that are unknown to us. But all the same, our good wishes will necessarily be fulfilled – if not in this life, then in the future life. In this lies the very important and profound substance of the Gospel: nothing good in man is lost; any of his desires addressed to God will be fulfilled. We should always trust in this with faith and joy, especially when we find ourselves in grave circumstances: for instance, when one suffers a prolonged inner temptation.
It happens that we pray to God for years, but everything remains the same, as if God does not hear us. We should then remember Christ's Transfiguration and the Prophets Moses and Elias, who asked God for something inconceivable and lofty – and received from Him what they had asked, although after a great deal of time had passed. But with God there is no time; and, for Christians who partake of His evangelical life and the Holy Mysteries, time has no meaning. When we live in God through faith, He transfigures our life, eases our sorrows, and will certainly fulfill all desires emanating from a believing heart. Amen.
Translated from the Russian.