An Interview with Igumen Peter (Meshcherinov)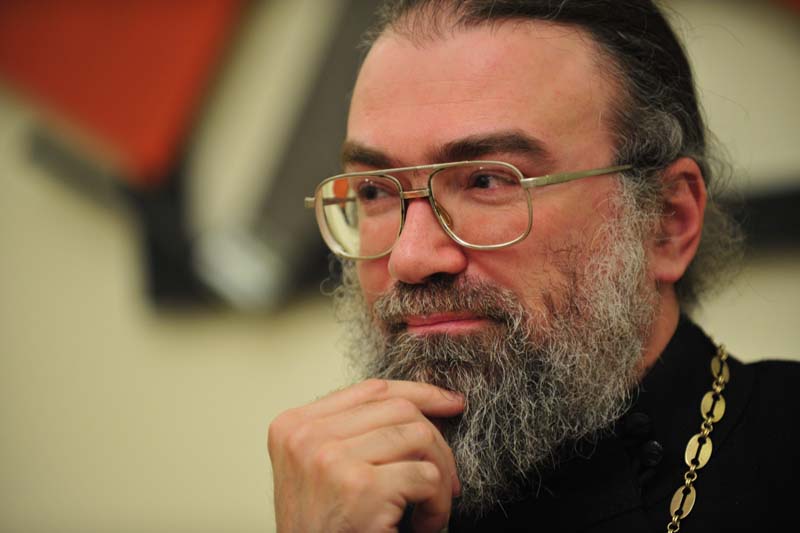 Question: The circumstances in which Christ was born were, from a worldly point of view, dreadful. No accommodations were found for His Mother, let alone a midwife. The child was born in winter in a cave with animals – equivalent to being born today in an unheated basement with cats. Why did God allow such extremes for His new-born Son? Is there some hidden meaning in this? After all, even the average birth in such conditions is not as dramatic.

Igumen Peter: Every Nativity, after the night Liturgy in our tiny village church, I go to the cow barn. It smells bad, it's hot and dirty, and the mindless cows stand and chew their cud… it was in such completely unromantic conditions (and not in a puppet-like "manger," sleek and glossy) that Christ was born. No place was found for the pregnant young woman in the inn, so she had to go to a barn to give birth.
You ask whether there is some hidden meaning here.
In Christianity, there is nothing hidden; everything is obvious. But of course there is meaning, clear and very rich meaning.
In one of the hymns of Nativity it says:
Heaven, calling the Magi by a star, brought the first fruits of the nations to Thee, an Infant lying in a manger; scepters and thrones did not astonish them, but utter poverty; for what is meaner than a cave, what humbler than swaddling clothes? In which there shone forth the wealth of Thy Divinity. O Lord glory be to Thee! (Hypakoe, 3rd Ode)
The fallen world has its own values: "scepters and thrones"; the majority of people lives according to these values, according to the elements of this world. Christ emphatically rejects these values. He, from the very beginning of His life on earth, acts contrary to that which the world values: he becomes the son not of an Emperor, but of a carpenter; He is born not in a palace or even, as you said, in average conditions, but in a barn of all places, in "dire poverty." And the people who come to Him are not those whom the world considers notable, important, respectable, or authoritative. In modern language: neither presidents nor ministers; neither film directors nor church hierarchs; neither security forces nor actors; neither businessmen nor athletes; neither pop and rock singers nor priests. Those who come to worship the newborn Savior are pagan wise men – from who knows where – and simple shepherds. Here, too, there's nothing romantic: imagine strange modern people searching for the truth in some sort of Himalayas; whereas ancient shepherds and herders I can imagine very well.
And this is the very first good tiding that our Lord gives us. What joy and freedom there is in this! All that the world considers great, significant, and valuable is of absolutely no significance before God – and this is the best case scenario; the Gospel is much harsher: that which is highly esteemed amongst men is abomination in the sight of God (Luke 16:15). What happiness it is to learn that God needs neither position, nor status, nor fortune, nor honor, nor rank – but only you, whoever you are! And not only to learn this, but to be convinced of it in deed, to see with one's own eyes: God lying in a barn! They found no place for Him in the inn.
And we shouldn't delude ourselves. There isn't any place for Him in the world now, either. Even now, this terrible situation, as you characterized it in your question, is more than relevant; in fact, it's relevant above all for us, Orthodox Christians. In the very event of the Nativity, there is a strong and painful question for every Christian, and for the entire Church: Where are you? Where are all of us?
Are we in the same inn of this world, which Mary and the Child pass by because there is no room?
Or are we in the barn with the Savior and the most unexpected people: heathen and commoners? Here one of the most dangerous temptations for the Orthodox is on display: a temptation that we, in my opinion, are experiencing at the present time. In the heads and hearts of quite a few Orthodox there is a certain "backlash" following the period of persecution, which says that the Orthodox should have authority, power, wealth, importance, influence, and prestige. It almost isn't noticed that all this is very ambiguous and dangerous; it's like a thin boundary beyond which church life begins to follow the elements of this world! So when an Orthodox Christian begins to occupy himself with his importance, wealth, influence, and prestige, then he absolutely needs to run as quickly as possible into a poor barn, have a look, and remind himself: it is here, in the feeding trough, that there is the only power of faith, its only authority, power, riches, influence, and prestige. And, I think, it was so that we'd never forget this that God allowed His Son to be born in such an extreme situation.
Question: How can we meet the Nativity in such a way that our souls are light and joyful from knowledge of the fact that we have spent the feast properly? Can a believing person give himself over to the generally cheerful and carefree atmosphere that reigns in the New Year-Nativity period? For example, ranks of saints were never cheerful, despite the fact that St. Serphim of Sarov called upon everyone to rejoice.

Igumen Peter: The cheerlessness of these ranks of saints had its basis. Holy Scripture has dreadful things to say about feast days in general. The Lord, through the Prophet Amos, said:
I hate, I despise your feast days, and I will not smell in your solemn assemblies. Though ye offer me burnt offerings and your meat offerings, I will not accept them: neither will I regard the peace offering of your fat beasts. Take thou away from Me the noise of thy songs: for I will not hear the melody of thy viols (Amos 5:22-23).
And:
Your new moons and your appointed feasts My soul hateth: they are a trouble unto Me, I am weary to bear them. And when ye spread forth your hands, I will hide My eyes from you: yea, when ye make many prayers, I will not hear: your hands are full of blood (Isaiah 1:14-15).
The majority of Orthodox will say: "What?! This isn't about us." We are celebrating the Nativity in the flesh of our Lord and God and Savior, born in the holy manger! This is about Herod, about Pharisees, about Jews, and in the end about those who didn't make room in the inn – it's their hands that are full of blood! But we're completely different! We endured a forty-day fast, we stood through all the pre-festal services, we listened to all the Old Testament readings, we didn't eat anything until the first star appeared, and so on.
Alas, it is about us! Let's give more citations from the Prophets. What is pleasing to the Lord? How can we celebrate His feast days properly?
But let judgement run down as waters, and righteousness as a mighty stream (Amos 5:24).
Wash ye, make you clean, put away the evil of your doings from before My eyes, cease to do evil, learn to do well, seek judgement, relieve the oppressed, judge the fatherless, plead for the widow. Come now, and let us reason together, saith the Lord: though your sins be as scarlet, they shall be white as snow; though they be red like crimson, they shall be as wool. If ye be willing and obedient, ye shall eat the good of the land. But if ye refuse and rebel, ye shall be devoured with the sword: for the mouth of the Lord hath spoken it (Isaiah 1:16-20).  
I'd like to recall an extremely important episode from the life of the Holy Apostle Paul. Parting with the presbyters of Ephesus, he gave them essentially one instruction: It is more blessed to give than to receive (Acts 20:35). We return to what I said above. If Orthodox Christians will indeed strive to support the weak, to defend the oppressed – whoever may be oppressing them – then our souls will be bright and joyful from knowledge of the fact that the feast day was "spent properly," that it was pleasing to God. But if we'll be silent, if we'll live in some sort of Eastern ashram from which the magi came, and not notice what's going on around us; if we don't judge rightly – that is, by the standards of the Gospel – not just Western godless liberalism, but our own domestic anti-Christianity and inhuman tyranny and lawlessness, all the while celebrating the fact that we don't have that here – then it seems to me that this won't be approved by either the Prophets, or the Apostles, or the Lord Himself.
As far as the joy to which St. Seraphim calls us is concerned: this joy isn't from any kind of lush celebration or any kind of "prestige." This is joy from the fact that the Lord, Who was born in poverty, is with us (if, of course, we strive to live according to His commandments), even in the saddest and darkest circumstances, and that the gates of hell will not prevail against His Church.
Interview conducted by Natalia Smirnova.
Translated from the Russian
Interview by Natalia Smirnova