Maria, can you say a few words about yourself?
I was born in Greece, but my parents took me to the USA when I was five. But they didn't really like America, so we went back to Greece. Then to America again because everything had changed in Greece. As a teenager I lived in Denver, CO and went to college in Boston, MA. The only reason my parents, who were very strict, let me go there was because it was a Greek place. And to them, everything Greek was good. They lived in a Greek world and were too scared to be American. Whereas I chose to attend Hellenic College, the only fully accredited undergraduate Orthodox Seminary and Liberal Arts college in America, because I really wanted to serve the Lord, and I wanted to do something to serve my Church.
My future husband, David Khoury, the only non-Greek boy at that college, had come to study there from the Palestinian village Taybeh because he had a cousin there and because, in their family, they have a tradition where somebody serves the Church in each generation. Because of his deep love for business he never became a priest, but he ended up serving the community in a different way, as Mayor of Taybeh.
What made you and your husband decide to move to Palestine?
One of the reasons was, my husband wanted to raise family-oriented children and I believed in my husbands' concept of raising them with family, close to their relatives. His father was pushing him and his brother to return to Palestine – he didn't want to lose his sons to the West as so many other Palestinian fathers had. So, when on September 1993, the Israelis and Palestinians signed the Oslo peace agreement, we thought freedom had come.
Also, my husband and his brother Nadim wanted to help build this country, this state of Palestine. They wanted to help create jobs for people and that's how they came up with the idea of opening a German-style microbrewery. They realized that no one was making natural beer in Palestine, though in Egypt, in Syria, in Jordan, and in Lebanon there was a beer. And, after twenty years in the United States my husband thought that as part of building a national identity a country needed its own beer as well as its own sports team.
Making beer was my brother-in-law's hobby. We decided to make a living out of it, opened our microbrewery in Taybeh and started making this high-quality premium beer. Later on, Nadim realized that Palestine did not have a boutique wine either. So, he started dreaming of making a very fine boutique wine. And, in 2013, he crushed grapes for the first time, and now we're trying to make very fine wine as well.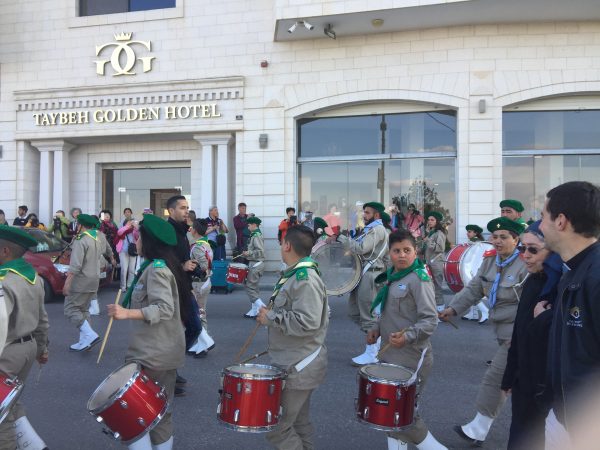 Then, finally, we opened the Taybeh Golden Hotel, which had been my husband's dream. He wanted to inspire people to see this all-Christian village, to see the countryside, to see what rural life in Palestine, because the hotel gives people the comforts that they're used to. We actually make the winery at the ground level of this hotel.
I came out here on my own in 1995, when my brother-in-law started the brewery, having been offered a job as Principle at the Friends' Boys School in Ramallah, while my husband stayed in Boston. We were watching the situation and the business improve until the summer of 2000, when my husband thought that finally everything was fine. The brewery could provide for our two families with the sales getting better and better.
But in September, 2000 all hell broke loose. But, despite the great violence and the uprising and the kids not having school for twenty-one days, my husband refused to go back to the US. He had totally invested his time, money, and soul. I packed my bags saying I couldn't live like that, in outright war, with planes going over our heads to bomb Arafat's place. But my husband refused to leave and I couldn't leave him in the war. So, we stayed, while everyone else left, all the families that came after the Oslo agreement to start hotels, and clinics, and factories went back to Australia, to Great Britain. We're one of the very few families who stayed.
Can you describe the current situation in Palestine?
Before the Oslo Peace Agreement, it was like a psychological prison because of the check points, because of the occupation. Then the separation wall was built, and now, it's like a physical prison. Inside the wall, there's checkpoints everywhere. Though you're going from Palestine to Palestine, there's still hundreds of checkpoints all round us within the walls.
Then, there's the violence. I live in a little village an hour and a half from Gaza, so the shooting, the flames, and the violence are not in front of my face daily, but it's like a psychological, emotional violence. Because we're under military occupation, it never goes away, but at least it's not in the face.
Then, things can change completely in a second. We never know how to plan a day. For example, on Monday, the French National Day, I walked into the Old City of Jerusalem, and everything was calm and peaceful, but by the time I was ready to go home, it was World War III outside, there were thousands of soldiers everywhere, thousands of policemen, thousands of guards with dogs. Then there were Muslim worshippers that they were not letting to go into the Al-Aqsa to pray. There was gunfire everywhere. It was the perfect example of how things can turn around here.
This total violence comes and goes, comes and goes. It's normal for us to drive and for people to shoot behind us. And it's totally not normal to others. It's normal for us to get to our house and see a soldier in front of our house holding an M-16 who doesn't let us get to the house.
There's a terrible water shortage. I can't turn on the water unless it's running everywhere. We wait for the water to be running to turn on our washing machines, the dishwashers, to water the plants. It's very frustrating, because there's settlements all around us that get water 24/7 without questions asked. Israel controls all the borders, all the roads, all the natural resources. There's a shortage of water, so, that's why it's the Palestinian villages that are the last to get water.
Israel wants to get rid of Palestinian people. They don't know what to do with the Palestinians, they want a pure race, a Jewish homeland. It could be a Jewish homeland, but there could still be freedom, and you could have basic human rights for all people…
Can you say a few words about humanitarian projects?
I started working on the Housing Project when I lost my job training teachers in the Roman Catholic School after the Second Intifada.  In order not to go crazy, I began to volunteer my time to the church. This housing project was already there. It had been my father-in-law's idea. He was instrumental in getting the land from the Greek Patriarchate to build affordable homes to help families to stay in this area.
They had been writing to friends in America for two years asking to help with this project, but no one would even answer their letters. I offered to help with that because I was travelling to America promoting my book. It was a dollar for dollar campaign – a little over two hundred thousand was raised. The money has helped twenty-four families to build twelve duplexes. The families themselves are in charge of finishing the houses off, putting in the kitchens and the bathrooms, with us just putting the skeletons of the house in.
I finished with this project because it was just too difficult to raise enough money to build homes and started on another project, the Education Project. That year so many people in the village needed help with tuition. So, we started off helping one or two kids in 2000, but families kept begging me for help to pay for education. So, we started this Taybeh Education Fund – the idea was to help families, so families would stay here.
It's a way to practice the Gospel, a way to share love, because God has given me a roof over my head. This is why people leave this place, because they have no home. So, I felt that, as my kids were blessed – we paid for them to go to college, paying for other people to go to college was a way to return my blessings.
And now, I have sixteen kids at the Greek Orthodox School whom I hope to get through college. I don't take on any new kids, because I don't know how to come up with the money.
Maria, you've written several books for children – how did you start writing?
The first book I wrote was for my kids. When they were little I used to read to them every day from the Bible, something about science, something in Greek. Everything I read taught them something about life, but there were no Orthodox books on the library shelves in Boston. And I wanted to explain to them why we light candles in church, why we kiss the priest's hand, why we receive Holy Communion, why we listen to the Gospel. So, I wrote the little story of why this and why that, which is "Christina Goes to Church."
I wanted to teach my kids to be close to Christ. I wanted to give them something that would carry them for life and make them stronger in their faith. Something that would help them put Christ first in their life. That's how "Christina Learns About the Sacraments" and "Christina's Favourite Saints" came about. I thought there would be other mothers that would want to read to their kids about Orthodox life.
What inspired "Christina Goes to the Holy Land"?
We were already living in Palestine then. I was stuck under a curfew and was trying to find something non-violent and peaceful to do. The book tries to walk the footsteps of Christ, to go where Jesus was born, where Jesus performed the first miracle, where Jesus was baptized. It tries to say that people can be enriched by seeing the places where our Lord walked, places that were made holy by Christ Himself. This little book is my small effort to encourage others to come and experience the spiritual beauty here. It's part of promoting the Christian witness here.
What keeps you and your husband in Palestine?
My husband thinks he sees a light at the end of the tunnel. I don't know where he gets this hope from with the whole world coming down on us and pushing us down economically, socially, and financially. Yet he still wakes up happy every day believing people are going to toast to freedom with his Taybeh beer…
As for me, I had been looking for a way to serve my Church and, I think, maybe God sent me here, because there was some work here serving Christ. Had I not moved to the Holy Land, I would never have been involved in some of the projects that I'm involved with here. My husband has such a love for this land and he instilled it in us as well. It's the place that Christ walked, it's the only thing that keeps me going. I find my hope in Christ I wake up and thank God that I woke up to another day next to my husband of thirty-eight years and I try to just get by every day.
How can Christians everywhere assist people in Palestine?            
Well, mostly what people can do is just pray, pray, pray. With prayer people are able to do social action where they let others know that not all Palestinians are terrorists. At our hotel, which by the way is the only Christian hotel left in Palestine, we're trying to promote our history, culture, heritage. We hold an annual Oktoberfest celebration with music and dancing, selling local produce (soap, honey, embroidery). We try to bring several pieces of art from local artists each year to our hotel to introduce them to our guests.
We want to show the world that we are a people, too. A nation its own with filmmakers, philosophers, and artists, even though it's very hard to remain peaceful when people are cheated from their basic human rights.
It really helps when people are not scared to come and stay here. It is relatively safe. Pilgrimages still take place. They boost our economy and help us by praying for peace and stability and spreading awareness that we are a people deserving freedom like all the other nations around the world. And of course, it enriches peoples' lives to see the place where the Lord resurrected.
The miracle of the Holy Fire is still here. And this is something that still keeps our little Christian community strong. Even if it remains a small Christian community, there will still be Christian witness in the very land where Christ was born. The land, from which the message of salvation goes to the world to this day. The eternally important message of salvation that Christ was born to save humanity, to save our souls.
So, for those not afraid to come here and be enriched by it, a pilgrimage to the Holy Land can only make you strong in your life and your faith. It can help you to go back to your country and live the life Christ gave us the choice to live.