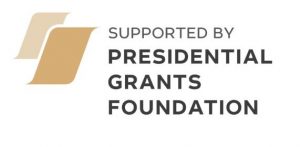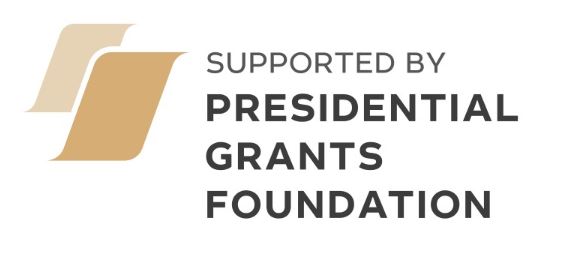 In Chelyabinsk, 29-year-old Valentina Gulitsyna founded a shelter for homeless people with disabilities. Now they live in a small private house on the outskirts of the city and still do not believe that no one will take their pension away from them and force them to beg. Valentina says her wards can stay at the shelter for free. The main thing is to follow a couple of simple rules: do not drink alcohol and to help each other.
We meet 49-year-old Alexander in the yard. He holds a chainsaw in his hands and, as if apologizing, waves it towards the old bathhouse. The half-abandoned log house is in the spotlight today: Valentina spent her last money on a new stove with a boiler, which means that soon a full-fledged washing place will appear in the shelter.
Alexander assures that he will finalize the bath in the very near future. He is the only beneficiary of the shelter without disabilities. This is a strong, handy man who just has nowhere to live. The reason for this state of affairs is literally written on his hand. There is a tattoo: "Tonya, I love you."
"Do you communicate with Tonya?" I ask Alexander.
"Well, yes, we do. She is my wife", Alexander answers, and then adds. "My ex-wife."
Alexander said that his troubles began, among other things, because of Tonya, who registered in their common house, while he did not register. After that there was a series of failures, the collapse of the family, theft of documents in a suburban train and, as a final, he found himself on the street. However, Sasha quickly rehabilitated himself: he already got a job as an electrician and lives in a shelter not because of extreme need, but because he wants to help: there are a lot of things to do there.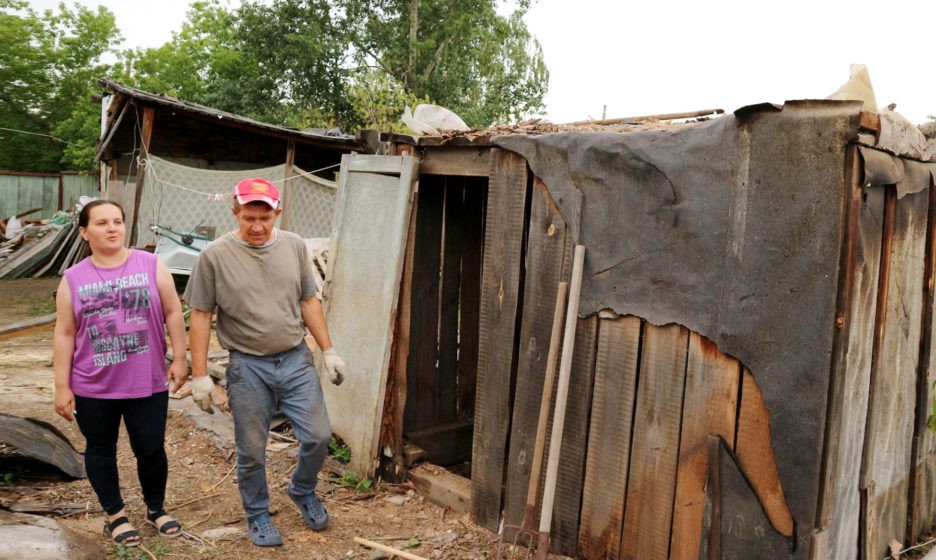 "The police brought me here", Sasha admitted.
"How did the police know about this shelter?" I'm interested. At this time, Valentina joins the conversation. She explains:
"I told the police about myself intentionally. When we rented this house, I immediately went to the station. I found a patrol and told them to send homeless people who wanted to get better to my house and left my phone number. So, the police called, and Sasha arrived."
In addition to Sasha, there are seven other men in Valentina Gulitsyna's shelter. Each of them has a disability, therefore, in order to live normally, the inhabitants of the shelter should help each other. People without legs take the blind man to the toilet, everyone takes turns cooking soup, taking care of the animals as much as possible (in Valentina's shelter there is a small farm: Yasha the goat, two goats, chickens and geese). And most importantly, they support each other morally.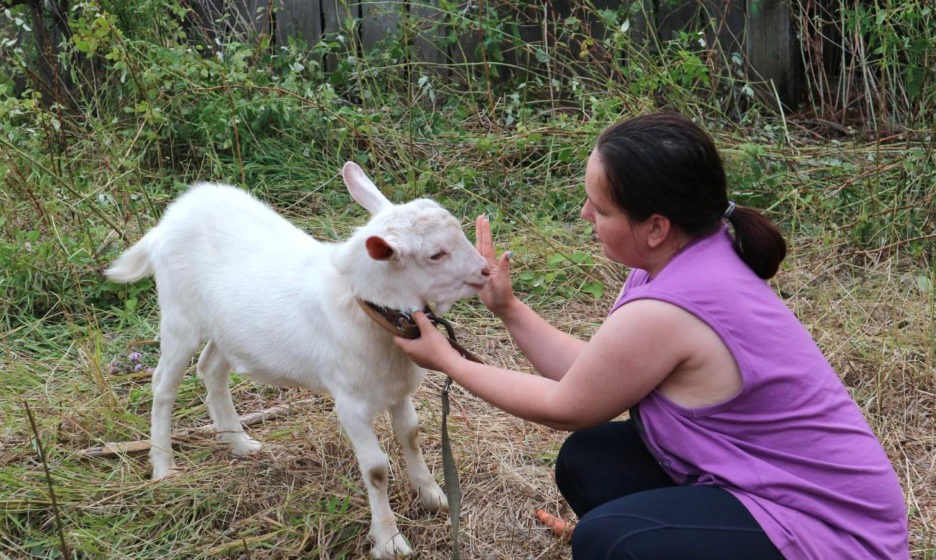 Valentina: "I Spent Nights in Entryways and Ate Leftovers"
It was thanks to the homeless when being a child Valya realized that she needed to help people. When she was 8 years old, she was forced to run away from home: a drunken stepfather regularly beat the girl, and once, by some miracle, she got from the town of Kartaly in the south of the Chelyabinsk region to Magnitogorsk. There are about 170 kilometers between these settlements.
"I hitchhiked somewhere, walked somewhere on foot. When I arrived in Magnitogorsk, I began to wander around the entryways. I ate there all sorts of crackers, leftovers which might have been left there for cats.
In Magnitogorsk, the local homeless helped me a lot: they fed me, gave me to drink, and supported me.
I promised them that when I grew up and became rich, I would open a shelter for the homeless. I didn't become rich, but I opened a shelter", Valentina said.
Indeed, Valya did not become rich. She spent most of her childhood on the street due to family problems.
The first marriage was also unsuccessful. As earlier at 8 years old, she even had to urgently run away and hide from her ex-husband, with whom she lived in Kazakhstan. Valentina moved to Chelyabinsk practically without a penny in her pocket, and with two small children. Now the eldest daughter, Almina, is 8 years old, the youngest, Arlana, is 6 years old.
"At first it was very difficult to live in Chelyabinsk. We slept with the kids right on the floor in the stroller (a small room in the entrance where strollers are kept. – Ed.). Once it got to the point that there was nothing to feed the children. I went to the Holy Trinity Church and explained the situation: they helped me, they gave me food and some money."
Then everything got better, Valya got married again. Now she rents a two-room apartment with her husband and daughters. The family has little money though: Valya's husband works as a taxi driver, and the owner of the shelter herself until recently worked as a cleaner, but she was fired.
As an income they have her husband's salary and 4,000 rubles, which one of the charitable foundations pays to Valentina for supporting a crisis apartment for women. Her duties there include cleaning and other tasks. Donations are a part of their income, too. But they flow in a very thin trickle.
"There is one and a half thousand rubles left", Valya admitted. "But we bought a boiler with a stove, there will be a place to wash."
While we were talking, a large man with a headset in his ear entered the house, greeted us, then quickly left and after a minute began to bring boxes into the kitchen. They contained bread, cereals, and cookies. One box was filled to the brim with rotten fruits and vegetables – goat treats.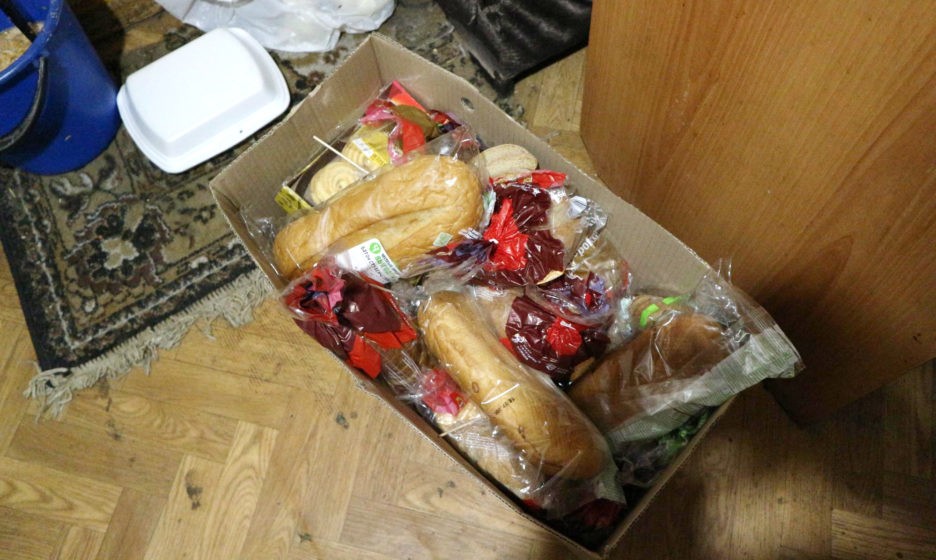 "Everyone who can helps us. This man brings groceries from his store. When he first arrived, he saw me, and I was all dirty, grimy (we were cleaning the house). He thought that I was homeless too. He asked me, where is Valya?"
Valya dreams that sooner or later she will be able to buy this house: now they are renting it for 3000 rubles a month, plus they pay for electricity. The cost of the house is 1.6 million rubles. The amount for an old cottage in disrepair is impressive and is explained by expensive land, there are 15 acres of it.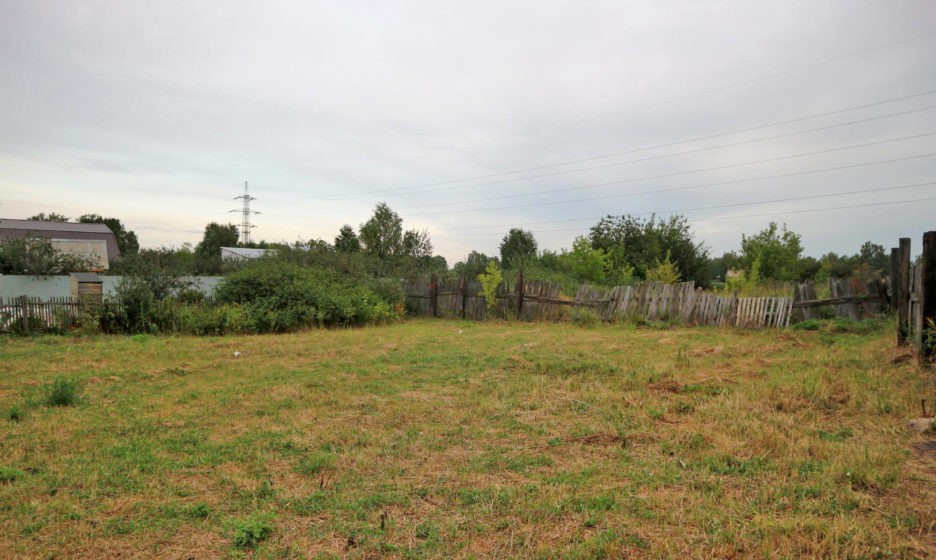 Anatoly: "In Another Shelter My Pension Was Taken Away"
Anatoly is sitting by the window in the kitchen. He has been in prison 5 times, but he does not look like a jailbird.
"I got there out of stupidity mostly. I stole, drank, went to jail", Anatoly waves his hand.
He lost his leg five years ago at a construction site. After another imprisonment, he got a job as a bricklayer. As he himself says, due to unbearable loads, thrombophlebitis worsened, gangrene began, the result was an amputated leg.
"Previously, I lived in another shelter, and they wanted to take my pension away. And here everything is free, you can live here, just help your neighbor. There are no more rules. Well, one more is not to drink alcohol.
"How long haven't you been drinking?" I ask Anatoly.
"Six months already. You know, it depends on the environment. If no one drinks around, then I don't want to. What for? It's good here. For example, I read books. I began to read about sign language", Anatoly reached out to the window sill and took from there some kind of shabby paperback book. "Very interesting! It is about what gesture means what. For example, a person wants to deceive you, and you look at his gestures and immediately understand what he is up to."
"Do people often try to deceive you?"
"Yes, all the time. I have no luck in life, although there are worse stories. Alexey, for example. Gypsies kept him in slavery. And I don't have one leg, but he has lost both.
Alexey: Lost His Legs and Fell into Slavery
Alexey is a gray-haired man with a curled nose. At one time, Alexey being drunk fell asleep on the street, froze his limbs, and they were amputated. Since he had no relatives, the Gypsies took the man from the hospital, they treated him and sent him "to work": to beg in one of the underground passages of Chelyabinsk.
"Did you get a lot of money?" I ask.
"Well, two or three thousand rubles with paper banknotes, and also small change.
"And did you take something for yourself?"
"Oh, no. Everything went to them. They only fed me, and there was a roof over my head. They rented an apartment. They lived in one room, and we lived in the other."
"How did you get away?"
"Seized the moment and ran away."
At this time, Valentina sat down at the table and poured herself some soup. The hostess of the shelter dines side by side with her wards.
"Lesha was lying on the street without a stroller, a kind woman picked him up, washed, fed, and then contacted me", Valentina explained, but suddenly she got up abruptly and went into the corridor. Another regular at the shelter, 61-year-old Vasily, walked awkwardly to the dining table, bumping into the walls. He was blind and had not yet learned all the turns, nooks and thresholds of his new home, so his comrades help him to get around.
Vasily: Lost a Friend and Then Burned the Retina
Before entering the shelter, Vasily lived on the territory of a gardening partnership in an ownerless iron booth where ice cream had been once sold. He lost his sight relatively recently: due to a faulty gas cylinder, he burned the retina of his eyes.
Being blind, Vasily lived with a friend in a garden house for some time. The friend turned out to be a real one: he looked after him, brought food and supported him, but six months ago a grief happened: the man died.
Soon Vasily was driven out into the street by the adult daughter of the deceased, and the blind man settled in a rusty kiosk.
It is not known how much he would have held out in this state if not for Valentina.
"We are now waiting for the middle of August. The fact is that he has a passport, and we will restore the policy for him. I have already agreed with the professor on the operation."
"With what kind of professor?" I am surprised, because I have never heard of professors treating blind homeless people.
"He asked not to advertise his name", Valentina smiled. "A good city hospital, I went there, and they took pity on us. The professor said that he would do everything without a queue, however, we should wait for him from vacation. The doctor has already examined Vasily's eyes. He says one eye is lost forever, but there is a chance to save the second one."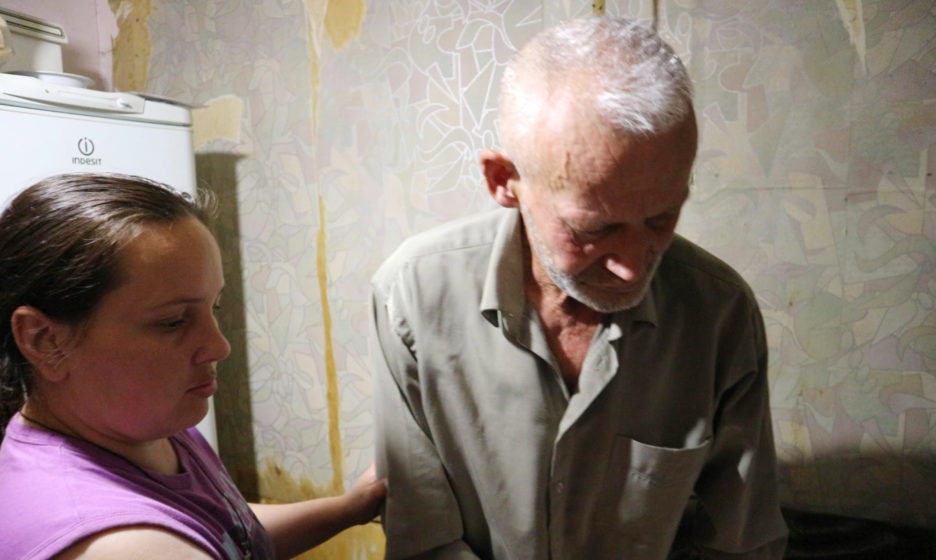 "The most important thing for me is to restore my vision at least a little bit", Vasily says quietly.
"We will restore it, do not worry", Valentina encourages him.
"I Didn't Have a Grandfather, Let It Be Him"
Valya already has some experience in organizing eye surgeries. Another ward of Valentina, 75-year-old Anatoly Leshchenko, had surgery on his eyes last spring. Now he does not live in the shelter, but in a separate dorm room, which Valentina once bought with the money of maternity capital.
Actually, it all started with Anatoly. A non-drinking, neat old man had lived on the street for 9 years because of "black" realtors who had managed to sell his house in the village. The man wandered, lost his documents, but before the new year he suddenly found a family.
Valentina found him at the entrance, got acquainted with him, and on the next day she returned and decided to take him to her place. She said: "I never had a grandfather, let it be this one." Anatoly's documents were restored, housing was found, and an operation was performed on his eyes. Thanks to journalists, the whole country learned about him. Even the head of the IC, Alexander Bastrykin, personally instructed to investigate the case of "black" realtors who had deceived a pensioner.
Thanks to Anatoly's example, Valentina believed in herself and realized that she wanted and could do an incredibly difficult job: to maintain a shelter for homeless disabled people.
"I want them to get stronger in spirit, to remember that they are people too", Valentina said. "Even if one of them leaves, I always tell them: if you want, you can return at any time."
Despite the fact that the house requires renovation, there is a strange, inexplicable comfort in it. There are pictures on the walls, icons on the shelves, a book about sign language…
"Who's on duty today? Who made the soup?" I ask at parting.
"Yesterday I cooked", Anatoly says, "and today Valentina's mother made a very tasty soup."
"So she's here too, isn't she?" I ask the hostess in surprise. "It seems she ruined your childhood. The stepfather, the beatings, spending the nights in the entrances…"
"Yes, she is here, she also helps our shelter."
"You forgave her then?"
"Of course, I did, she's my mother", Valentina answered.
Translated by Alyona Malafeeva