March 21, 2013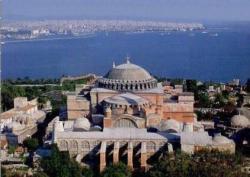 "The Ministry of Foreign Affairs is closely monitoring both the developments concerning Hagia Sophia of Istanbul and the reversal of the Turkish Government's politics against Christian monuments in its dominion," reported the Minister Dimitris Avramopoulos in a document forwarded to the Parliament.
He pointed out that "Greece and the rest of the Christian world express hope that the voices of reason, His All Holiness Ecumenical Patriarch among them, will prevail in the end, in favor of respect towards the monuments-symbols of Christianity, which are at the same time an inseparable and prestigious part of the world cultural heritage."
The conversion of Hagia Sophia's Church in Nikaia of Vithinia into a mosque, as well as officials' statements concerning the expected change of use of Hagia Sophia in Trabzon, which currently operates as a museum, concern and puzzle the Ministry of Foreign Affairs, as stated in the forwarded to the Parliament document, after Golden Dawn's deputy Christos Pappas' query.
Avramopoulos said that the Ministry has made this issue known to Turkey from the beginning, and is examining every possibility to do the same with international organizations.
"We consider the monuments' protection and nomination as a fundamental duty of every country and especially of Turkey that has inherited and is adorned by a number of important monuments of various cultures", Avramopoulos noted. He added that "This duty is urgent concerning monuments as Hagia Sophia of Istanbul, worldwide famous not only for its historical, cultural and architectural importance, but also as a symbol of the Orthodox Ecumenical tradition and the Byzantine spirit."
"If Hagia Sophia of Istanbul will be used in a way that is opposite to its historical and religious character, Greece will react both bilaterally and internationally", the Minister stressed.
Pappas asked "in which way will it be ensured that the Turks are not going to transform this magnificent Byzantine symbol of the Orthodox Christian faith worldwide into a mosque, through their interventions?"
Avramopoulos answered that "Greek diplomatic and consular authorities in Turkey are monitoring the subject closely, as well as the church's possible new renovation and are informing the ministry incessantly."
Source: GreekReporter