Not Soldiers, But Warriors
There is a connection with Russia in my family's history. My father learned Russian while he was in the United States of America. My uncle, who was a famous singer in the 1960s, gave concerts in Moscow every year. He also spoke and sang songs in Russian, therefore he is part of my history which is connected with Russia.
I was impressed with the depth of the Russian people's hearts. This was the first thing that caught my eye. Your soul, heart and mind are drastically different from the American way of thinking, and are absolutely different from European way of thinking. You come from some very deep energy which is completely palpable.
I grew up in America and the Japanese part of my soul helped me survive even though I was far from my Motherland. When I came to Russia, I felt that my Japanese origin was very close to the heart and soul of the Russian people. Most importantly, I noticed that the personalities and souls of these two peoples were indeed similar: you and us are not soldiers, but warriors.
A little later today I will convert to the Orthodox faith and begin my religious path. On this path my conversion to Christianity will become complete.
I Saw Hell
My father did military service for the United States of America in Hawaii. My mother had a very conservative Japanese outlook and lifestyle. Her energy and personality were very Samurai-like. She held Imperial, Japanese, and military views. Therefore there were two countries in my family: the army of the United States of America and the Japanese navy (laughs). This gap was simply huge. My goal was to unite what was best from both sides of that gap.
I grew up in Louisiana, in North Carolina, and in Texas, which are the worst parts of America. I can say that I grew up in hell with full responsibility and seriousness. Therefore if I speak about a path and hell, it is not theoretical for me, but it was my life in America – it was my experience. I was saved by a reed which was my mother's personality. She always encouraged me to be proud of being  Japanese, to never give up, and to always be a winner. It was too much for a six-year-old.
I managed to find my path in America without a fight and battle, but never giving up either. I have chosen my path since primary school. It was to unite people and to lead them, but not fight. Being a leader was to live without fighting but not giving up. It was difficult, but I succeeded. That success does not mean that I fitted in society, it simply means that I have become successful. It does not mean that people understood me.
I compensated for the lack of positive and honest emotions by connecting with my success and nurturing them inside. Everything that I was unable to connect with in both deep culture and American culture, I now connect with you. I feel the love and respect of Russian people for the Japanese, our principles, honor and dignity. When I see Russian martial arts fighters, I immediately understand them and they understand me.
Mother Russia
It is because I have this connection with Mother Russia, not just Russia, but Mother Russia, I would like to be part of you. I would like to share my love and respect as an actor, and I can be a teacher. Overall, I am already a grown-up. Therefore now, having finished my search in Christianity starting with my experience in Christianity in America, when I began my path in the Orthodox faith, I would like to declare that I am going to take Russian citizenship.
I know it seems strange as if it is a sportsman from America, or an actor from Hollywood, as if it is something new, and overall, a fashionable event, some new trend.
However, this decision was made from the heart, from the path which I walked through with suffering and pain, and from understanding that the heart and soul are actually the most important in life.
I realize that there are many problems and conflicts in the world and there are no easy decisions. Everything is quite difficult, but generally speaking, it is hardly simple in America either. This is a new test.
Nowadays it is not easy to become Orthodox Christian either, considering among other things, the number of religious conflicts around the world. However, my life has always been full of conflicts and their resolutions. It was a sign of God when an opportunity to become an Orthodox Christian arose in my life. It is an opportunity to become an Orthodox Christian given by God and it is an opportunity to find my people as a person.  It does not matter which tests or complications arise, I accept them as a true Japanese warrior.
Priest-San
This movie is very close to my life. My character used to be a Yakuza, not even a Samurai, before he became a priest. However, he had the principles of a Samurai. He left this world and became a priest. When I did my own research in this theme, I found out that there actually were several Yakuza who later became priests. I also feel that right now in my life I am putting off the armor of a Samurai and am ready to put on a robe of a priest.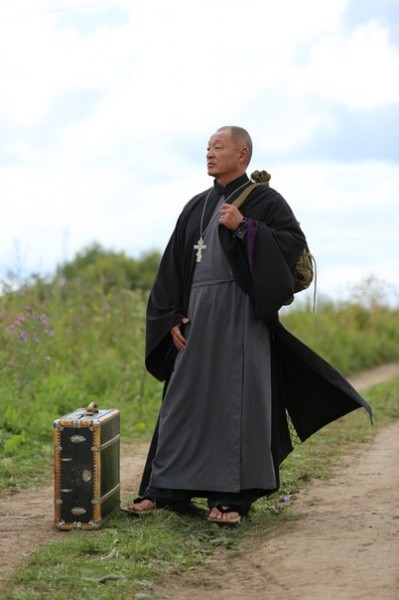 I would like to share many things from my experience in martial arts, but not from the point of view of a fight.
The first thing I learned when I started to study martial arts was the idea that any fight leads to a bigger fight. The Chinese say that if you see an unsolved conflict, you would better dig two graves right away (I may translate inaccurately now): one grave for yourself and the other one for your opponent.
I have deep respect for people who practice martial arts and devote their lives to it. The point is not in a fight itself, but rather in one's attitude towards martial arts, that it is another side of martial arts and another point of view. Acupuncture as a science virtually began with soldiers being struck by arrows. Therefore I am interested in martial arts from this point of view, not from the perspective of teaching how to fight, but how to find new ways of healing one's body and soul. This is already a new stage. It may sound simple, but it is connected with love.
The meaning of the word "Samurai" is "to serve". In order to serve the good and love, one should have love and soul inside. A true warrior should have love and compassion in his soul in order to practice martial arts. I, in particular, train fighters and could do this. It would be very exciting and interesting for me to train Russian fighters.
Panteleimon, the Servant of God, Is Being Baptized
The Story in Pictures by Anna Galperina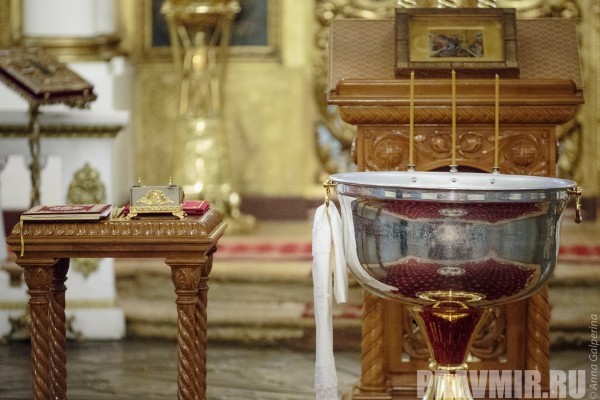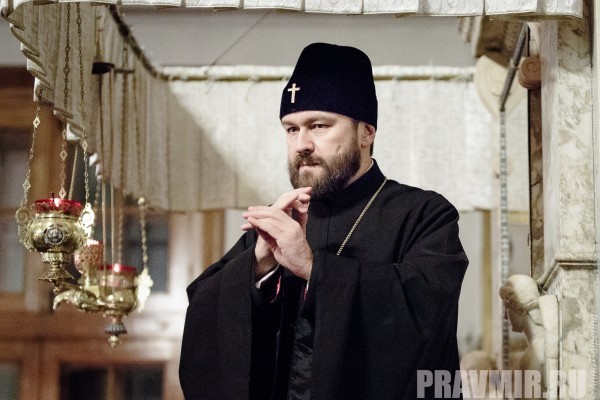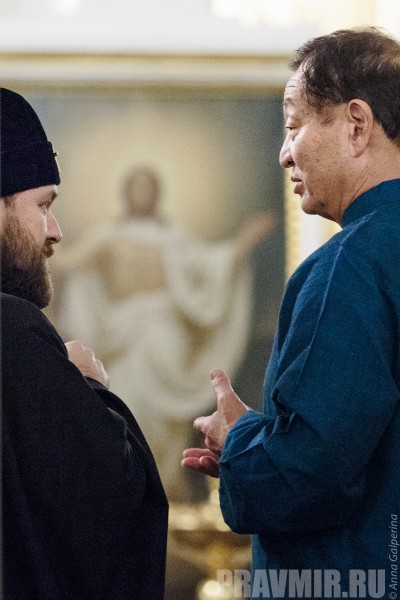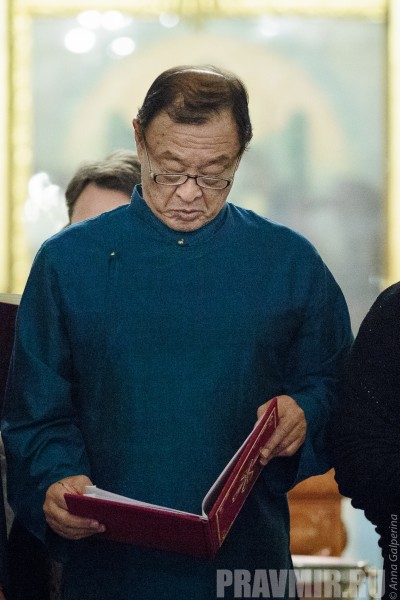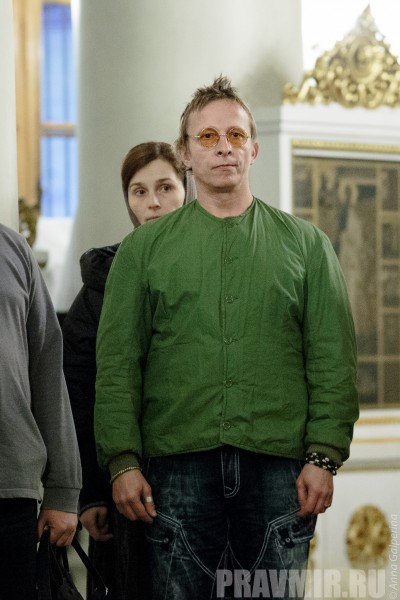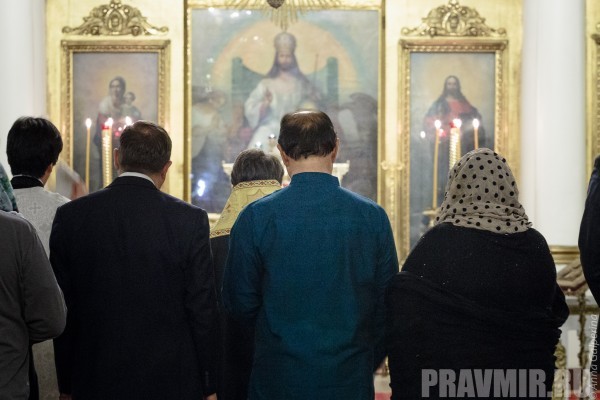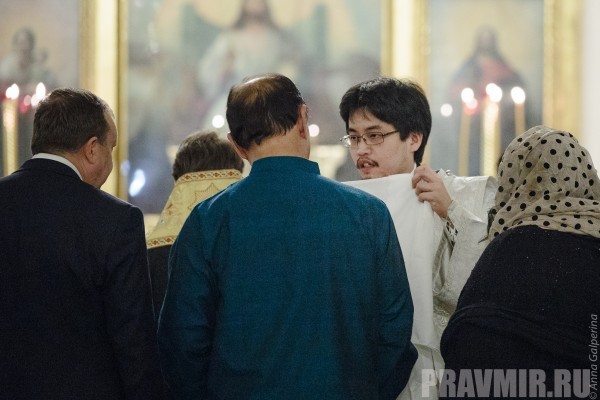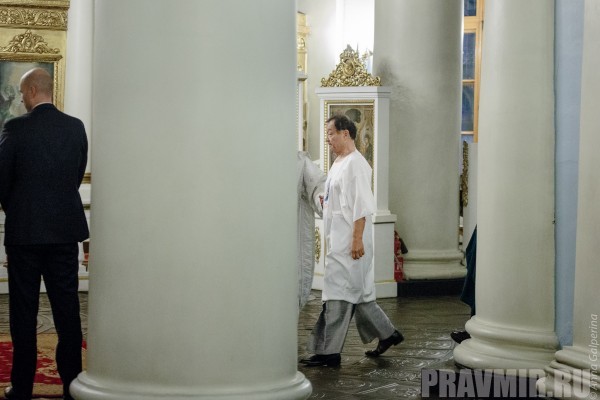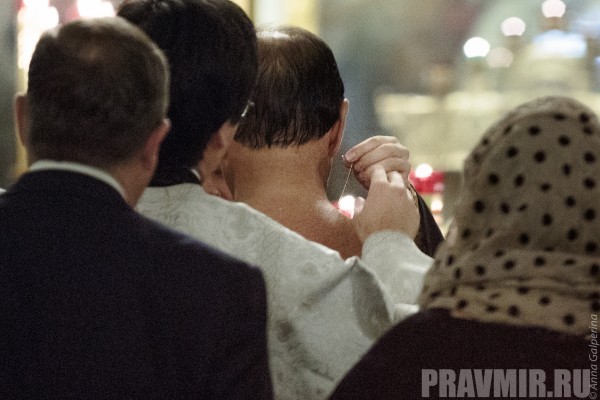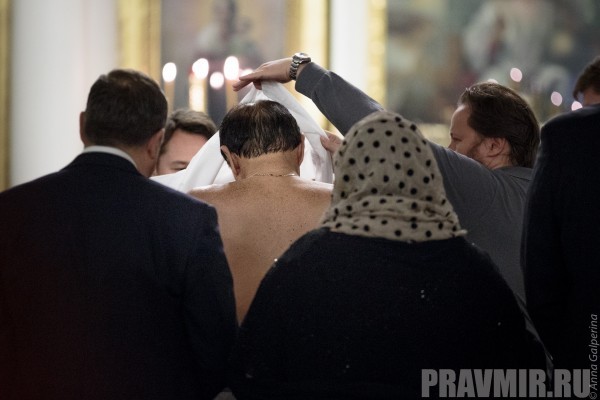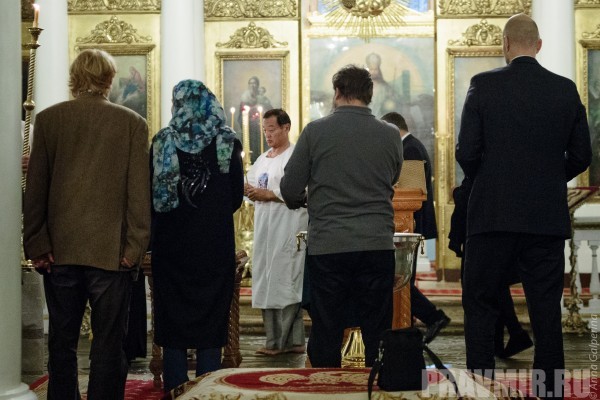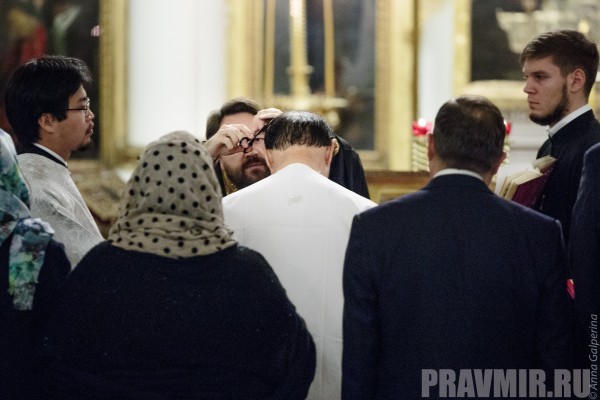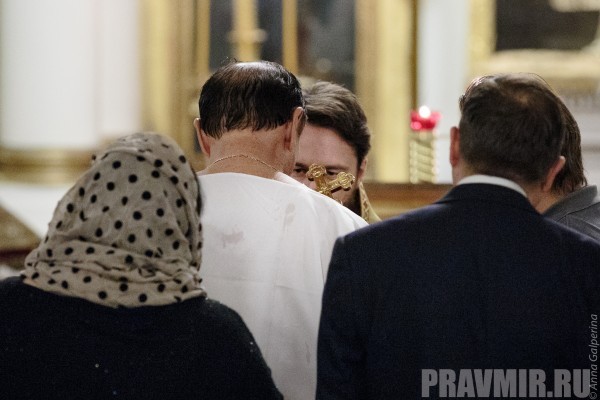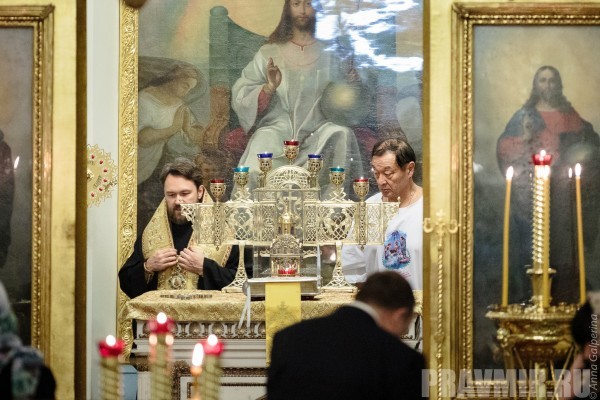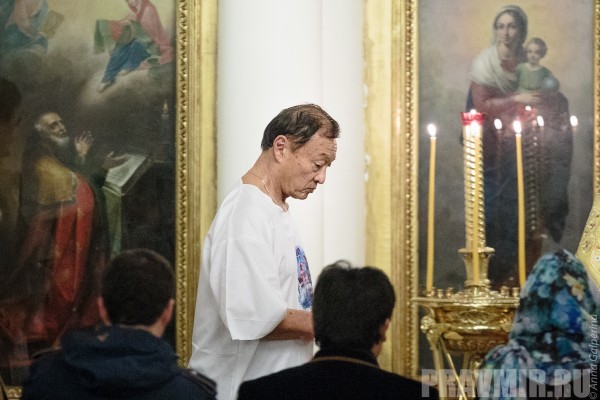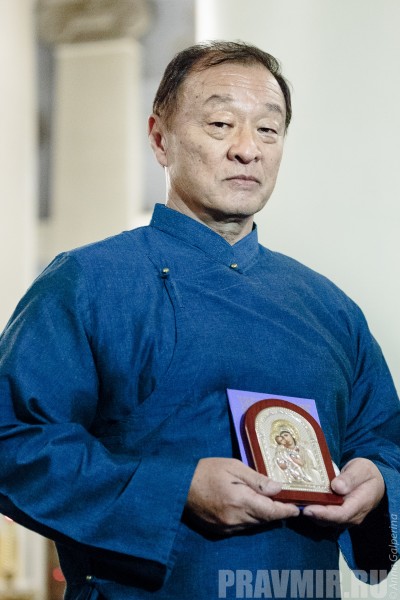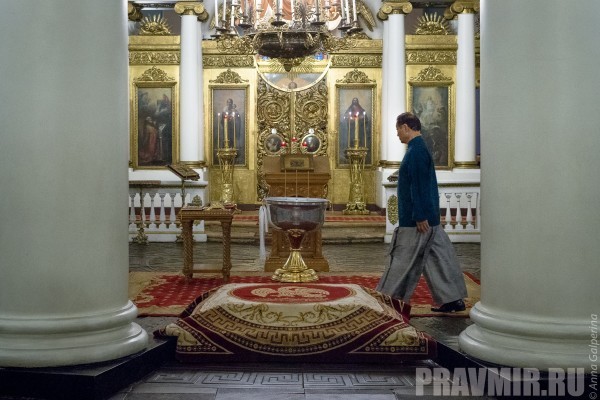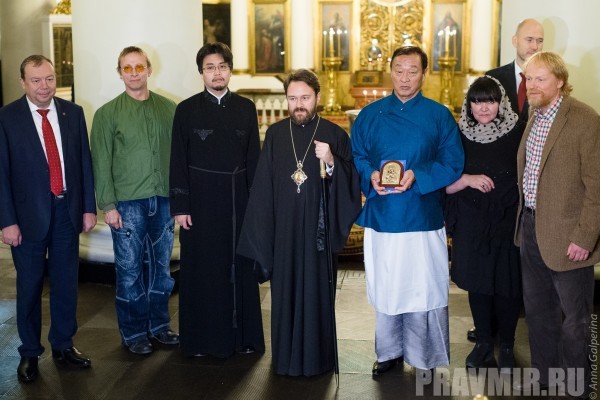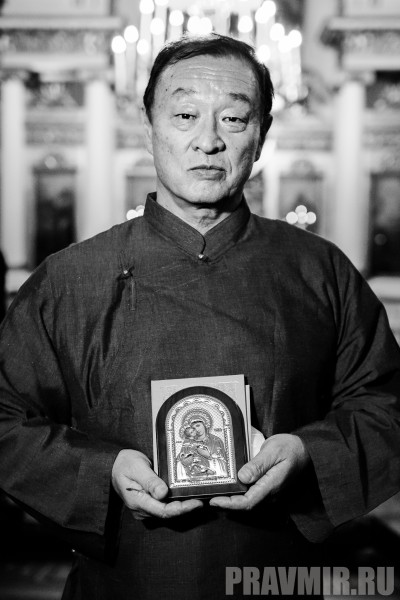 Cary-Hiroyuki Tagawa is an American actor of Japanese descent. He is mostly known for playing villains in action movies shot at the end of the 1980s and the middle of the 1990s. He also appeared in the series "Star Trek: The New Generation", Thunder in Paradise, Baywatch, and also in the episode "Convictions" in "Babylon 5". He starred in Mortal Kombat, Pearl Harbor, and Memoirs of a Geisha.
"Priest-San" is a Russian movie. It is to come out in theaters on November 26, 2015. Father Ivan Okhlobystin was a script writer and played the part of the villain. Boris Grebentshikov was the record producer. The movie is rated unsuitable for children under 16. The main character Takuro Nakamura, Father Nikolai in baptism, (Cary-Hiroyuki Tagawa), is a priest of the Japanese Orthodox Church, brother of the head of a powerful clan of Yakuza, and a former professional sportsman. Having come to Russia, Father Nikolai unites local residents of a village around a nearly destroyed church and acts as their protector in a conflict with local criminals.