Ed Schultz: Your holiness, it is an honor and a pleasure and a privilege to be in your presence today. We certainly appreciate your time. Thank you so much. Yesterday's meeting well-documented in its historical perspective. How are Christians around the world to perceive this moving forward, and view this, possibly as an entirely new era of the Christian faith, and a new path forward? Can you speak on that?
Patriarch Kirill: I'd like to say that this meeting, of course, is very important. This is an attempt to come together at the top level and work out a common understanding of where we are and where we are going – first, as the Christian family, and second, as human civilization.
ES: The significance of it being here in Cuba, how about that?
PK: Of course, it means a lot to Cuba to host such a meeting, but we, too, thought that Cuba would be the right venue for it – because, on the one hand, Cuba has a strong Catholic tradition, but in reality it is a secular country with communist ideology. Russia, too, has traditionally been an Orthodox country but we all were born and raised in a similar ideological and political environment. So, to me as someone who was born in the Soviet Union, Cuba is something I can relate to. And, there was one more factor, which may have actually played the decisive role in choosing this venue. Cuba affords us an opportunity to take a look at our historical divisions and conflicts, which we had in the context of Europe, from the outside, as it were. Choosing Cuba as the venue was our way of saying, "yes, we are aware of our difficult past but we set it aside, and what really matters now is that we look into the future together." This is why we chose Cuba.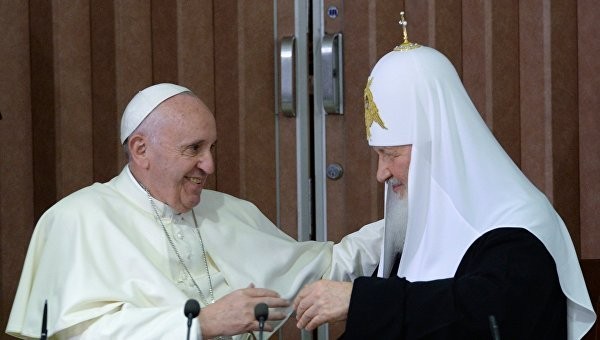 ES: Your holiness, there is the growth of Christianity in Russia, and I think many Americans aren't aware of the resurgence of Christianity in Russia. Why is this happening?
PK: There is only one word to describe what happened in Russia in the 1990s and 2000s and what is happening today in terms of the revival of faith: it's a miracle. After decades under the atheistic regime, we see a genuine revival of religious faith. This revival involves all sorts of social classes: ordinary people, well-educated people, business people, politicians. All those people are involved with the Church today, one way or another, and very often we see people explaining their actions by citing Christian values. So, we pointed out in our joint declaration with Pope Francis that fundamental changes have taken place in eastern Europe over this period. Perhaps, it was those changes that paved the way for the meeting that we just had – because today, the Russian Church, as well as the Catholic Church, are able to have such a global vision of what is happening and discuss together the problems facing Christians and all of mankind today.
ES: Your holiness, the extermination and the attack on Christians in the Middle East and North Africa is well documented. And this, of course, was brought forward to the world on a very special level yesterday when you and the Pope put out a statement talking about this, wanting Christians and the world to recognize this and understand the severity of it. What should be done to stop it? What's the moral obligation of the world to make sure that this persecution and extermination doesn't continue?
PK: What is happening in the Middle East today is a tragedy. Christianity was born there, in the Middle East. And today, as a result of war and terrorist attacks, we see a dramatic decrease in the Christian population there. So, the churches and all the people who can contribute in a positive way should put an end to it. We have to preserve the Christian presence in the Middle East and Northern Africa. But we need to do more than that. I strongly believe that we should work together in order to save our society from de-Christianization – because, facing increasing atheistic pressure, which has become quite aggressive in some countries, Christians are being squeezed out of public life. In a sense, we may say that Christians are uncomfortable in many developed countries today. Christians are under pressure. Specifically, attempts are made to limit religious manifestations in public space. All this indicates that we are dealing with a dangerous, critical situation here, as regards Christian reality, Christian presence. I think our meeting with Pope Francis came at the right time, so we can have such a detailed and thorough discussion of this problem and come out with a joint statement which is reflected in the declaration.
ES: Should the superpowers of the world, your holiness, intervene and protect Christians? There are many Christians in America who believe we have a moral obligation to deploy our strength militarily to protect Christians and make sure that this purging doesn't continue on, and conflict, of course, isn't a resolution of the Christian faith, but is that an option, or how would you view that, if that were to be done?
PK: The situation that the Christian community in the Middle East is now in, of course, requires joint action by all those who are ready to protect the Christians. It is perfectly obvious that you cannot deal with terrorists through dialogue and exhortations alone. You have to use force. It is terrorists, who destroy Christian settlements, drive people out of their homes, raze temples and monasteries, destroy holy sites and historical heritage. And, since they use violence, naturally, all those who are interested in maintaining Christian presence and, more generally, peace in this region should also use force to do so. This is why it is so important for Russia, the United States, western Europe and some Arab countries to join their efforts for the sake of one goal: to stop war, get rid of terrorists and, of course, provide people in Syria and Iraq with an opportunity to freely choose their future, so that these countries can live in peace and so that all religious groups, Christian or Muslim, can live side by side in peace, which would be a strong foundation for peace in the Middle East in general.
ES: Because of the intervention that's taken place a little over a decade ago in the Middle East, and because of the economics of the world – more poor people, more wealthy people – we've seen a real debate break out in our country over immigration and what we should do about it. And now this has gone over to Europe where there's a system that's setup where if migrants come in they must pay to stay. How should the immigration and migrant issue be dealt with from a Christian standpoint, and what's the obligation of these countries that are faced with these issues?
PK: From the humanitarian, humanistic and Christian points of view, we need to help those who suffer. Assistance can vary – as one famous metaphor goes, there's a difference in giving a hungry man one fish and a fishing rod which he can use to catch more fish. It means that support and assistance are helpful but the primary focus should be given to eliminating the root cause behind the massive inflow of refugees into European countries. It is the political destabilization in the Middle East that has led to it. And so we must do everything possible to resolve the ongoing conflict as soon as possible. It requires a concerted effort of all the stakeholders, first and foremost, the US, Russia, the EU and Arab countries. We can't have several coalitions that say they have the same purpose but are in reality going after different goals. We need to come together and set a joint goal and take action to achieve it. If this can be made possible and if countries concerned over the spread of terrorism can provide a concerted response to the threat, this would definitely help to stabilize the situation in the Middle East and stop the inflow of refugees. I am convinced that many refugees will leave Europe and return to their homes. This is the only path going forwards that seems realistic to me.
ES: The relations between Russia and the United States in the eyes of the Americans are strained – moreso than they have been in the past. Is it your hope that this unity within the Christian faith – the Catholic church and Orthodox church – would be a pathway forward for the two countries to realize that there's too much at stake for there not to be agreement on key issues?
PK: We need to do everything possible to engineer a drastic improvement of the relationship between the US and Russia. We need to realize that these are two major powers that have the military power to destroy each other and the whole world. A large-scale war should be averted at all costs. This is what we discussed with Pope Francis. It could be God's design to bring us together at this juncture when dark clouds are gathering over Syria and when there is a threat of confrontation between countries with an immense destructive force. We need to do everything possible to avert war. This is our number one priority for the Americans, the Russians and many other people with a sensible perspective on what is happening. As for US-Russian relations, I would like to recall the difficult years of the Cold War when the world was teetering on the brink of actual war but the Christians of the US and the Soviet Union still found the opportunity to meet and work together for a better future. We had intensive contacts with the US Christian community, including delegation visits and conferences, in an effort to work out a concerted Christian approach to the issues that divided the US and the Soviet Union. Why can't we do it today? Why have we moved so much apart? Most of the people in the US are Christians who share the same values and belong to the same global Christian family as us. We should use this opportunity to build bridges, rather than deepen the divide that lies between us. Then this grassroots support coming from ordinary people, clergymen and religious institutions will forge an environment in our respective countries that will have a positive impact on those who shape foreign policy.
ES: Your holiness, you – as one of the main faith leaders on the globe – what should be done to curb and end terrorism that the world is facing right now? This is something that humanity, with the technology being used against other humans, that we've never dealt with before, and it doesn't seem to be able to be dealt with, with armies. How do we defeat terrorism?
PK: We need to identify the reasons that force good people to become terrorists. Certainly, there are terrorist leaders with political goals who think that the easiest way to achieve them would be through terrorism – bombing good and innocent people, creating panic, undermining stability. These are the tactics and the strategy of terrorism. But it's ordinary people recruited to be terrorists who blow up those innocent people. So what is the mechanism of recruiting people, and these are often good people, and turning them into terrorists? I did some research on this issue and found out that recruiters use lofty ideas to get people on their side. It takes a strong inspiration, a powerful motivation for a person to commit suicide with the purpose of killing others. So what is their motivation? To put it briefly, the motivation is that the world is sinking into evil. Modern western civilization is evil. God is being ousted from this civilization, and the world is becoming godless and satanic. Only you can do something to overcome this evil. This is your religious obligation. You're fighting against dark powers, against the devil. You're on God's side, on the side of light. That's what some Islamic preachers say to their believers when they address them after their Friday prayer. And even if a person has never thought about getting a bomb or taking up arms and killing people, he is inspired by these words and begins to think that he is fighting for God's truth against this terrible world which can destroy Islam as well.
So to overcome terrorism, we all need to change. Terrorism is first of all a philosophical challenge. We need to understand what is going on inside people who take up arms to fight for God. I'm fully convinced that the fact that human civilization in the process of its development unfortunately renounced God and God's moral law, is the reason behind terrorism.
It's very important to reach a global moral consensus. How can people live together? They need to have common values. How can we have common values if there are different political parties and different philosophical and religious systems? How can we reach a global consensus? There's only one way: this consensus must be based on human moral sense. Human moral sense is something from God – God put morality into the human soul. Americans and Russians share the same moral principles. If we go to Papua New Guinea we'll see that people there have the same moral principles. So we shouldn't oppose this moral sense by creating new laws which by the way destroy traditional moral laws but we need to reach agreement on these common moral values and then build up our global civilization based upon this consensus. There's no place for terrorism in this kind of civilization. Even if someone tries to use people to harm others, it's going to be very hard to do it, because these calls will contradict the common understanding of good and evil. But we have to work together in order to build a new global civilization based on moral consensus. I believe this is possible.
My meeting with Pope Francis was crucial in this respect. The leaders of the two biggest Christian churches met to "synchronize their watches" to discuss problems from their different points of view. And we realized that it is possible to find answers together and you may be surprised but we were able to do it easily because we had our faith in Lord Jesus Christ, in his commandments and laws as our moral consensus. But the same laws and commandments can be found in Muslim religion and even in secular humanism, at least they were there at some stage of development of secular humanism. The Universal Declaration of Human Rights refers to human morality as a limitation to human rights. But in today's world human morality is no longer a limitation to human freedom.
Unfortunately, today we are moving away from things that have always united us on the deepest ontological level. I believe if this tendency continues, the prospects for humanity, for our world are very bad. We cannot live together on one small globe if we are rent by deep ontological contradictions.
I believe my meeting with the pontiff at least to some extent contributed to building a future moral consensus between all people.
ES: One final question. In our government, the Speaker of the House of Representatives is a Catholic. The Pope has addressed the United States Congress. Would you like to address the Congress? Would that be helpful?
PK: I'm ready to address any group of people. I spoke in front of members of parliament and members of government. I also address ordinary people every Sunday. I'm open to this kind of discussion and I would welcome such an opportunity.
[Speaking English]: "I'm ready to have contact and discussion with everybody who is open for possibility to have a discussion with me. I'm fully open for everybody.
ES:Do you think you'll meet Pope Francis again?
PK: It's possible. We haven't discussed any future meetings, but since we had our first meeting, there could be a second and a third one.
ES: Thank you.