The International Forum "Religion and the World" was recently held in Moscow, drawing an unprecedented number of participants: representatives from the major religious confessions; state and public figures; and experts on interfaith relations from Russia, Europe, and the United States – a total of over four hundred people. They all gathered to discuss the coexistence of religion and state.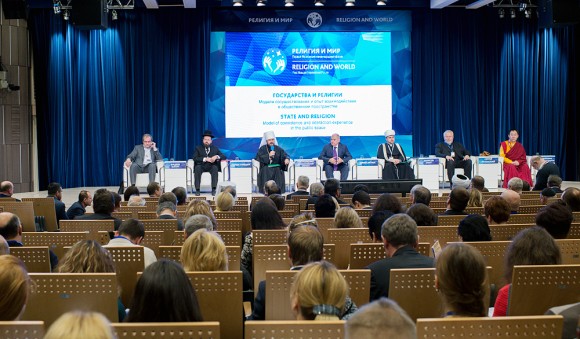 Over the next four days, we will post, one each day, statements from this forum by: Metropolitan Hilarion (Alfeyev) of Volokolamsk, chairman of the Department for External Church Relations of the Russian Orthodox Church; Vladimir Legoida, chairman of the Synodal Information Department of the Moscow Patriarchate; Rushan Abbyasov, deputy chairman of the Council of Muftis of Russia; and Archpriest Vsevolod Chaplin, chairman of the Synodal Department for Church-Society Relations.

Metropolitan Hilarion (Alfeyev) of Volokolamsk:
Western secular civilization leads to extinction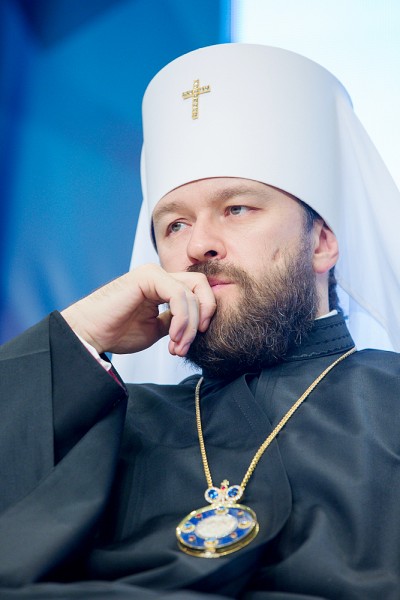 More than 25,000 churches have been restored in the past quarter century in Russia. In fact, three churches open every day in the country. In 1988, there were twenty monasteries in Russia; now there are 805. Behind each of them stand people who have renounced traditional ways of life and the creation of families in order to devote themselves to service. Such a rate of the revival of religious life is comparable to the period of the Edict of Milan in 313, if we had statistics from that time.
All this is taking place in an epoch that in the West is being called post-Christian, wrongly suggesting that religion is a phenomenon of the past and that humanity is moving away from religious values. The West intends to banish religious theses from the public square. There are many examples of this. In Norway an anchorwoman was dismissed for wearing a cross on her chest: it was decided that the cross could become a symbol of contention. When a mayor of a French city refused to register same-sex marriages, he was legally prosecuted. In the EU, politicians do not have the right to be motivated in their actions by religious considerations.
Europe is dominated by moral relativism: everyone can set his own scale of moral values, which does not necessarily correspond to universal human values. A dismantling of family values is taking place. And if, in the religious worldview, the marital union always has a divinely-instituted nature, in the West today any union can be declared a marital one – moreover, each has assimilated the right to adopt children.
Secular Western ideology insists that there are no absolute moral values. It asserts that, if someone does not violate the rights of others, then he can preach whatever he wants and live however he wants. This principle is embedded in the educational system. Pupils must rid themselves of all forms of determinism: France's Minister of Education has stated this. There, the words "boy" and "girl" are being replaced by the words "friends" and "children." It is believed that "boy" and "girl" are roles that children take upon themselves, and then they can change these roles. The same can be done with "mom" and "dad," and all of this in time will be called "family."
Similar value judgments are penetrating, and will penetrate, us.  Any rapprochement with Europe will be connected with the imposition of these judgments. We already know that one of the conditions of entry into the EU is the legalization of same-sex unions. Russia is being criticized for lack of democracy. A number of European leaders are speaking about boycotting our sporting events and the Olympics in Sochi, citing the fact that we discriminate against sexual minorities. It is strange, however, that none of these leaders is protesting against the annihilation of Christians in the Middle East: they are not interested in this; they are silent about this.
It is a pity for people who are trapped in this satanic policy. Western secular civilization leads to the extinction of nations; this ideology is literally suicidal. At the same time, religion's moral orientation is meant for people to live, and so that their offspring would live. The fact that the demographic situation has changed in the country [Russia], and that there are more births than deaths is undoubtedly a consequence of governmental policy. But it is also a consequence of the consolidated position of religious confessions.
Translated from the Russian