On January 7, 2014, the station Rossiia televised an interview with His Holiness, Patriarch Kirill of Moscow and All Russia, in which he spoke with the journalist Dmitri Kiselev. Continued from part four.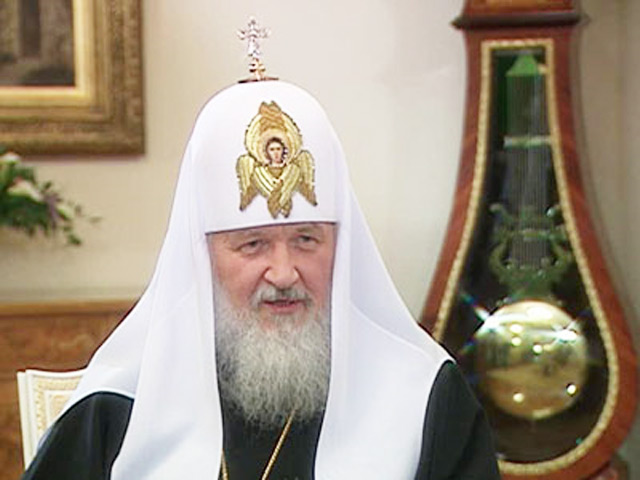 Question: From the personal to the very general. How do you regard the general development of modern civilization?

Patriarch Kirill: I have many concerns and worries about this development. We live in an era in which, for the first time in human history – including pagan times – sin receives legal justification, when sin is imposed by force of state. Or, if not imposed, then propagandized by force of state with reference to human freedom. When sin becomes a behavioral norm, society ceases to be viable. One has to be a very limited person to allow – or, if one is speaking about politics, one has to have a very dangerous political program, or just not have a sober mind – in order to support trends that are destructive to society.
Sin destroys the human person. This isn't our invention, this is what God said, and not just said, it's how He created man. He created man in such a way that sin destroys the human person, whether we like it or not, because where there's sin, there's death. This is stated in the word of God. What is death? Death is the disintegration of human being, the collapse of life, the end of life. Thus, if sin is imposed by force of law, by the power of persuasion, by propaganda, then human life in general is in colossal danger. Personhood loses its integrity. What does loss of integrity mean on the scale of personhood? It means the destruction of social cohesion and the vitality of human civilization.
What is the end of the world? I'm often asked this. The end of the world is the state of society in which evil is greater than good. In the apostolic epistles it's stated that there's something that restrains the end of the world. Theologians have speculated about what it is that restrains. Some have thought that it's a government, others that it's the Church. In fact, that which restrains is good – and that means all institutions that serve the affirmation of good. This includes governments, so long as they fulfill this mission, the Church, and much else, because so long as there's more good than evil, man has life potential. Both society and civilization have a life potential. If evil will be greater, it will spread rapidly, like microbes in blood, destroying human civilization, which means bringing the world to an end.
Question: Still, you're talking about conservative values. Many people might say that this conservatism prevents development. To what extent is this true?

Patriarch Kirill: It doesn't prevent development, because by "conservatism" is meant more than just the preservation of the past. I've spoken about this many times, comparing it with the normal person's attitude towards trash. Trash is also a product of the past, but we don't save trash, we throw it out. That means that conservatism preserves values.
This leads to a very important question: which values, and who determines these values? Conservatism is, by its very nature, religious. Why? Because that which is of genuine value for man aren't those values that he has created for himself, but those values which are defined by God Himself.
God is the measure of truth. When someone accepts these values as absolute truth and defends and protects them, he is a conserver of these values. We're sometimes told that there are conservative economists and liberal economists, but for me this doesn't exist. A conservative person preserves the fundamental values that God has placed in the nature of the person and, in general, of all creation – he might be a liberal economist, he might be a liberal politician, but he'll be the guardian of these values.
Liberalism is an incorrect understanding of freedom, of this very Liberté. An incorrect understanding of freedom is that you yourself are the beginning and the end, the alpha and the omega. In Holy Scripture it's stated that Jesus Christ is the Alpha and Omega, while here it's said that man is the alpha and omega. You yourself can think up your own values and consider them to be absolute. Where does this lead? It leads to the atomization of society: there are as many goals as there are minds. This leads to the creation of a system that isn't viable.
Most importantly, it leads to a situation where one can justify one's vices, sins, and crimes, constructing values in such a way that at some point one will need to share these values with others. What we see today is an escalation of sinful life orientations, which is a direct consequence of what we call liberalism, genuine liberalism, and not the conventional kind that's tied to politics or economics.
Question: A final, quick question. What can the Church do?

Patriarch Kirill: There's little the Church can do. Christ can do everything. God can do everything. The Church is called upon to bring people into contact with God, to support this religious connection, but this is a great challenge, especially in a world that's today torn by contradictions and temptations, a world that's today indeed under the powerful influence of forces of sin. But God can do everything, He is the Lord of history, He is the Alpha and Omega, the beginning and end. I think that this the most important affirmation that the Church today can make to man, to society, and to the whole world.
Question: Thank you very much, Your Holiness. Merry Christmas!

Patriarch Kirill: Thank you!
Translated from the Russian.