Church and State: An International Forum on Coexistence (Part Four of Four)
Archpriest Vsevolod Chaplin, chairman of the Synodal Department for Church-Society Relations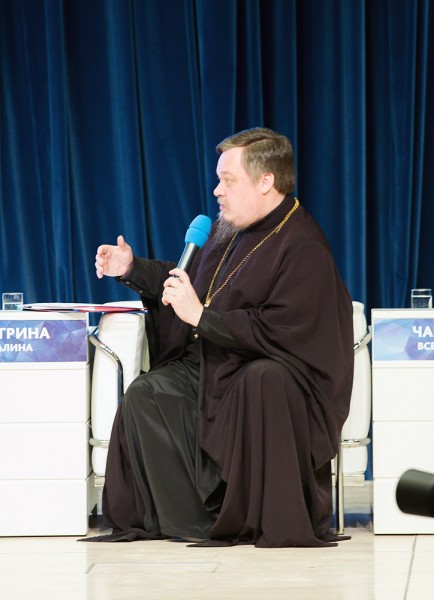 Obviously, there is no single, mainline vector of development among religion, the state, and society. There are more and more different models – but, looked at most simply, there are three.
There is the Western model of opposition between secular and religious authorities, a model of set tension between religion and the state. There is the Islamic model, where there is total unity and identification between society and the state. And there is the search for an Orthodox model, in line with the tradition that has been formed by Orthodox nations and that today is becoming more articulated.
What is the Orthodox model? Many will reproach me for using such a comparison, but I will recall the Chalcedonian formula, which speaks of the unity in Christ of divinity and humanity: unconfusedly, unchangeably, indivisibly, inseparably. The relationship of Church and state needs to be constructed upon this formula. How is this understood in Orthodoxy? It is not good for the Church to be a part of the state apparatus, to have the sword of Caesar, to have coercive power. But, at the same time, the Church and the state that has been created at some point by Orthodox Christians are not alien from one another. It would be bad for the state to be completed isolated from processes in the Orthodox environment.
No one can be compelled to faith by force – for me that is perfectly clear. But, at the same time, we know that the majority of religious and secular doctrines were approved not without the state and society making a choice and offering that choice to persons who were acting in their field of vision. The majority of modern secular doctrines were adopted by people not without the persistent action of state elites or of military action. The majority of people became Christians not by their will alone, but by decision of the state. There was a ruler's will, which gradually because that of society. Not every person is committed to making free choices. And although in the Christian understanding, this is still not something legitimate, the question arises: where is the boundary? Where is the boundary between crude, impermissible coercion and the guile that manifests itself when we say that someone is making his own free choice by himself? We need to deal with this sphere: how not to slip into imposing faith and how, on the other hand, not to continue to claim that absolutely everyone is making a free choice.
Christians today often ask themselves in an apologetic tone: did we push someone? Did we offend someone? We are right in asking ourselves such questions. But, on the other hand, we see how other forces, which declare themselves to be heralds of freedom, act without any inner questions – come what may. And these forces often say that they are permitted to resort to force, but the faithful are not. This logic should be challenged.