Now Philip was of Bethsaida, the city of Andrew and Peter. Philip findeth Nathanael, and saith unto him, We have found Him, of Whom Moses in the law, and the prophets, did write, Jesus of Nazareth, the son of Joseph. And Nathanael said unto him, Can there any good thing come out of Nazareth? Philip saith unto him, Come and see. Jesus saw Nathanael coming to him, and saith of him, Behold an Israelite indeed, in whom is no guile! Nathanael saith unto Him, Whence knowest Thou me? Jesus answered and said unto him, Before that Philip called thee, when thou wast under the fig tree, I saw thee. Nathanael answered and saith unto him, Rabbi, Thou art the Son of God: Thou art the King of Israel. Jesus answered and said unto him, Because I said unto thee, I saw thee under the fig tree, believest thou? thou shalt see greater things than these. And He saith unto him, Verily, verily, I say unto you, Hereafter ye shall see heaven open, and the angels of God ascending and descending upon the Son of man (John 1:44-51).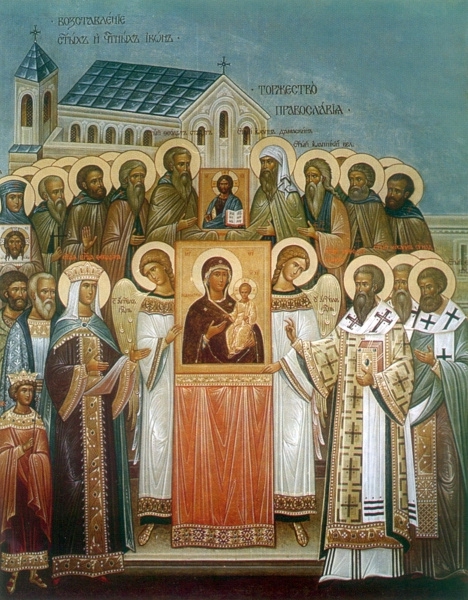 In the Name of the Father, and of the Son, and of the Holy Spirit!
The first Sunday of Great Lent is called the "Triumph of Orthodoxy," the triumph of the faith of Christ. It is no accident that on this day we read the Evangelist's words about how one of the future disciples doubted in the Lord and how the other said to him: Come and see. The former came and saw the Savior. The Evangelist does not tell us what this experience was like, but he immediately understood everything, seeing with his own eyes – and, more importantly, feeling with his heart – that living Truth Itself was standing before him.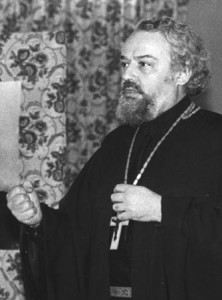 These same words, Come and see, relate both to the Church of Christ and to Christ's appearance on earth. Many people say: "Where is this truth of yours? What is it?" They think that it is already outdated, that it has died out, that it is unnecessary. But we reply to these people: Come and see. But do not look at us, sinners, because we are poor witnesses of God; rather, come and see our Lord, His beauty and love for people, His sacrificial love, His Cross and suffering, His teaching, and His Spirit, Who is with us. Come and see the holiness of the Gospel and His unequalled power, which has conquered all things, no matter how much it has been persecuted, no matter how many times it has been destroyed – for hundreds of years it has always emerged from the grave, just as Christ Himself emerged from the grave, victorious over death. Therefore the Church says: Do not look, people, upon our sins; but rather upon our Lord, upon the great saints of ancient days.
Today in the Epistle reading [Hebrews 11:24-26; 11:32-12:2] the righteous from the times of the Old Testament were enumerated: here is an entire cloud of witnesses, who were precious in the world. These people endured persecution, slander, exile, torture, and death, but they chose this very path because they had given themselves over to the Lord. In this choice, too, was a Triumph of Orthodoxy, for it was above all in choosing the true faith.
As the Epistle says, Moses preferred to leave palaces, riches, and wisdom in order to be a slave with slaves, in order to lead them at God's behest. Kings, prophets, judges, and the righteous were persecuted, wandering through dens and caves of the earth – all of them chose faith.
Do not think that the triumph of faith is only in external splendor. Of course, when you go to the Trinity-Sergius Lavra and see the beautiful cathedrals, marvelous icons, and hear the wonderful ringing of bells, which spread the glad tidings throughout the countryside – this, of course, shows our faith's beauty and triumph. But all of this is external, transient, and perishable: it can be destroyed by evil people and by time.
The true faith and the Spirit of Christ, however, cannot be destroyed! People of the spirit, such as St. Sergius and all the saints of the New Testament, also comprise a cloud of witnesses. Again we say: No, friends, do not look at us, who are weak and powerless. Rather look at these saints who have overcome abuse, torture, exile, and humiliation; who have witnessed to God by their love for people, by their service to people, by their great patience, by their holiness, and by their closeness to God – there they all are, the saints, in whom the Church has triumphed throughout the world, always and everywhere. They teach us because they are our examples and teachers; but we are taught above all by the example of the Savior Himself. Therefore the Epistle reading concludes with these great words: let us run with patience the race that is set before us, Looking unto Jesus the author and finisher of our faith (Hebrews 12:1-2). Amen.
Translated from the Russian.
You might also like:
The Foundations of Our Orthodox Faith: A Discourse on the Sunday of Orthodoxy by Archimandrite John Krestiankin
Triumph of Orthodoxy Sunday by Fr. Thaddaeus Hardenbrook