Some in Orthodoxy pride themselves on being "luddites," that is, as those who are generally against technological progress.  This parallels those non-Orthodox Christians in America who see "www" as standing for "666."  On the other hand, some in Orthodoxy, including clergy, are quick to grab the first gadget to hit the market.  With regard to the use of the internet, similar patterns may be seen amongst the Orthodox.  Some Orthodox will avoid nearly all Orthodox-specific sites or at least any site that dares to address contemporary issues, believing that what matters is only "spiritual" things that can affect one's soul and that there is nothing one can do to help with current difficulties within the Church.  Others will engage any Orthodox site and/or blog and comment frequently, believing that such engagement is contributing to Orthodoxy or sometimes that such engagement is a healthy way to "vent" frustrations.  Both approaches to the internet are wrong, even during Great Lent.  What is needed is balance.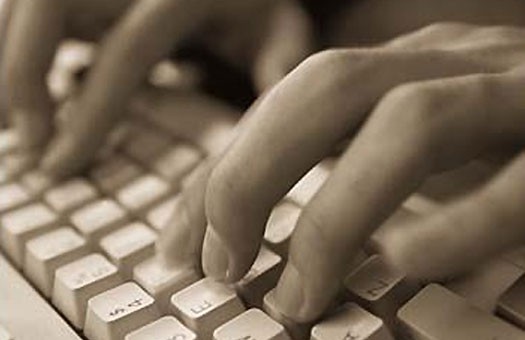 Balance, of course, is not indifference.  For we are called to "the blessed passion of holy love," according to St. Maximos the Confessor (Centuries on Love, 3.67).  One might also think of the ascetical tradition of the Desert Fathers.  According to St. Sarapion of Thmuis, we are not to use our eyes for "wicked sight" but for "holy sight" (Against the Manichaeans 52.31-42).  That is, seeing in itself is neither good nor bad but how we see can be good or bad.  So, we are called not to be distanced and disinterested, but engaged in a Christian and holy manner.  That is not easy and certainly not easy during Great Lent, when the Deceiver himself works harder to make our lives difficult.  Nonetheless, that is our calling.
So, in Lent, let us treat our use of the internet in such a manner that we seek to be ascetic in how often we engage in online conversations.  We should begin by posting and commenting less.  This parallels the kind of asceticism to which we are all called during the Great Fast.  Our first action must always be toward "less" rather than "more."  Do not post or comment more frequently during Lent.  If you find yourself doing that.  Stop.  Take a break.  That will help put things in perspective.
Once we have lessened the amount of comments and posts we can think more slowly and carefully about whether we need to be posting and commenting so often.  If we are posting on a blog or a website, posting less frequently may improve the quality of our writing because we will have more time to pray and think.  If we are commenting, commenting less provides the opportunity to be judicious and to comment carefully.  Commenting heedlessly leads to unecessary "fights" in comment sections.  Those of us who are authors of sites ought to respond to most of the comments left for us but we can still lessen the amount of posts we write.  Additionally, it can be a very good practice to take a break from commenting and posting for part or all of Holy Week.
Some might wonder whether it matters which sites we read during Lent, as we tend to comment on the blogs we read and sometimes certain blogs are accused of being mere gossip.  Certainly, during Lent, we should be careful to avoid blogs that serve little spiritual purpose or, worse yet, those that promote lifestyles that are blatantly sinful.  Very precious few of us are capable apologists who can engage those sites for the right reasons in the right ways.  We should be careful.  On the other hand, sites that discuss contemporary Orthodox events and even contemporary Orthodox Church politics are not necessarily to be avoided.  One might object and claim that we should only care about ourselves and our local parish.  It is true we affect our own lives and parish much more directly than our diocese, jurisdiction, or larger Church, but being informed is not evil.  Nor is it evil to pray for the calming of troubles in our Churches.  That is a holy thing.  Nor is it necessarily evil to comment on such a blog if the comment is intended to help the Church.  There are some blogs and websites that are directly affecting events within the Orthodox Churches and having a voice in that activity can be good.  In fact, it is a false dichotomy to think that one must choose between "gossip" and "caring only for my own soul and parish."  We are all in the Body of Christ together.  Let us never forget that.
So, as Orthodox Christians in Lent, let us not visit pornographic and evil sites.  Let us not make frequent, heedless comments on blogs that start fights.  Let us not post unwarranted attacks against others.  Let us also not be feasting upon such posts and comments with our eyes.  On the other hand, let us also not put our heads in the sand, thinking we are improving ourselves spiritually if we never read about contemporary problems or concerns.  Let us not fail to pray for those who are involved in difficult times.  Let us certainly not think we can become spiritually superior to others by avoiding the internet all together.  The internet is a vehicle through which we can learn and can evangelize.  We can partake in healthy exchanges.  We can proclaim the Gospel.  We can assist in the growth and health of our Orthodox Churches.
May we all find such balance this Lent so that we may journey through Holy Week with our Lord and God and Savior, Jesus Christ.  And may we all post "Christ is Risen!" on Bright Monday, for that cry must be at the heart of all our comments and posts throughout the year.