Patriarch-Catholicos Abuna Matthias of the Ethiopian Tewahedo Church thanks His Holiness Kirill, Patriarch of Moscow and All Russia, for the support that the Moscow Patriarchate gives the persecuted clergy and believers of the Ethiopian Church.
In his letter, the Primate of the Ethiopian Church remembered the words of Apostle Paul: "And whether one member suffers, all the members suffer with it; or when one member is honoured, all the members rejoice with it." (1 Corinthians 12:26).
"We are very much grateful to the countless solidarity and consolation we received from the Russian Orthodox Church," Abuna Matthias said in his letter.
He added that in the past few years "of multidimensional persecutions of our church, Your Holiness' spiritually deepest concern and the prayers of the Russian Orthodox Church faithful have genuinely demonstrated our true connections in our Lord Jesus Christ".
He believes that "this mutual comfort, exhortation, and concerns are things the Christians should be stirred up to frequently in words of prayers and in practice. By praying together, conversing with each other about the pains and sufferings one of us is experiencing we glorify our Almighty God; whereas the immoral world always tends to hurt us and ignore our wounds".
At the same time, the Ethiopian Patriarch said that today the Ethiopian Church faces more and more new challenges, and "churches, ancient monasteries, ecclesiastical social centers have been constantly targets for attacks."
"Clergymen and innocent believers, including children, who carry out their ministry, are severely persecuted. This tragedy, which takes away the sacred lives of our people, their dignity and wealth, will not end soon," Abuna Matthias said.
In addition, the Primate of the Ethiopian Church expressed his hope that "the God of Peace will soon grant us peace and put an end to our longsuffering."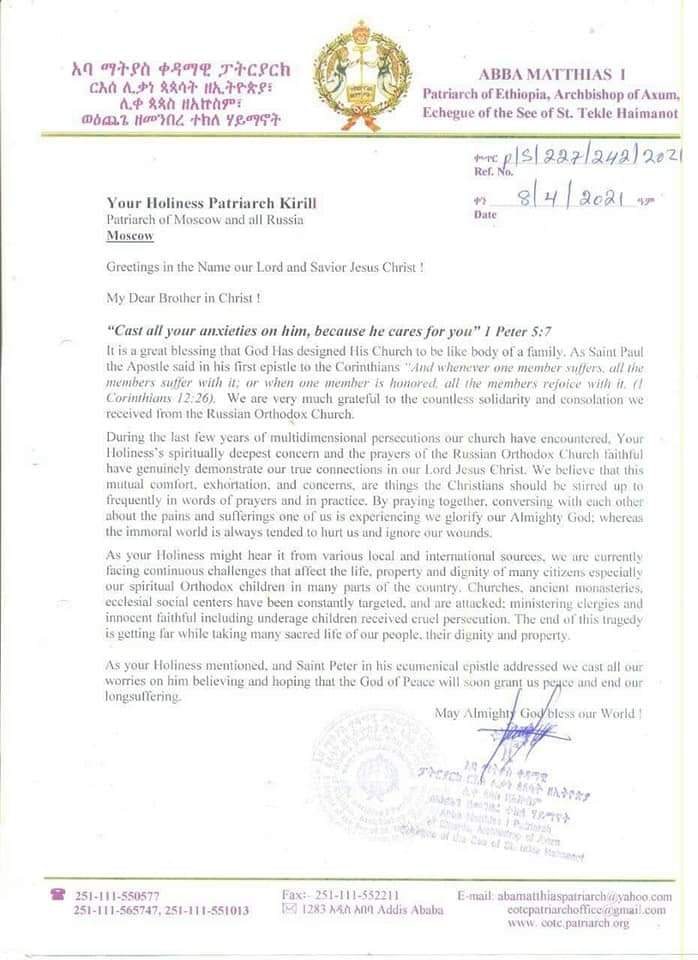 You can follow Pravmir.com on Twitter, Facebook, Instagram, Telegram, or Parler