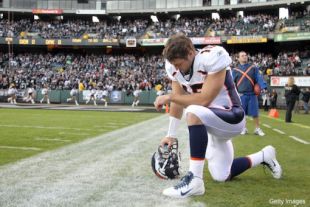 If you haven't heard of "tebowing" by now, it would be surprising. Denver Broncos young quarterback, Tim Tebow, is making a name for himself…and not just for football. Tebow has been in the news because of his openness about his faith off and on the field. A new term has been coined because of his practice of bowing and praying different times during a game. It's called "tebowing."
According to the website www.tebowing. com, tebowing "is to get down on a knee and start praying, even if everyone else around you is doing something completely different."
All of this has made Tebow an easy target for jokes and critics. Saturday Night Live recently had a skit lampooning Tebow's faith, even having "Jesus" come and tell him to ease up on the constant praying. Also, you can find websites with people posing in the now-famous "tebowing" pose, as well as t-shirts and all kinds of parodies regarding his pose. His public practice of prayer has been lauded and criticized. Many applaud Tebow's desire to pray for the whole world to see despite the mocking and teasing. Still, there are others who think that "tebowing" is just prideful and more about the photo opportunity than about true piety.
No one can judge whether or not the actions of Tebow are sincere and truly pious. They do, however, leave Orthodox Christians with a question about witnessing faith in public. Jesus says, in the Gospel of Matthew, that one should pray privately and not in front of men. He also says in the Gospel of Matthew that those who deny Him in front of men, He will also deny before His father in heaven. So what does an Orthodox Christian do? How does one find a balance between witness and humility?
Fellow Orthodox Christian
Troy Polamalu
of the Pittsburgh Steelers seems to have found that balance. Polamalu has witnessed his faith off and on the field. If you watch a Steelers game, you will see him make the sign of the cross between plays or after a big play. He has given many interviews discussing faith, piety, worship, and the challenges of being a Christian in the NFL. He and his wife, Theodora, are also very active in various philanthropic efforts and organizations.
Jesus Christ offers us the most perfect example of living according to God's will in public with piety and humility. As we read in the Scriptures, there were many who believed and followed Jesus because they witnessed His life and public ministry. He prayed in private, but also went to the temple and preached in public. Jesus did not stop His public life and ministry, even though He was mocked, challenged, and criticized. He did not stop being the Son of God just because people were watching.
Ultimately, we can look to Polamalu and Tebow for a positive message. No matter where you are and no matter what you are doing, it is important to witness and live your Christian faith. You will definitely encounter those who will make fun of you or even criticize you for your beliefs. But if you pray and witness with a humble heart, your humility and commitment will inspire others to know more about God and to follow Him. Here are other practical ways to live your faith every day, even when others are doing something different:
1) Love… even if those around you are consumed by hate. It is really difficult to find a news story or gossip magazine about people loving others. Usually, headlines and magazines sell stories of celebrity breakups, violence, war, gossip, and crime.
Make sure that you love God and love your neighbor. Is it easy? Not always. As Christians, we know that God is love. So when we give love, we are really giving God.
2) Forgive… even if those around you encourage you to get revenge. Unfortunately, the idea of revenge has not died. In fact, turn on virtually any TV show and you will see scenarios where someone is betrayed and revenge is carried out. It is a natural impulse to get back at someone who wrongs you. We are called to forgive, and to do so "seventy times seven." Instead of getting back at someone, make a choice… to try to reconcile with that person OR just move on and focus on the healthy relationships in your life.
3) Give… even if those around you think it's better to receive. We are living in difficult times. The economy is still very fragile. We all know a family member or friend who has lost their job. Even though we are surrounded by messages of materialism and consumerism, it is important for us to give to those who are less fortunate. Giving is not always a "money" issue. Give your time to volunteering, give your talent to improve life for others, give of your treasure to help others secure a meal, clothing, or shelter. The blessings you will receive from giving will far outweigh anything that you can order online or purchase at your favorite mall.
4) Serve… even if those around you expect to be served. The most incredible leaders in history have been those who take seriously the call to serve. Jesus Himself washed the feet of His disciples, emphasizing that He came to serve… not to be served. Leadership and respect are earned through servant leadership. When taking a leadership role at school, at work, or at home, be willing to do what you ask others to do. Your example of hard work and sacrifice will make an impression on those around you. People will respect you and want to work with you instead of resent you and work against you.