On Tuesday of this week, the Dormition Cathedral was cleared of scaffolds and a fascinating world of ancient frescos was opened to the human eye. The frescoes had been hidden for many centuries under layers of soot and dust.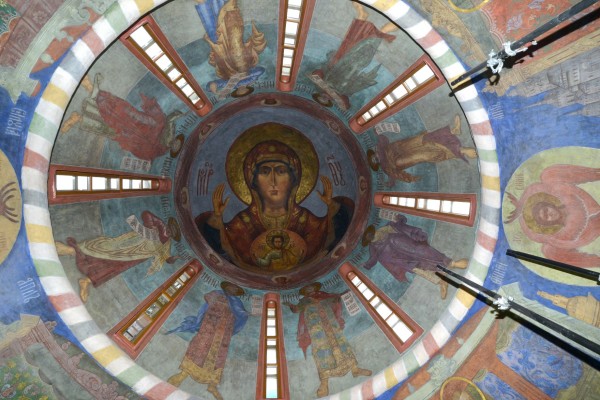 The iconostasis has not yet been fully completed, but a church service has already taken place in the renovated cathedral: Matins with the reading of the Life of St. Mary of Egypt and the Great Canon of St. Andrew of Crete. The service was led by Archbishop Feognost of Sergiev Posad, Vicar of the Holy Trinity St. Sergius Lavra.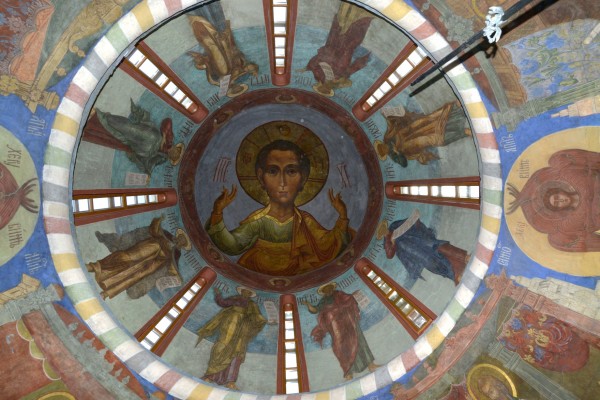 The architectural ensemble of the Holy Trinity-St. Sergius Lavra is a UNESCO World Heritage Site and the Russian government now pays much attention to its conservation. The Dormition Cathedral has always been the true gem of the monastery of St. Sergius. Built in the XVI century by order of Tsar Ivan the Terrible, its architecture is very similar to the cathedral that it was modeled on: the cathedral of the Moscow Kremlin. The frescoes that cover the walls, pillars, and arches reflect the magnificence of the cathedral. The frescoes were completed in 1684 by a team of iconographers from the Lavra and the city of Yaroslavl. They were restored, and thus returned to their original beauty, by a team of conservators from Moscow and St. Petersburg. A huge five-tiered carved iconostasis with icons from the XVI-XVII centuries adds grandeur to the magnificent cathedral. The icons were restored by a team of Lavra iconographers headed by Natalia Aldoshina, an artist and conservator of the highest class.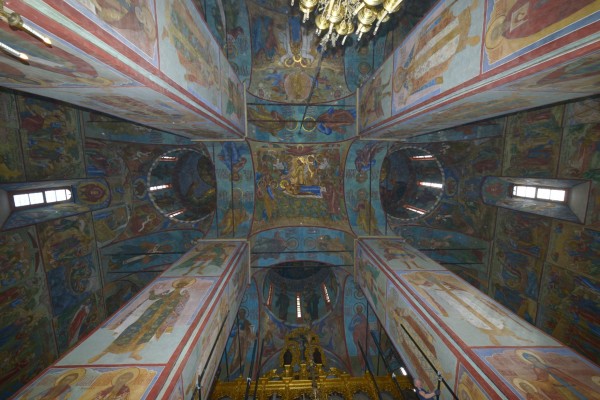 Constant creative dialogue, an exchange of ideas and trade secrets, work in an atmosphere of friendly support, and constructive criticism created the warm and rare atmosphere of a large family, helping conservators to cope successfully with the painstaking and difficult work in a short term.
Photographs of Anton Svyatchenkov