To the surprise of Archimandrite Alexander [Pihach] and the faithful of the Orthodox Church in America's Representation Church of the Great Martyr Catherine here, six frescoes—hidden for nearly a century—recently were uncovered during ongoing restoration work on the 18th century church's interior.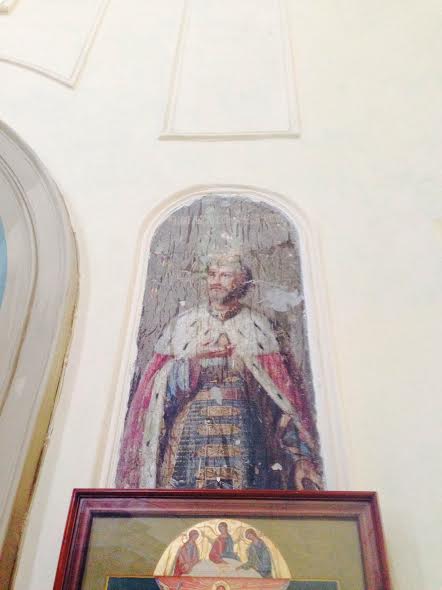 "The icons were discovered in the main church under the cupola," according to Father Alexander, Dean of Saint Catherine's and OCA Representative to the Patriarchate of Moscow.  "The entire church had been restored, except for these walls under the cupola and altar area.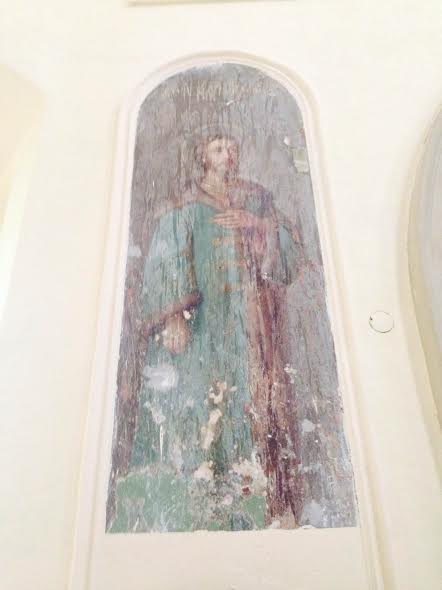 "We were in the process of painting the walls, which are plastered, on an extremely humid day, when we noticed that these six areas bubbled up, revealing that decades ago, wall paper had been applied over the paintings, obviously to protect the icons from the plaster," said Father Alexander.  "The plaster came off easily, however, thereby revealing the six icons' presence."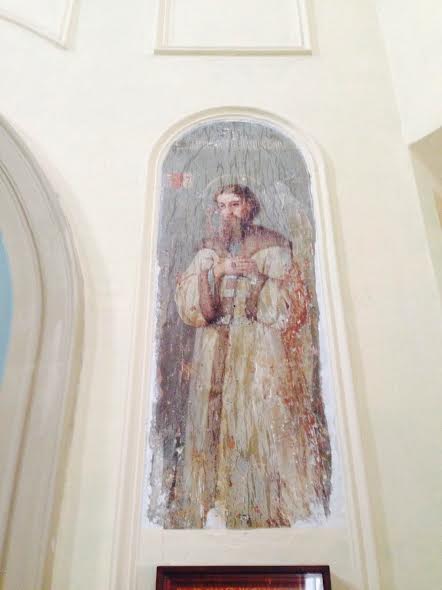 The icons, which depict Saints Vladimir and Olga and four prince-saints—Alexander Nevsky Michael of Tver, Theodore of Smolensk and Yuri of Vladimir—measure approximately five feet by three feet and are positioned on either side of the iconostasis.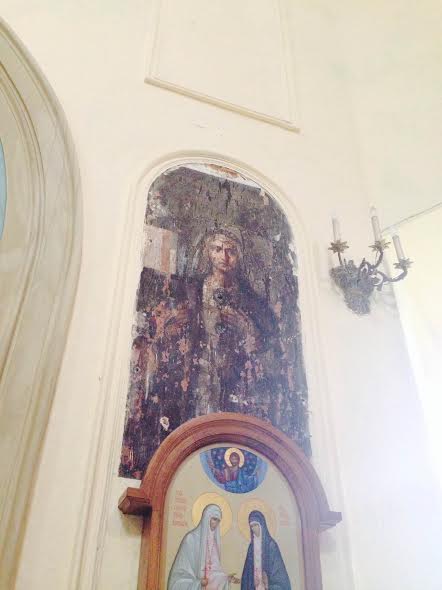 According to Father Alexander, Saint Catherine's was closed in the early 1920s, shortly after the Russian Revolution.  Initially "repurposed" as living space, the church later housed the offices of an art restoration workshop.  The church complex boasts two churches—the mid-18th century "summer church" and the mid-19th century "winter church."  Construction on the summer church, commissioned by the Empress Catherine the Great and funded by the state treasury, began on May 25, 1766.  It was consecrated on September 28, 1767.  The church combines Moscow Baroque and Rococo styles.  The frescoes were painted by D. G. Levitsky in the naturalistic style that grew in popularity in the early 18th century.  [Levitsky later gained fame as the artist who painted the frescoes for Moscow's original Christ the Saviour Cathedral, built to commemorate the defeat of Napoleon in 1812.]  Some of Levitsky's work had also been uncovered beneath a later layer of more recent frescoes in the church's northern transept. The large rotunda, purely European in origin yet capped by the traditional onion dome cupola and cross, dominates the exterior of the church.  On the interior walls of the dome one finds additional 19th century frescoes.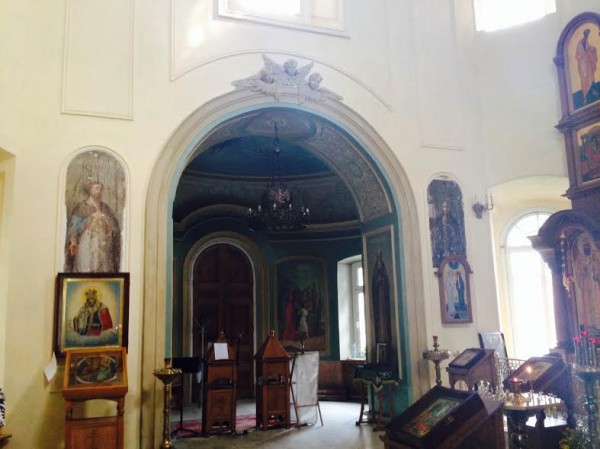 "For the time being, the newly discovered icons will remain as they are, although we have restorers who have worked on the church in the past looking at them," concluded Father Alexander, who added that "because the church is listed as a historic site, the costly restoration work will need the involvement of state authorities.  But the reaction of the faithful was one of awe and amazement when, on the Great Feast of the Transfiguration this year, the icons were again censed and prayed before—for the first time in some 90 years!"