Celebrations took place at the Gorodnitsky Stavropegic Monastery of St. George on the occasion of its Patron Saint's Day – the Renewal of the Church of the Great Martyr George in Lydda, as well as the 70th birthday of Archbishop Alexander of Gorodnitsk, abbot of the monastery and vicar of the Kiev Metropolis. Metropolitan Augustine of Belotserkovsky and Boguslavsky led the celebrations, which took place on November 16, 2020.
His Eminence was concelebrated by hierarchs of the Ukrainian Orthodox Church, the brethren of the monastery and guests in the priesthood. Parishioners and pilgrims prayed during the service.
After the Liturgy, the hierarchs congratulated Archbishop Alexander of Gorodnitsk on his birthday. On behalf of the Primate of the Ukrainian Orthodox Church, Bishop Sylvester of Belogorodsky presented Archbishop Alexander with the Order of St. Job of Pochaev, I degree.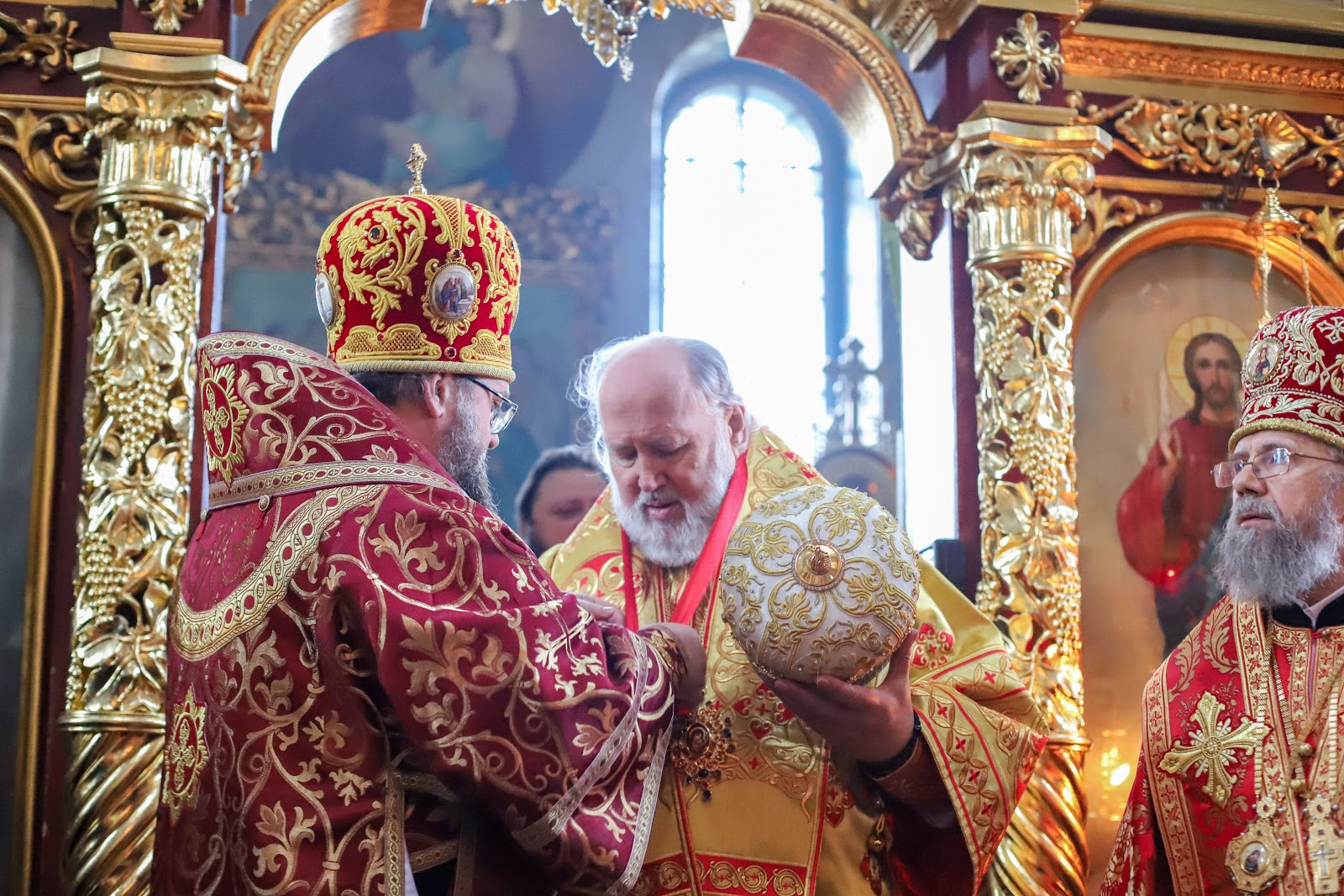 His Holiness Kirill, Patriarch of Moscow and All Russia, and His Beatitude Metropolitan Onuphry, Primate of the Ukrainian Orthodox Church, sent congratulatory messages to Archbishop Alexander.
"You have done a lot of work in the Vineyard of the Lord, and the Almighty, looking at your labors, has allowed you to become a successor of the apostles, who carried the mental fire in their hearts – the divine grace of Christ (Canon of Tone 1 read on Thursday morning). For more than ten years now, you have been doing episcopal ministry in the Kiev diocese, striving in word and deed to give believers an example of a virtuous life and affirm canonical Orthodoxy in this work of God. Prayerfully I wish you spiritual and physical strength, good spirits and endless help of the Savior of the world in your further archpastoral work," wrote His Holiness Patriarch Kirill in his congratulatory letter to Archbishop Alexander of Gorodnitsky.
"Having chosen the path of serving God and His Holy Church, you, dear Vladyka, have been working in the Lord's field for many years, proclaiming the salvation of our God from day to day (Psalm 95: 2), showing the flock of Christ the true way of the living faith, unshakable hope and Christian love. On this significant day, I prayerfully wish Your Eminence good health, peace and spiritual joy. May the All-Merciful Lord be your refuge and strength (Ps. 45: 2) and bestow you with His mercy and grace (Ps. 102: 4) for many good years!" wrote His Beatitude Metropolitan Onuphry in his congratulatory letter.