A reader asked:
Good morning, Father. How can I bring back the girl I love very much? We've been together for a year, and now she says she fell in love with another guy. And I love her too much to let her go.
Archpriest Andrei Efanov responds: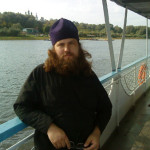 Good day to you! What can I advise you here, young man? Pray for yourself and for the girl, for her happiness. After all, you only wish happiness to your loved one if you love her, right? Pray to God and to the Mother of God. As for bringing her back, you can't help it. God gave every man freedom, so one is free and has the right to choose how to live, including whether to believe in God or to turn away from Him, and, likewise – whether to love this or that person, to be with one man or another. You should accept the girl's fundamental liberty. "Love cannot be forced" is the case.
Of course, it is very painful, sad and empty without her, but the first thing for you to do is to tell yourself and firmly grasp that a girl can choose whom she likes and wants to be with. Spouses have their obligations in a marriage, a marriage is a formed union, and until one makes such a union, they are free to choose. In turn, for your part, take care of your own life – get fitter, spend more time studying or working, do something in your room or house. All in all, you should distract yourself from the thoughts of your lost relationship as much as possible and build your present and future. It may well be that the girl will realize whom she lost and will want to return to you. Perhaps, you will realize that this relationship would not be of a life-long union kind. It may even be so that you will meet another girl and love her more maturely and responsibly, having gained some experience now. Only God knows how tables will turn. You, however, should let go of the girl you wrote me about. Do not hold her forcibly. Live on and get back on your feet. Perhaps, your new achievements will inspire her to return, because you will become the one she wants to be with. Perhaps, not.
Should you meet another girl, however, make it as if you turn a new leaf over, and don't you even dare transfer memories or resentment from your past relationships. It would be a different person, so you'll need to build a new relationship solely for the sake of her and of this relationship, not to make some point to the one who has left you behind, do you understand it? And pray to the Lord that He enlightens you, gives you patience and strength. You have to build a mature relationship with God as well, so start right now!