Sunday, May 20, 2018 has been designated "Prison Ministry Awareness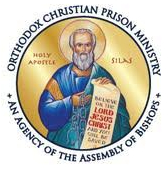 Sunday" by the Assembly of Canonical Orthodox Bishops of the United States of America.
The day will highlight the work of the Orthodox Christian Prison Ministry [OCPM], an Assembly agency.
"Our Divine Liturgy begins with petitions that include 'for captives and for their salvation, let us pray to the Lord,'" said Father Stephen Powley, OCPM Executive Director, in a letter announcing Awareness Sunday.  "Later, following the Holy Anaphora, the priest again prays, 'Remember Lord… captives and their salvation.'
"Orthodox Christians are meant to put feet to their prayers," Father Stephen continued.  "As Saint Paul exhorts us, 'Whoever calls on the name of the Lord shall be saved.  How then shall they call on Him in whom they have not believed?  And how shall they believe in Him of Whom they have not heard?  And how shall they hear without a preacher?  And how shall they preach unless they are sent?  As it is written, How beautiful are the feet of those who preach the gospel of peace, who bring glad tidings of good things' [Romans 10:13-15].
"Please put 'feet' to your prayers for captives and for their salvation by assisting OCPM in bringing the Good News to the precious souls living in the prisons and jails of our country," Father Stephen concluded.  "OCPM needs your help to bring the Love and Light of Christ to these men and women who should also be afforded the joy of the Resurrection of our Lord.  Please be so kind as to pass a second tray for the ongoing ministry of OCPM on Prison Ministry Awareness Sunday."
OCPM provides Orthodox Christian publications, Bibles, prayer books, icon and catechism courses to those in prison and to prison chapel libraries.  It also links prisoners to Orthodox Christian priests who provide a sacramental life while offering their families spiritual guidance and aid.
Donations may be made online or may be sent to OCPM, PO Box 1597, New York, NY 10025.