On October 24, His Beatitude, Metropolitan Tikhon welcomed His Eminence, Metropolitan Hilarion of Volokolamsk, Chairman of the Department of External Church Relations of the Moscow Patriarchate, to the Chancery of the Orthodox Church in America for a working meeting.
His Beatitude received Metropolitan Hilarion in the Chancery's Saint Sergius of Radonezh Chapel, together with Igumen Nicodemus Balyasnikov and Priest Mark Rashkov, clergy of Saint Nicholas Patriarchal Cathedral in New York City. Metropolitan Hilarion conveyed greetings of His Holiness, Patriarch Kirill, and presented His Beatitude with a gift of an enkolpion.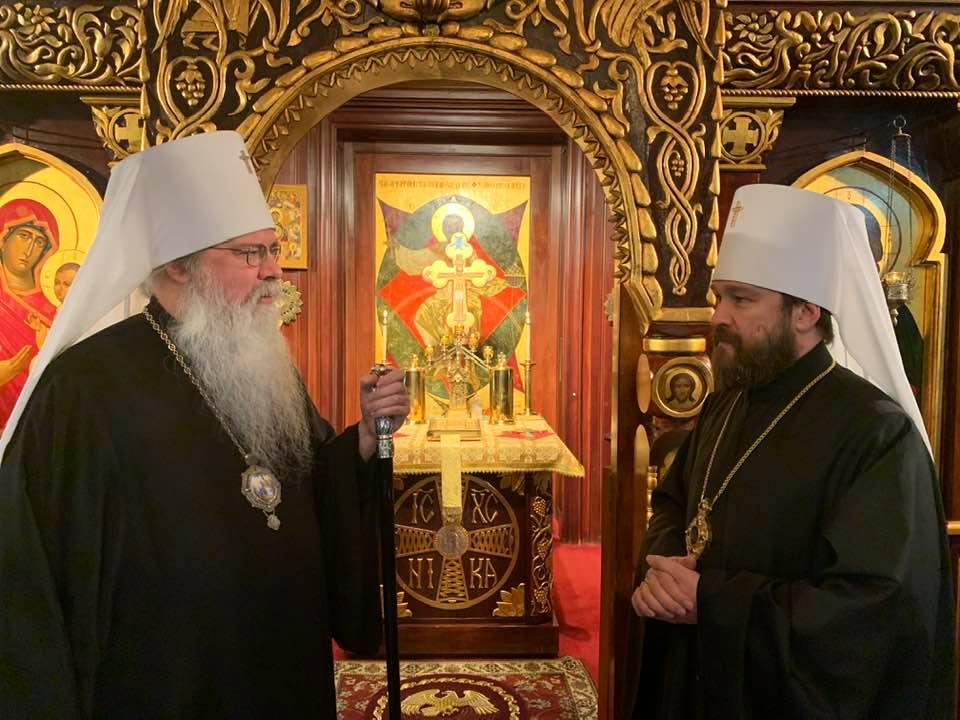 During their meeting His Beatitude and Metropolitan Hilarion discussed a wide range of topics, including the plans for the 25th anniversary celebration of Saint Catherine Church in Moscow as the Orthodox Church in America's representation church to the Moscow Patriarchate, and the celebration of the 50th anniversary in 2020 marking the glorification of Saint Herman of Alaska, and the granting of autocephaly.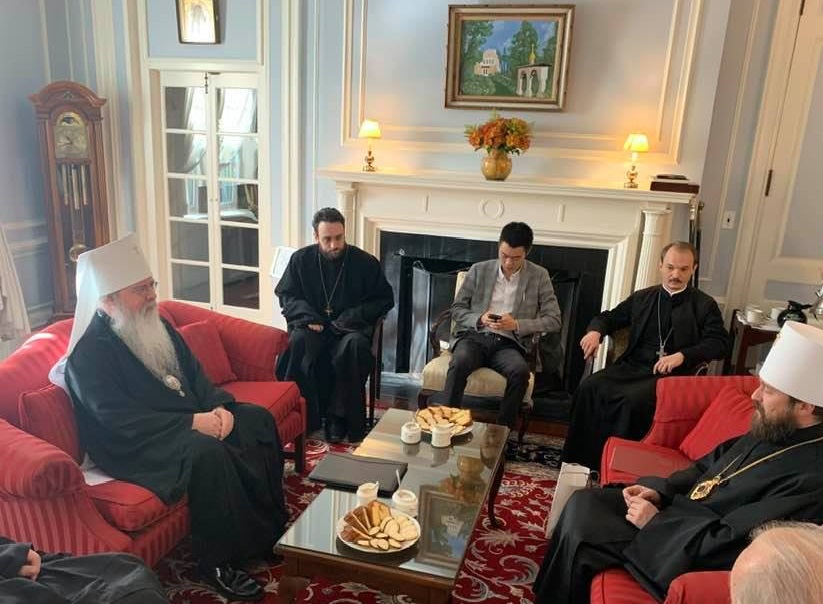 His Beatitude was joined in the meetings by Archpriest Alexander Rentel, Chancellor of the Orthodox Church in America, and Protopresbyter Leonid Kishkovsky, Director of External Affairs.
At the conclusion of the morning meeting His Beatitude and Archpriest Alexander Rentel met privately with Metropolitan Hilarion to discuss the current situation of world Orthodoxy.
Photo credit: OCA