On January 7, 2014, the station Rossiia televised an interview with His Holiness, Patriarch Kirill of Moscow and All Russia, in which he spoke with the journalist Dmitri Kiselev. As the interview is rather lengthy, we will share it in installments, beginning today.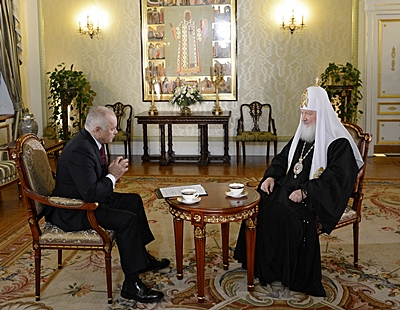 Question: Your Holiness, we are speaking on the feast day of the Nativity of Christ. For the majority of people, this is a family – and, of course, children's – holiday. Can you recall your dreams and wishes connected with this family and children's holiday? 
Patriarch Kirill: It is difficult to remember my dreams and wishes. Surely there was something, since every child – as well as every adult – has thoughts about the future on Nativity and New Year's. But, generally speaking, the dreams that absorbed my childish consciousness were connected with serving the Church. I cannot remember any age during which I did not want to become a priest.
Therefore the feast of the Nativity, in the context of these dreams of mine, was of great significance. I remember my experience of church life in childhood with great warmth. Everything attracted me: I was attracted by the flickering lampadas, even early in the morning at the early Liturgy, by the smell of incense, by the hymns. But at certain moments I especially felt Divine grace in my childish heart. And I cannot forget one Nativity, although which year exactly I cannot remember. I came home with such uplift after the evening service, and in what was then Leningrad, according to the Petersburg tradition, the services were celebrated in the morning and evening – there were no night services – and so having returned from this service I felt such spiritual uplift that I sat down and wrote a poem. I am not going to cite them, but these were probably the only verses I have ever written in my life.
Question: And yet Christianity is undergoing difficult times in the world now. In some European countries even the word "Christmas" has disappeared, being replaced by some holiday "X." In Russia in danger of this? 
Patriarch Kirill: As far as the substitution of some other name for Nativity is concerned, this is a political act, an action directed towards ousting Christian values, including Christian-oriented events, from people's lives. This is a spiritual disarmament of the masses. It is an incredibly dangerous trend.
We live in an era when people are very concerned about human rights and freedoms. It is surprising that people are concerned with any rights and freedoms except some rights and one freedom: the freedom openly to confess the Christian faith. And we see what is happening today, that when television broadcasters are not allowed to wear a cross, when even nurses are not allowed to wear one, when crucifixes are being removed from schools, or when there are attempts to do so, this is certainly a deliberate policy, a deliberate trend.
All this is taking place in Europe itself, which is still sometimes said to be both a country and a continent with Christian values. This is very unfortunate. Of course, Christian values persist in Europe, undoubtedly in the life of the people. I have experience of Western Europeans who still guard all this in their hearts. But the general political trend, the general direction of the elites, is undoubtedly of an anti-Christian, anti-religious character.
All this is very difficult for the soul to bear, because we have gone through the era of atheism, and we know what it is like to live in a society without God. We know what the ghastly consequences of all this were. One wants to cry out to the whole world: "Stop, people! We know what kind of a life this is, in a way that you don't yet. And the fact that you are now dismantling the most powerful stimuli of life can lead to catastrophic consequences."
But if we are to speak about the consumerist attitude towards Nativity, then of course this consumerism involves a certain kind of theology because, celebrating the Savior's coming into the world, we expect something from God: one person expects something from his boss, while another expects something from God. Therefore the very idea of Christmas presents is, as it were, implanted in the holiday philosophy. There is a big difference, however: one can expect worthy things from God, but one can also, forgetting about God, make exchanges of an exclusively commercial nature, which is what happens.
People often forget about the meaning of the Nativity, totally immersing themselves in the market, in consumerism, and all this turns into an enormous commercial holiday. This is very unfortunate. May God grant that, although this tendency is already present, that it would not destroy the grace-filled inner foundation and content of the feast day.      
Translated from the Russian