The day also included a talk on New Skete's monastic life by Sister Rebecca, a discussion on iconography by Sister Cecelia, a tour of Holy Wisdom Temple, and a photo exhibit highlighting New Skete's history.  Visitors also feasted on Greek and Lebanese food offered by Flavors of Lebanon, a local food vendor.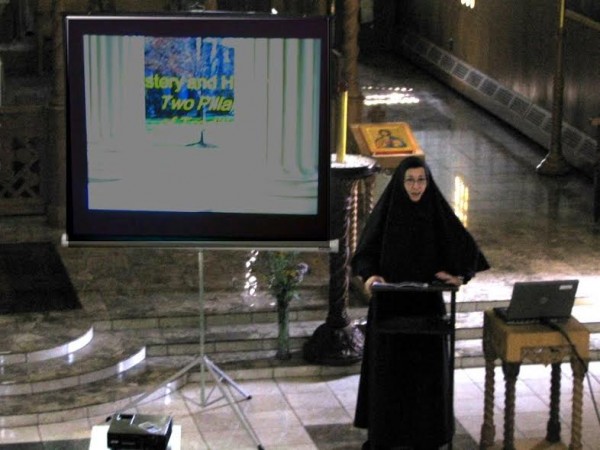 Sister Vassa is the host of "Coffee with Sister Vassa," a YouTube podcast.  Despite her extensive academic background — she did her undergraduate work in the US and pursued Master's and Doctoral degrees in Germany — her videos are relaxed, easy to follow, and quite humorous at times.  Born in Nyack, NY, Sister Vassa is a nun of the Russian Orthodox Church, author of many articles and a monograph on Byzantine liturgy and theology, and an outspoken public intellectual.  She is an independent researcher at the Department of Historical Theology, University of Vienna in Austria.  Her presentation was titled "Mystery and History: Two Pillars of Traditions."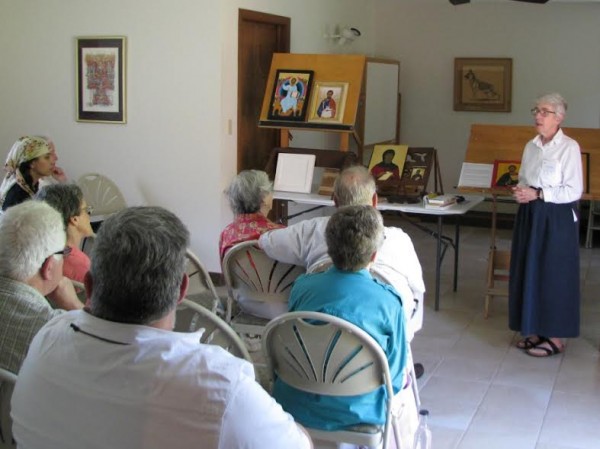 In addition to the celebration of Matins and the Divine Liturgy on Saturday morning, a late afternoon Healing Service with anointing and the Saturday evening Vigil was also held.

New Skete, since 1979 a monastic community of the Orthodox Church in America, was established in 1966 by a small group of Byzantine Rite Franciscan monks.  The monks are renowned for their breeding of German Shepherd dogs and their training of all breeds.  In 1969, seven Poor Clare nuns from Indiana, inspired by the vision of contemporary monastic life, settled near the monks and joined New Skete. The nuns of New Skete have been baking their world-famous cheesecakes for over 35 years.  In 1983, a third community was established when eight dedicated parish members expressed their desire to live in accordance with the monastic way of life and formed the Companions of New Skete.