Now it happened, the day after, that He went into a city called Nain; and many of His disciples went with Him, and a large crowd. And when He came near the gate of the city, behold, a dead man was being carried out, the only son of his mother; and she was a widow. And a large crowd from the city was with her. When the Lord saw her, He had compassion on her and said to her, "Do not weep." Then He came and touched the open coffin, and those who carried him stood still. And He said, "Young man, I say to you, arise." So he who was dead sat up and began to speak. And He presented him to his mother. Then fear came upon all, and they glorified God, saying, "A great prophet has risen up among us"; and, "God has visited His people."
The Apostle and Evangelist John tells us, very simply, that "God is love." We take this as an article of faith, but sometimes it is good for us to be reminded of how deep, how limitless, that love is. Our gospel today gives us that opportunity, for in the story of the widow of Nain we see that side of Christ which demonstrates his boundless compassion.
In our reading today, we are told that Jesus was traveling in the vicinity of the village of Nain. It is worth noting that as far as importance goes, Nain had none. It was simply a small place on the side of the road, and Jesus is simply traveling past it. It is not his destination, nor does it ever appear again in scripture. It is not like Jerusalem, or Capernaum, or any of the places we associate with our Lord. It is an unimportant place, and there is no good reason for Jesus to perform a miracle there.
Nonetheless, as Jesus is passing by, he comes upon a funeral procession leaving the town, making its way to a freshly dug grave. The deceased is a young man, and foremost among the mourners is his mother, a widow. The fact that his mother is a widow has some significance. In that age, a woman was wholly dependant on her husband, or if her husband is dead on her sons, for her support. We are led to understand that in losing her son, the widow was losing her last support. This is not only an emotional loss. It is a loss which devastates the poor woman in every way. She has lost the one she loves, and her life stretches out before her, empty and forbidding.
In an instant, Jesus understood the situation. The evangelist tells us that he was moved by compassion, stretched forth his hand, and brought the man back to life. We are not told that the widow was a Jew. We are not told that she was one of his followers. We are not told that she even knew who Jesus was. We are told only that Jesus was moved, that he performed this miracle simply and solely out of love.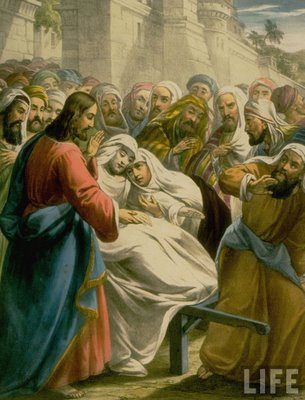 If we look at this story in context, it gains even more power. Immediately before this passage, Jesus had healed the servant of the centurion. You will remember that in that instance, the centurion was a God-fearing gentile, a man who admired and tried to follow the dictates of Judaism, who had sent word asking that Christ heal his servant of an illness. "Don't bother coming," the centurion said, "I am not worthy to have you in my house, but I know that you have authority over all things. A word from you, and my servant will be healed." In that instance, it is the faith of the centurion that causes Jesus to marvel, and to heal the servant.
In rapid succession, there are two miracles. One is compelled by great faith. The other is compelled by great love. The contrast is important, for it teaches us two very great things.
The first is this: our faith is crucial to us. We are Orthodox Christians, and we know that our entire life is directed at matters of faith. We are members of the church of Christ, and we have unimaginable riches, great sacraments that literally allow us to meet God face to face. We commune the Body and Blood, we stand before God and confess our sins and receive absolution, we are married in the sight and presence of God. Every time we receive a sacrament, we receive God himself. Our whole life is devoted to growing in faith, growing in purity, growing in holiness, becoming ever more obedient to God. We strive for the great faith of the centurion, because we have seen God in our lives, and we know his power and his presence. Faith is the bedrock of our communion.
But we know this as well: at times we are distraught by fear or pain. We may be beset by our own sin. Our faith may not be as sturdy as we would like. We may have friends or family members with no faith at all, but for whom we are deeply concerned. We pray and we pray, but life continues to be chaotic, and sin is the hallmark of the world around us. Our own faith may be shaken. In that case, we rely on the love of God, the love that caused Jesus to resurrect the son of a woman he did not know. Do you remember the story of the raising of Lazarus? When Jesus reached his friend's tomb, he found Lazarus' family and friends grieving over his death, and scripture tells us that at the sight, Jesus wept.
Do you see? Our faith is what carries us toward God. God's love is what brings him to meet us. God is never blind to our suffering, or to our deepest needs. On an individual level, we identify with all of these people. One day, we may be the centurion, full of sturdy faith. The next, we may be the widow, sorrowing over our loved ones. And on yet another day, we may find ourselves in the position of the young man, spiritually dead and desperately in need of the unsought and undeserved compassion of God.
But there is another dimension to this, a vitally important one that speaks to us in a somewhat different way. The Church Fathers see in the figure of the sorrowing widow a representation of the Church itself. The great British saint, the Venerable Bede, writing of this passage, said
We are told that 'she was a widow'; for every soul which remembers that it has been redeemed by the death of her Lord and Spouse confesses that the Church is a widow.
Saint Ambrose of Milan follows the same thought, when he says:
Although there is grave sin that you cannot wash away yourself with the tears of your penitence, let the mother of the church weep for you. She who intercedes for all as a widowed mother… is she who suffers with the spiritual grief of nature when she perceives her children urged on to death by mortal sins.
It is a beautiful image. Our mother, the Church, weeps for her children out of a true love. Yet what is the Church, but we, ourselves, assembled as the Body of Christ? Saint Ambrose completes the picture:
We are the heart of the Church, since we are the members of his Body, of his flesh and of his bones. Let the pious mother grieve, let the crowd, too, help. Let not only the crowd but also the multitude feel pity for a good parent. Already at the funeral you will arise, already you will be released from the sepulcher, the attendants at your funeral will stand still, you will begin to speak the words of life.
We – the Church – pray in faith and in love for each other. We lament for our own sins, we grieve for those around us, we beseech the Lord for mercy, for each and every one of us. We pray in faith, like the Centurion. We pray in grief and in urgent need, like the widow. And God responds. He hears our prayers. He raises us from spiritual death, and after physical death, he rescues us from the grave.
Never let anyone tell you that prayer is futile. Never let yourself be persuaded that your heartfelt prayers fall on deaf ears. We may not always recognize the answers to our prayer. We may even conclude that God is not answering our prayers. But be assured, prayer is always answered by our loving and compassionate God. At times, like the prodigal son, people may themselves delay the fulfillment of prayer, but God is always ready to meet us, and heal us. He does not promise us fame or wealth or everlasting good health, or worldly happiness and success. But in his love, He promises peace for our spirit, and love for our soul.
Similarly, never let anyone tell you that prayer for those who have passed on is meaningless. People who tell you that, usually in ignorance, are really committing a terrible slander on the Lord. Does love stop at the grave? Do you no longer love those who have been important in your life – mother or father, wife or husband, son or daughter, brother or sister, friend or companion – simply because they have passed from this life? Our love never stops, and if that is true for us, how much more is it true for God himself? That is why we pray and give alms, and do works in remembrance of those who have passed, and God responds, in compassion and in love, in ways that we cannot fully understand. St. John of Shanghai and San Francisco spoke passionately of this in a homily of his own, saying:
Relative and dear friends of the departed! Do what is needful for them and what lies in your power…(give alms) helping the poor, in memory of your close ones who have fallen asleep, and on churches, where prayers are offered on their behalf. Show mercy to those who have fallen asleep; attend to the good of their soul. That path awaits all of us….Let us be merciful to the departed.
The story of the widow of Nain is a wonderful story. It reminds us that the Gospel, like the Christian life itself, is seamless and perfect. The demands made on us are no less than the demands of love and of faith. As the Apostle John said, God is indeed love. And He responds to us, to the Church, as we in faith and in love cry out to him. For ourselves, for each other. For the living; for the dead; for the entire world. We cry out for mercy and for love and always – always – God responds. It is for this – faith and love – that we will be held accountable at the dread judgment seat. Nothing else. Not buildings, not numbers, not visible success. Faith and love. This is our life in the Church, it is our life in Christ.
Source: Ancient Church