And behold, there came a man named Jairus, and he was a ruler of the synagogue, and he fell down as Jesus' feet, and besought Him that He would come into his house: for he had only one daughter, about twelve years of age, and she lay a-dying. But as He went the people thronged Him. And a woman having an issue of blood twelve years, which had spent all her living upon physicians, neither could be healed of any, came behind Him, and touched the border of His garment: and immediately her issue of blood stanched. And Jesus said, Who touched Me? When all denied, Peter and they that were with Him said, Master, the multitude throng Thee and press Thee, and sayest Thou, Who touched Me? And Jesus said, Somebody hath touched Me: for I perceive that virtue is gone out of Me. And when the woman saw that she was not hid, she came trembling, and falling down before Him, she declared unto Him before all the people for what cause she had touched Him, and how she was healed immediately. And He said unto her, Daughter, be of good comfort, thy faith hath made thee whole, go in peace. While He yet spoke, there cometh one from the ruler of the synagogue's house, saying to Him, Thy daughter is dead, trouble not the Master. But when Jesus heard it, He answered him, saying, Fear not, believe only, and she shall be made whole. And when He came into the house, He suffered no man to go in, save Peter, and James, and John, and the father and the mother of the maiden. And all wept, and bewailed her: but He said, Weep not, she is not dead, but sleepeth. And they laughed Him to scorn, knowing that she was dead. And He put them all out, and took her by the hand, and called, saying: Maid, arise. And her spirit came again, and she arose straightaway: and He commanded to give her meat. And her parents were astonished: but He charged them that they should tell no man what was done (Luke 8:41-56).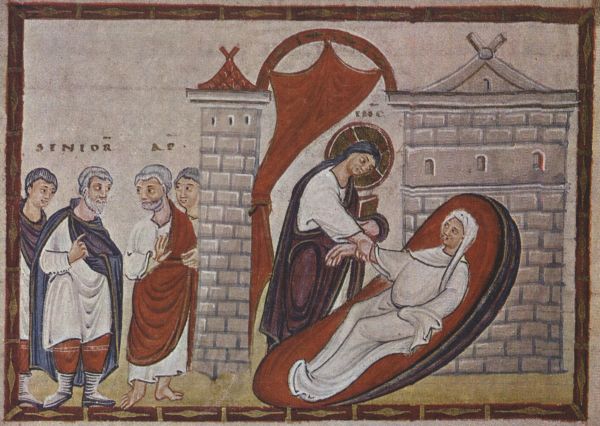 Amidst the vanity of the world and the noise of everyday life, in the prayerful quiet of our churches, these Divine words ring forth from the ambo: Daughter, be of good comfort, thy faith hath made thee whole, go in peace.
These words were not spoken only to that ailing woman who had been healed by touching Christ's garment and who then approached Him with trembling to declare before the people why she had touched Him and how she had been healed immediately. They were spoken and written down, and will continue to be repeated, for the benefit of all those whose legs have been wounded on the paths of life; for all those who will understand and perceive that the only power, the only source of all good things and of our healing, is in Him. They were spoken for all those who will understand and seek out that Physician Who heals the possessed, Who restores sight to the bind, Who raises the dead, and Who refuses help to none.
If only to touch the hem of His garment…  In the first moments of her delight, the woman healed through this touch thought that no one in the crowd, not even He Himself, had learned of her illness and the joy of her recovery. Suddenly she heard a question: Who touched Me? Why did these words startle her? Might she done something wrong or unlawful? Might she not have had the right to touch Him? She fell trembling before Him and related everything. In reply, she heard words of the utmost greatness not only for her, but for the entire world: Daughter, be of good comfort, thy faith hath made thee whole! 
How extraordinary it is to touch the Lord's garment! The garment in which the Almighty Creator is clothed is the entire world, for it is said: Thou coverest Thyself with light as with a garment (Psalm 103:2). The entire world and all phenomena of nature – the stars, flowers, birds, fields, forests, seas, and every man and beast – are diverse patterns of embroidery on the Lord's garment, which we usually touch without any excitement, indifferent and oblivious to its grandeur and to its beauty that is beyond all comprehension. Meanwhile, one of our national poets [Lermontov], gazing at a yellowing cornfield and a rustling wood, at flowers and a flowing brook, concludes:
Then my soul's alarm is stilled,
Then the furrows on my brow are smoothed,
I am able to grasp happiness on earth,
And in the heavens I see God.   
How well did Ampère, founder of the science of electromagnetism, put it in a letter to a young scientist who was his friend: "Take care not to let yourself be preoccupied by the sciences… Write with only one hand! Hold tightly with the other to God's raiment like a child clinging to his father's cloak!"
Christ's heartening words to the healed woman had barely stopped ringing when a servant from the house of Jairus arrived to say that his daughter was dead and not to trouble the Master. Seeing the father's bewilderment, Christ said: Fear not: believe only, and she shall be made whole. What radiant words! How heartening they are to every timid soul in moments of doubt, despondency, and despair! Only believe that the Lord is always with you; that He, Who is greatly merciful, will never abandon you! What is there to be afraid of? What can frighten someone who has such a sense of faith?
In the house of Jairus there resounded great words, words that one day will raise all the dead from their graves and deathbeds: Maid, arise! And then her spirit came again. How profound are these words: "came again"! This implies that her spirit had gone off somewhere while her lifeless body lay immobile. The soul remained alive; it only left for a time and then returned. The girl arose and Christ, in assurance of her raising, commanded her to be given food.
Brothers and sisters, as we leave church today let us remember these Divine words again and again, applying them as healing plasters to our hearts: Daughter, be of good comfort: thy faith hath made thee whole; go in peace. Fear not: believe only. Maid, arise! Amen.
Translated from the Russian.