And as He entered into a certain village, there met Him ten men that were lepers, which stood afar off. And they lifted up their voices, and said, Jesus, Master, have mercy on us. And when He saw them, He said to them, Go show yourselves unto the priests. And it came to pass that as they went, they were cleansed. And one of them, when He saw that He was healed, turned back, and with a loud voice glorified God, and fell down on his face at His feet, giving Him thanks: and he was a Samaritan. And Jesus answering said, Were there not ten cleansed? but where are the nine? There are not found that returned to give glory to God, save this stranger. And He said unto him, Arise, go thy way, thy faith hath made thee whole (Luke 17:12-19).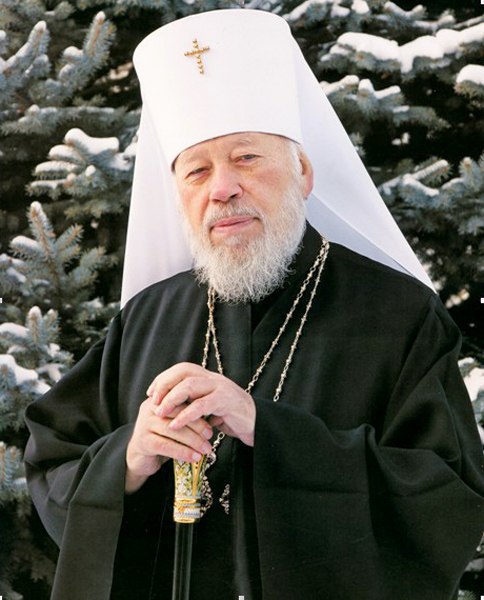 Once Christ was passing by some unfortunate people: ten lepers who, because of their terrible affliction, did not have the right to communicate with people. Leprosy is a terrible disease that strikes people by gradually destroying their flesh and bone. This affliction is even more terrible in that leprosy is a contagious disease. Therefore those afflicted with this disease are cast out from society into the wilderness or onto the territory of abandoned cemeteries. Christ heard the prayerful cry of the ten men afflicted by leprosy who, not having the right to approach, called out to Him from the distance: Jesus, Master, have mercy on us (Luke 17:13). With a single all-powerful word, Christ removed their illness and alienation: Go show yourselves unto the priests. Those healed from leprosy had to receive testimony from a priest in order to return to normal life in the society of men.
All ten healed men joyfully rushed to the village to show themselves to the priest and to meet with their family and friends. There was no limit to their joy. But of the ten mentioned by the Gospel, one Samaritan remembered that he should return to thank the Source of his healing. The Samaritan returned, fell on his knees before Him, and loudly thanked and glorified Him. Christ accepted his gratitude, but asked sorrowfully: Were there not ten cleansed? but where are the nine? (Luke 17:17).
Why, of the ten who received this benefaction, did only one come to give thanks? Gratitude, which is a great and sublime feeling, is a difficult virtue. Although it is normally considered most difficult to ask for something from people, since this is associated with a sense of shame and embarrassment, it might be even more difficult to give thanks. As long as someone is experiencing need – as long as he has woes, sorrows, and tears – he will ask, he will insist, he will cry out. But when all this has passed, instead of feeling gratitude, he will likely forget about his benefactors and about gratitude.
It is no accident that the Holy Church, knowing our human weakness, reminds us at the beginning of the Eucharistic Canon in the Divine Liturgy: "We give thanks unto the Lord." We must first of all give thanks to the Lord. Give Him thanks for what? For the fact that we receive everything from Him. For the fact that we have the happiness of living and breathing; for the fact that we have the opportunity to feel and love; even for the fact that we have the opportunity to suffer and cry. We owe Him our gratitude for all this, as benefactions sent by God. The feeling of gratitude is the brightest, most sublime, and most essential of all religious feelings.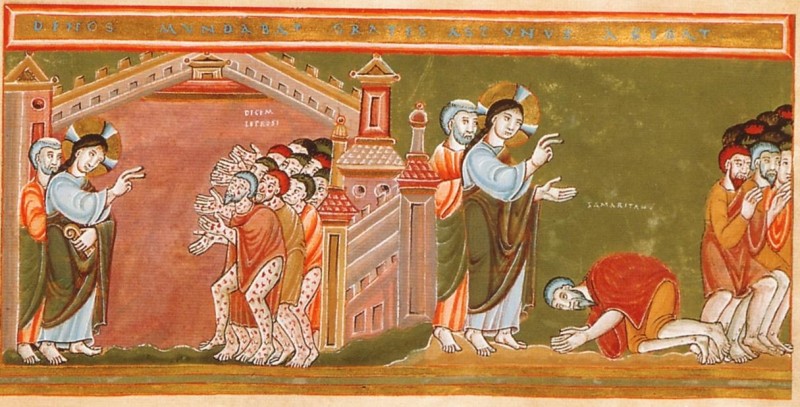 Although we are united in one faith and one hope, we enter this holy church in different states of mind. No matter who is here, there will be different states of soul even during times of common prayer and participation in the Divine Liturgy. Everyone has something unique, intimate, and inimitable: one person is afflicted by a painful infirmity, another is irritated by domestic quarrels, another has fallen into despondency or despair, another weeps for his soul with tears of repentance, another has been unjustly wronged, while another has wronged someone and is regretting his actions. Therefore every one of us here is different, and our inner makeup will be different. But be that as it may, we should all give thanks to the Lord together and for all things. A common prayer of thanksgiving to the one God will unite us, warming us with the flame of the sacred feelings of love and awe.
Christians should build their entire lives upon the example of the one healed man from the ten who returned and gave thanks to the Lord. We ought to give thanks to God not only for joy, but also for grief; not only for life's smiles, but also for tears; not only for our health, but for illness – because everything that happens to us serves for our good, for our edification, and for our salvation. The Lord only sends us that which is good and blessed. We ourselves call down that which is bad when we become carried away by self-love, passions, and the desires of the flesh; we ourselves call down torment upon ourselves, both spiritual and physical. We need to place ourselves in the hands of God more often, trusting in Him and thanking Him, and then the Lord will wisely arrange the paths of our lives and give us everything necessary.
Gratitude is a sublime feeling. We love it when others thank us; we honor such people, saying: what a grateful, courteous person! Yet we ourselves do not hasten to give thanks. The Lord loves those who turn to Him with a feeling of gratitude. He does not need our feelings of gratitude: it is we who need this feeling, for the nurturing and sanctification of our hearts and souls in the Lord and through the Lord.
How pleasant and joyful it is to hear from the Gospel that at least one of the ten was found to give praise unto the Lord, his miraculous Healer. In this one person, brothers and sisters, there is joyful hope for us as well. This person who gave thanks to the Lord serves for us as a special source of tenderness and consolation. This is no accident, since there are good feelings that are laid in our hearts that are ready to manifest themselves, which we often suppress and do not allow to grow.
Hearing the Gospel account of the remaining nine lepers, we unwittingly pity them and worry about them, these men who had been unhappy and were then made happy. One unwittingly wants somehow to excuse their mistake, since they had been completely dead, but were brought back to life; they had been rejected, but were returned to the society of men, to their family and friends. One unwittingly wants to excuse them in human fashion for forgetting about Him Who gave them their joy, because man has so little joy, delight, and exaltation in life; this is all so precious that one becomes lost in joy, fearing to lose what one has obtained.
We must remember that true happiness – spiritual happiness in Jesus Christ – is not fleeting. The Lord, the Source of every good thing and every consolation, is always with us and will never forget us. We need to remember Him and His benefactions with a grateful heart and grateful lips. In the Holy Liturgy we give thanks unto the Lord along with the Church for all His benefactions "which have come upon us," both seen and unseen, although the Lord does not have need of this, for the holy angels and archangels, the heavenly hosts, and the cherubim and seraphim ascribe glory unto Him. Joining with the hosts of heaven, let us give glory and thanks to God more often, for to Him alone is due glory and thanksgiving unto the ages. Amen.
Translated from the Russian