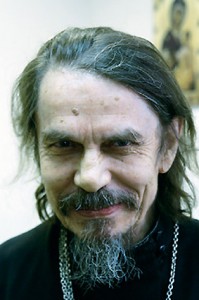 St. Andrew of Crete's Penitential Canon provides the prayerful mood for all of Great Lent. "Have mercy on me, O God, have mercy on me," cries the Church among the canon's troparia. This is reminiscent of the words of the prayer of St. Ioannicius: "My hope is the Father, my refuge is the Son, my protection is the Holy Spirit," which the saint spoke from the abundance of his heart among the verses of the Psalter, which he read unceasingly. It is no accident that here, too, every ode concludes with an appeal to the Most Holy Trinity. We dare make this cry in a simple and all-embracing manner, as with the Our Father.
People frequently talk about how difficult it is to pray – and, indeed, it is difficult. We recall the words of St. Silouan the Athonite: "To pray is to shed blood." But at the very beginning of Great Lent we would like to say something a bit different.
People ask about learning to pray as if they were trying to solve some difficult task, while genuine prayer comes from the depth of the heart of a Christian who has received the humble spirit of adoption. People constantly ask exactly what sort of prayer rule we should have. The Holy Fathers confirm this, saying: "A moderate rule is priceless." But to this they unfailingly add: "Only one should not become a slave to the rule." Because it is possible to collect a multitude of canons and akathists, recite them daily as "read prayers" in the words of St. Theophan the Recluse, and cover oneself with them from head to foot like David in Saul's armor [cf. 1 Kings (1 Samuel) 17:38-40]. We know that this armor turned out to be too heavy for him, yet the Lord granted him victory over Goliath with another, much simpler weapon. The most important thing in prayer is a repentant spirit, a broken and humbled heart, and – born therefrom – pure and simple love. Genuine prayer is spoken in the language of babes: no matter how they babble, their fathers joyfully attend to them, since this babbling comes from a filial heart. Such is the Holy Spirit, Who during prayer groans with groanings which cannot be uttered in us [Romans 8:26].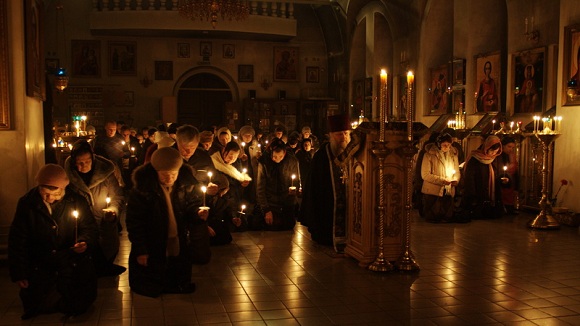 The Lord told us clearly and decisively: After this manner therefore pray ye: Our Father, and the rest will follow [Matthew 6:9]. Christian prayer is defined neither by formula, nor by place, nor by anything else, but above all by the personal encounter of a child with his Father. The Apostle Paul reminds us of this emphatically: For as many as are led by the Spirit of God, they are the sons of God. For ye have not received the spirit of bondage again to fear; but ye have received the Spirit of adoption, whereby we cry, Abba, Father (Romans 8:14-15). This is enough; God will hear us. He did not withdraw from us; we withdrew from Him. If our repentance is genuine, then the Holy Spirit will touch us and our mouths shall speak from the abundance of our hearts. Prayer is the soul's primary need and its joy. In order to enter into prayer, we need to free the depths of our hearts from the captivity in which the world holds them, giving them over to communion with God.
In this way, the question of how much we should pray and of how often we should go to church loses its meaning. One does not need t0 count the time dedicated to prayer; it is better for us to count the time not given over to prayer. It is normal for someone to count the hours he works, but someone who loves his family does not count the hours he spends at home. So long as our prayer does not proceed from our entire being, which was created for God and wholly gravitates towards encounter with Him, the words of payer will only skim the surface of our consciousness. Our life will be like a wheel whose axis runs off-center: such a wheel will be crooked.
Let us give thanks to God for these holy evenings, which begin our forty-day path to Christ's Cross and Resurrection. We were created for this prayerful standing, for this love, for this encounter with God, for this intimacy, for this repentance for the sins that prevent us from being with God. We do not need to look for anything else, either here on earth or in heaven. This connection with God is our blessedness, our center, our joy, and our life. Whoever knows this mystery does not hurry to leave it, but wishes to abide in it.
It happens that we sometimes search intensively for prayer where it is not to be found. Perhaps we look for it artificially, while it flows naturally from a loving heart. Perhaps we imagine it as being too complex, while it is simple. Perhaps it seems too difficult, while it is easy. Perhaps we perform it as a duty or law, while above all it is the life and spirit of love. Perhaps we look for God far away, while He is right next to us. Perhaps we look for Him in the distant heavens, while He is in our hearts. We look for Him in overcoming all the impossible circumstances of our lives, while all that we need to overcome, with God's grace, is our own sin; He waits for us on all the paths of our lives. We look for Him beyond everything, while He is the center of everything. We look for Him as the unapproachable God, while He is our Father. Amen.