And they arrived at the country of the Gadarenes, which is over against Galilee. And when He went forth to land, there met Him out of the city a certain man, which had devils long time, and ware no clothes, neither abode in any house, but in the tombs. When he saw Jesus, he cried out, and fell down before Him, and with a loud voice said, What have I to do with Thee, Jesus, Thou Son of God most high? I beseech Thee, torment me not. (For He had commanded the unclean spirit to come out of the man. For oftentimes it had caught him: and he was kept bound with chains and in fetters; and he brake the bands, and was driven of the devil into the wilderness.) And Jesus asked him, saying, What is thy name? And he said, Legion: because many devils were entered into him. And they besought Him that He would not command them to go out into the deep. And there was an herd of many swine feeding on the mountain: and they besought Him that He would suffer them to enter into them. And He suffered them. Then went the devils out of the man, and entered into the swine: and the herd ran violently down a steep place into the lake, and were choked. When they that fed them saw what was done, they fled, and went and told it in the city and in the country. Then they went out to see what was done; and came to Jesus, and found the man, out of whom the devils were departed, sitting at the feet of Jesus, clothed, and in his right mind: and they were afraid. They also which saw it told them by what means he that was possessed of the devils was healed. Then the whole multitude of the country of the Gadarenes round about besought Him to depart from them; for they were taken with great fear: and He went up into the ship, and returned back again. Now the man out of whom the devils were departed besought Him that he might be with Him: but Jesus sent him away, saying, Return to thine own house, and shew how great things God hath done unto thee. And he went his way, and published throughout the whole city how great things Jesus had done unto him (Luke 8:26-39).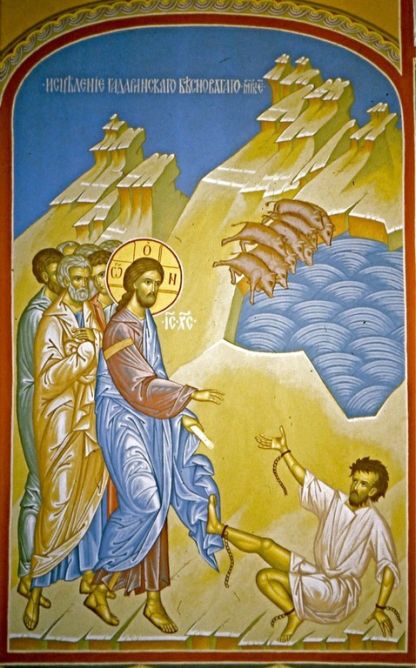 In the Name of the Father, and of the Son, and of the Holy Spirit!
The people of the land of the Gadarenes, located on the bank of the Sea of Galilee, asked Jesus Christ to leave their borders because they were seized with great fear. How strange it is, brothers and sisters, to hear such words! How strange and unnatural that there would be people who, rather than asking Christ to stay with them longer, would implore Him to leave them! We often read in the Gospel about how various people appealed to the Lord with requests, questions, demands, and even rebukes and reproaches. Each one of us, when reading Holy Scripture, can easily recognize himself in one or another of these people, for we ourselves continue to appeal to the Lord even now. But in today's Gospel reading we heard an astonishing and seemingly inexplicable appeal. What was this all about? Why were the people of the Gadarenes seized with such fear? Why did they implore Christ to leave their country?
Christ healed a man possessed by unclean spirits. The Holy Evangelist indicates the terrible condition this man was in. He was bound with chains, but he broke them; he could not live in a normal human dwelling. The Lord ordered the demons, by their request, to enter the herd of swine that was grazing on the coast. When the demons entered the swine, the swine threw themselves into the sea and drowned. These people's fear seems to have come about from having something that was still rebuking their conscience. Perhaps this was not their only herd of swine, or perhaps there were still other violations of the law, causing them to fear that, were they to heed the preaching of Jesus, He would punish them anew.
Perhaps they feared, as we do today, that they would have to renounce a great deal in order to fully accept the teaching of the Gospel and to fully meet the requirements of the Church. Have a sober look at yourself; take a close look into your conscience! In the lives of each one of us there are times when we know that we need to fulfill a commandment, but that this will involve some unpleasantness or will deprive us of something. We are overtaken by great fear as we try to cast this commandment from our head and to forget all about it. In such cases are we not like the Gadarene people? Do we not live in the country of the Gadarenes in spirit?
Now the man out of whom the devils were departed besought Him that He might be with him. Perhaps he was afraid that he would become possessed again; perhaps he desired to remain constantly near the Lord Jesus Christ out of a sense of gratitude. But Jesus sent him away, saying, Return to thy own house, and show how great things God hath done unto thee. Although the Gardarene people rejected the Lord, He did not reject them. Not being able to preach because He had been banished, He sent the healed demoniac to preach in His place. This is another lesson for us, that we should learn to emulate the benevolence, meekness, and love of neighbor that the Lord Jesus Christ showed, even though the people of the Gadarenes had rebuffed Him.
And he went his way, and published throughout the whole city how great things Jesus had done unto him. The Gadarene demoniac did not perhaps relate anything special, given that he had seen Jesus all of once. But, in telling about his healing, his very appearance demonstrated the reality of the miracle, demonstrating the Divine power of the Lord Jesus Christ. After all, the entire city saw him; perhaps many people left their homes and joined in conversation with him or simply looked at him from afar – and this, too, was a kind of preaching, a preaching by deeds. Although we are weak and sinful, we want to preach to our neighbors in order, for example, to convert them to Orthodoxy and to leading a true Christian life. If we cannot preach with words because they will not be heard, then let us preach by our deeds. Let us preach with the help of those changes that take place in our souls when we turn from being passionate and sinful people into virtuous people with clean consciences. We might say nothing, but if people see our kindness, meekness, humility, purity, and sobriety, then this will be the best demonstration for them that Christianity is the very power that can refashion man. Then they will inevitably listen to what we say and perhaps even begin to ask questions themselves if we are silent.
In our lives, there is a constant alteration between joy and sorrow, success and defeat. May Christ abide with us in our souls and hearts at all times and in all places, that when the Lord sends us His gifts we may receive them with all our hearts and respond to them with our entire lives! Amen.
Delivered on November 16, 2009, in the Kiev-Caves Lavra.
Translated from the Russian