Vandals desecrated the graves of the husband and parents of Olga Zarkochimsky, who are buried there.
"Even the dead have no peace," said 84-year-old Anatolia Zakrochimskaya, founder of the national Vityaz organization and the St Vladimir Youth Society in Australia. "I cried for two days. The cross was smashed. How cruel is that? How could they do such a thing? I can't afford to erect a new monument." The gravestone was toppled and the cross broken.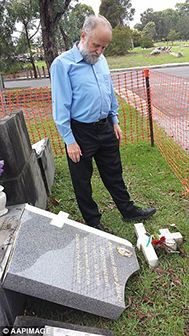 Most of the damaged gravestones were in the Russian and Serbian sections of the cemetery. The police have still not identified the vandals or their motive.
"This is insane, a pointless act," Police Inspector Paul Arnold told journalists.
In the opinion of local Russian journalist Alexei Ivachev, who recorded the biographies of many of those buried in the cemetery, the crime was undoubtedly aimed against the Russian community. "Some mentally-deranged person decided to 'attack' the Russians. This is a hate crime," he opined.
A night-time patrol was established as a result of this crime.
"This is extremely sad, that something like this could happen in a cemetery which is so important, so sacred for so many people," said Rookwood Cemetery's director, Fiona Hislop.
According to Australian law, the perpetrator is subject to five years of prison for "intentional vandalism," or six years if there were multiple perpetrators.