March 14, 2013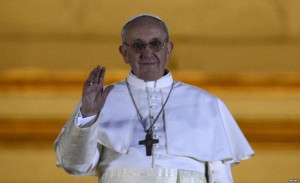 The Russian Orthodox Church expects that newly elected Pope Francis will foster positive relations between the two churches, a spokesman said Thursday.
"The Russian Church welcomes the decision of the cardinals of the Roman Catholic Church, and, as before, counts on relations between the Orthodox and Catholic Churches developing in a positive way," the head of the Moscow Patriarchy's press service, Alexander Volkov, told the RIA Novosti news agency.
"We can only hope that he will continue the line of the previous pope and that the positive dynamic in developing relations between our churches will continue," Archpriest Dmitry Sizonenko, secretary of the Moscow Patriarchy's department for external relations, told RIA Novosti.
Archdeacon Andrei Kurayev, a reformist cleric, wrote on his blog after the announcement that the new pope "promises huge shocks for the Catholic Church, forcing it to change into a church for the poor, not a church for the prosperous."
He praised the new pope for embracing a simple, humble life: "He has refused to use a limousine. He cooks for himself. In 2001 he visited a hospice where he washed and kissed the feet of 12 people suffering from AIDS."
The Russian Orthodox Church has troubled relations with the Catholic Church dating back to the Soviet times when the Russian Orthodox Church cooperated with the authorities.
Difficult ties are also linked to current concerns over the influence of the Catholic Church in neighbouring countries such as Ukraine.
Source: GlobalPost