The headstrong youth
Chiune Sugihara was born on January, 1 1900.  He was the second son in the family of a doctor from the Japanese town of Yaotsu.  There were four other brothers and a sister in the family.  For a Japanese born into a family with many children, but of little means there was apparently only one main way to survive involving getting an excellent education and building a successful career.  And for a while, it seemed that little Chiune abided by this rule.
The boy graduated with honours from elementary school and then from high school.  His father insisted that Chiune became a doctor.  He was even sent to sit the examination to a medical college.  However, the headstrong youth failed it brilliantly.  Having spent the appropriate amount of time at his desk, he turned in a blank sheet of paper with nothing but his name written on it.
Chiune wanted to study European culture.  He entered the Waseda University majoring in English Literature at the cost of a falling-out with his father.  Deprived of any support, he was forced to pay for his education himself. Chiune managed to work and study simultaneously for one year.
After that, however, fate presented the headstrong youth with an extraordinary opportunity.
Russia
The Foreign Ministry of Japan founded a Russian-Japanese college in Harbin.  At the time, Japan was actively involved in economic activity on Chinese territory building railways.  The Japanese were also interested in the Russian Far East.
Consequently, the Japanese government required officials with a knowledge of Russian.  They needed them so badly that they were prepared to give scholarships to those who chose this new area of expertise.  And that's how the poor student Chiune became a college student.  That's how he found out that his Europe was Russia.
It doesn't mean that Sugihara ceased being Japanese.  He graduated from college with honours, served in the army, was then assigned to the Japanese Foreign Ministry.  In the early nineteen thirties, when Japan annexed a part of Manchuria, it was Sugihara who negotiated Japan's acquisition of the Chinese Eastern Railroad with the Soviet Union.  The negotiations were conducted so brilliantly, he saved his country something close to one million dollars at the exchange rate of the time.
Consequently, Soviet authorities started paying really close attention to the "unpleasant Japanese" who among other things spent a lot of time with white émigrés in Harbin.  In 1924, he even married the daughter of a White Army officer Claudia Apollonov. This marriage lasted for almost eleven years.
However, the most unusual action Sugihara took, happened on the eve of this wedding.  He converted to Orthodoxy.
There is different information regarding Chiune's baptismal name.  Most of the sources agree on the name "Sergei Pavlovich" and add that the priest of the Russian Church Abroad who baptized the Japanese man was called Father Pavel.
Sugihara's second wife, a Japanese woman Ukiko, who came into his life after he and Claudia Apollonov decided to go their separate ways, spoke of her own baptism.  Ukiko (whose name in baptism was Maria) later bore her husband four children and survived him by many years.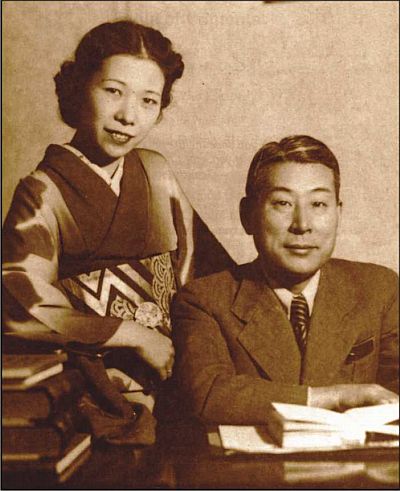 The Soviet Union – attempt number one
It seemed everything was going well in the life of the Japanese man.  He held a position in the Japanese embassy in Harbin, his name was known among diplomats, important assignments were entrusted to him.
Meanwhile, however, he continued to interact with the White émigrés and opened orphanages for Chinese children who had lost their parents when the Japanese invaded China.  Moreover, as a sign of protest against the cruel treatment of the prisoners of war, in 1936, Chiune resigned from his post and returned to Japan.
However, by this time he was already considered an invaluable resource by the government.  Meanwhile, the outside world was slowly becoming aware that another war was looming in the near future.  And, in order to monitor the prospects of the war, Japan needed a contact in the Soviet Union.  And there was a person who fit the description, a person who spoke Russian and, by that time, German as well.
Another assignment awaited Chiune in Japan.  He was first assigned as a translator to the Japanese consulate in Petropavlovsk-Kamchatsky, and then to Moscow.  And then, something unexpected happened.  The diplomat was forbidden from entering Moscow – he was simply refused an entrance visa.
The Japanese ambassador actually demanded and, oddly enough, was granted an audience with the Soviet Ministry of Foreign Affairs to discuss this matter. Later, he also received a document listing the complaints of the Soviet government against Sugihara – a connection with the members of the White Army and the Japanese Secret Service (both accusations were true) and his "anti-Soviet sentiments" (his participation in the Chinese Eastern Railway probably would have been interpreted as such).
Finally, Sugihara was assigned to Finland instead of the Soviet Union, and in August, 1939, to Kaunas, which was then the capital of independent Lithuania.  At the time, there was not a single Japanese living in Lithuania and there were absolutely no cultural ties between Japan and Lithuania.  Clearly, the main work of Chiune, who spoke all the necessary languages, was gathering data on the situation in Europe.  In this, he was very successful, so much so that he actually named to his superiors the exact date when Germany would begin its attack on the Soviet Union.
However, on June 15, 1940, Lithuania itself became part of the Soviet Union.  In July, the diplomatic representatives of third-party countries were told to leave the new Soviet territory.  Sugihara, however, requested permission from the government to extend his stay in Kaunas by one more month.  During this month, he managed to accomplish his life's main work.
His life's main work
It should be stated that by early 1940, quite a few Jewish refugees had found their way to Lithuania.  The German army was advancing in Poland, and most of the Jews became aware that under the German rule their position would be unenviable.  And when the Soviet Union began annexing territories from the East, people became trapped.
Religious Jews were in no hurry to accept Soviet citizenship (and many of those who did make up their minds to accept it were later on sent to Siberia).  One by one, different countries denied them entry, so, in the end, they were forced to resort to a complicated scheme.
First, they found a Dutch diplomat in exile, who was still in charge of overseas territories.  In particular, he agreed to grant all the interested parties papers stating that no visas were necessary to enter the Dutch owned islands Curaçao and Suriname.  However, this paper was useless without permission to travel through the Soviet Union and then through Japan.
A Soviet consul was then found who agreed to arrange transit visas for all the interested parties.  However, there was still the question of visas to Japan.  Issuing such documents would have excused Sugihara's presence in Lithuania at a time when the authorities insisted on his immediate departure.
The problem was that Japan became Germany's ally in the approaching war.  This meant that Japanese authorities had many reasons to prevent anyone from leaving Lithuania.  Moreover, they were absolutely determined against their country's receiving several thousand refugees, who obviously had no intention at all of happily setting off to the tiny Suriname.
As soon as the Consul's liberties with legal documents became known back in Japan, Sugihara would risk bearing full responsibility for this measure.  And at the time there were already four children in his family.
The Japanese diplomat undoubtedly understood it all, yet, as usual, he did things his way.  In August, 1914, he issued over one thousand two hundred visas for transit through Japan.
According to the custom of that time, he had to write out the visas by hand sometimes on visa forms, sometimes on the remaining half of the entry permission issued by the Dutch diplomat.  When visa forms ran out, Sugihara started writing on blank sheets of paper.  Throughout the entire month, he spent sixteen hours a-day writing.  When time ran out, he simply threw out the stamp of the Consulate out of the window of the train he was departing on.  Somebody picked it up.
Each visa was issued for a whole family, so it is estimated that anywhere between five to ten thousand people were able to leave Lithuania with the documents signed by Sugihara. Subsequently, many of them safely reached the United States and Australia.  These people were saved.
Downsizing
The fate of the Japanese diplomat himself was a lot less fortunate.  He went to Prague from Kaunas, then to Konigsberg.  He ended up in Bucharest where he was arrested by the Soviet command.  The former Consul and his family spent over a year and a half in a diplomatic POW camp in Romania.  Chiune returned home only in 1947.
Japan had capitulated by this time and was under the US government.  The country had been (and is to this day) forbidden to have an army of its own and it no longer had any need for diplomatic representatives.  In the end, he received a letter requesting his resignation from the Ministry of Foreign Affairs "for reasons of downsizing."
Thus, the man who used to hold millions of dollars and the fates of the world in his hands was reduced to accept occasional tutoring and translation work and to sell lightbulbs from door to door.  Around the same time, one of the couple's sons died.
Finally, Sugihara, who had to resort to change his name to Sugivara, obtained a post at a Moscow dealership of a private company selling Japanese sewing machines, nylon, and raincoats.
Sugihara had no idea that all this time people were desperately searching for him…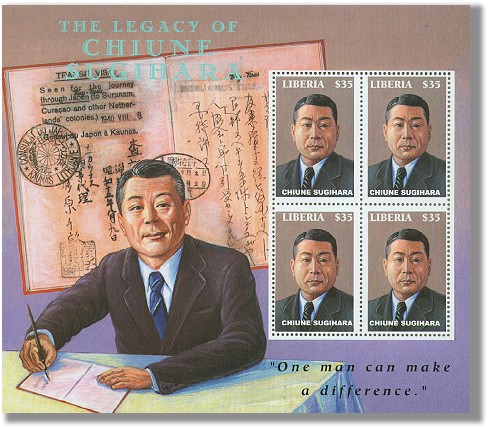 What astonished the neighbours
In the second half of the nineteen sixties, Polish war historians were searching for a Japanese diplomat, who managed to salvage several Polish standards at the beginning of World War II and to send them on to Stockholm.  Likewise, former Jewish refugees were searching for him, one of whom by that time had become Minister of Religion of the State of Israel. The Government of Japan tenaciously answered all queries that there was nobody under the name of Chiune Sugihara.
Nonetheless, he was discovered in Moscow in 1967.  And in 1969, Senpo Sugivara visited Israel with his family and was granted a life-long visa to Israel.  In 1985, the Government of Israel awarded him the title of "Righteous Among the Nations" as awarded to Irena Sandler, Oskar Schindler, Raoul Wallenberg.  By then, the former Japanese Consul was too weak to travel to the award ceremony.  His wife and son went to Israel on his behalf.
Chiune Sugihara died on July 31, 1986 at home in Fujisawa.  The neighbours were very much surprised when the Israeli Ambassador to Japan suddenly appeared at the funeral of the inconspicuous old man.
These days, Chiune Sugihara has been awarded the national awards of Lithuania and Poland.  There are monuments in his honour in Lithuania, the USA, as well as on the campus in the Japanese University Waseda.  Several documentaries and movies have been made about him.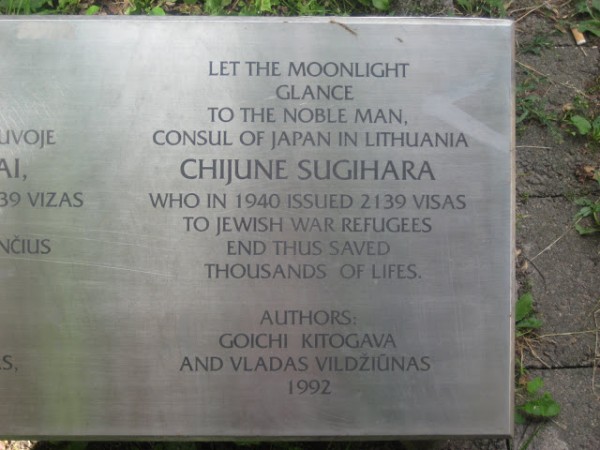 One time, the former Japanese Consul was questioned as to the reasons behind his action.  His answer was, "I was certain I was doing the right thing.  There is nothing wrong in saving many lives.  It was in the spirit of humanity, of charity… of neighbourly friendship that lay the reason of my continuing to do what I had set off to do with redoubled courage."
Chiune Sugihara always did everything his way.
Translated from the Russian by Maria Nekipelov