Hebrews 9:11-14; Mark 10:32-45
Human beings have an amazing capacity to miss the point, to become blind to truths that should be obvious.  We often do that because we become so preoccupied and distracted with our own agendas and desires that we ignore everything else.  That is especially the case when the truth goes strongly against our inclinations by telling us what we do not want to hear.
That is what James and John did when they asked for choice positions of honor right after Jesus Christ had told them that He was to suffer, die, and rise from the dead.  They were apparently so consumed by their desires for prominence and power that they refused to hear the Lord saying that He was nothing like an earthly king.  They boasted of being prepared to follow the Savior without having any idea of what that would mean.  He responded by making clear that the path to true greatness was to follow His way of selfless service.  "For the Son of man also came not to be served but to serve, and to give His life as a ransom for many."
As we begin the last week of Lent, it should be clear to us all that we have not earned a place of honor in God's reign.  If we have practiced the spiritual disciplines of Lent with any integrity and honesty, we will know primarily our own weakness and brokenness.  By revealing how easily we are distracted and how enslaved we are to our self-centered desires and habits, they show us that we cannot heal our own souls.  And if we have not devoted ourselves to prayer, fasting, and almsgiving at all in the previous weeks of Lent, we should confess that in humility and thus gain a greater awareness that we stand in constant need of the Lord's gracious mercy. "Lord Jesus Christ, Son of God, have mercy on me, a sinner."
Regardless of how we have approached Lent so far, we must not become paralyzed with a sense of obsessive guilt for not living up to a standard of perfection, for not making ourselves worthy of the mercy of Christ.  To do so is simply a form of self-centered pride, for it is impossible to earn grace as a reward for good behavior.  Becoming great among the Lord's servants means laying down our lives for others, lowering ourselves by placing the needs and interests of others before our own.  That is the opposite of a self-centered obsession to prove that we are worthy of anything.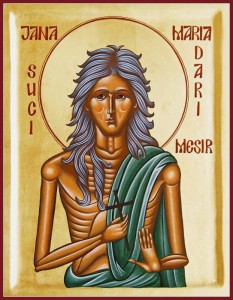 Today we remember St. Mary of Egypt, who had lived a grossly immoral life, but then gave herself up in repentance for decades in the desert, where she became a remarkably holy saint.  Instead of continuing to gratify her addiction to sexual pleasure, she died to self by rejecting everything that was a hindrance to the healing of her soul through incredibly rigorous repentance for the rest of her long life.  She knew that such disciplines did not somehow put God in her debt, but were ways of opening herself to receive the gracious healing of the Lord, which we never deserve.
St. Mary of Egypt was not like James and John in trying to use the Savior to get what she wanted.  Instead, she freely obeyed a divine command to turn away from fulfilling her obsessive desires by uniting herself to the One Who offered His life as a ransom to free us all from slavery to sin and death.  Our Lord's disciples ultimately found victory over their passions in different ways, for they had to learn that greatness in the Kingdom comes through selfless service to the point of suffering and death, not by yearning after what the world calls power and success.
In the remaining days of Lent, we all have the opportunity to embrace our Lord's way of selfless service in relation to those we encounter on a regular basis in our families, in our parish, at work, at school, and in our larger communities.  We all have the opportunity to confess how we have enslaved ourselves to self-centered desires and then to take the steps we can to turn away from them.  We all have the opportunity to fill our minds with holy things and give less attention to whatever fuels our unholy passions.   We all have the opportunity to follow the example of St. Mary of Egypt in doing what it takes to find the healing of our souls.  If our Lord could make a great saint out of her, then how can anyone remain paralyzed in guilt?   Our great High Priest offered Himself on the Cross and rose in glory on the third day in order to save sinners, to restore all who bear His image and likeness.  Thanks be to God, that includes even people as broken as you and me. In the coming week, let us open the eyes of our souls to this glorious truth through selfless service, humble prayer, and genuine repentance.