And He said, a certain man had two sons: And the younger of them said to his father, Father, give me the portion of goods that falleth to me. And he divided unto them his living. And not many days after the younger son gathered all together, and took his journey into a far country, and there wasted his substance with riotous living. And when he had spent all, there arose a mighty famine in that land; and he began to be in want. And he went and joined himself to a citizen of that country; and he sent him into his fields to feed swine. And he would fain have filled his belly with the husks that the swine did eat; and no man gave unto him. And when he came to himself, he said, How many hired servants of my father's have bread enough and to spare, and I perish with hunger! I will arise and go to my father, and will say unto him, Father, I have sinned against heaven, and before thee. And am no more worthy to be called thy son: make me as one of thy hired servants. And he arose, and came to his father. But when he was yet a great way off, his father saw him, and had compassion, and ran, and fell on his neck, and kissed him. And the son said unto him, Father, I have sinned against heaven and in thy sight, and am no more worthy to be called thy son. But the father said to his servants, Bring forth the best robe, and put it on him: and put a ring on his hand, and shoes on his feet: And bring hither the fatted calf, and kill it; and let us eat, and be merry: For this my son was dead, and is alive again; he was lost, and is found. And they began to be merry. Now his elder son was in the field: and as he came and drew nigh to the house, he heard music and dancing. And he called one of the servants, and asked what these things meant. And he said unto him, Thy brother is come; and thy father hath killed the fatted calf, because he hath received him safe and sound. And he was angry, and would not go in: therefore came his father out, and intreated him. And he answering said to his father, Lo, these many years do I serve thee, neither transgressing I at any time thy commandment: and yet thou never gavest me a kid, that I might make merry with my friends: But as soon as this thy son was come, which hath devoured thy living with harlots, thou hast killed for him the fatted calf. And he said unto him, Son, thou art ever with me, and all that I have is thine. It was meet that we should make merry, and be glad: for this thy brother was dead, and is alive again; and was lost, and is found (Luke 15:11-32).
This parable summons us first of all to think about our lives: who are we? The father in this parable is the Heavenly Father, but what place do we occupy? The Lord has given us part of the estate, which we received as gifts: life, the fruits of the earth, peaceful times, the sun, snow, our acquaintances, children, and our parents. And we are squandering this estate like the prodigal son.
We often make use of all the goods the Lord has given us without giving it any thought, and we often behave quite dishonorably towards the Heavenly Father. It happens that we lay the table and forget to cross ourselves before eating or to read the "Our Father," a short prayer, although without God nothing would be on this table. We think it normal to be able to go buy clothes and groceries, to take the kids to school, to go somewhere on the bus. We think of this as normal life, forgetting by Whose blessing we have achieved all this. Yet we know perfectly well that such times are not forever; we know how our grandparents lived. Could they have opened the refrigerator and taken out a bottle of milk? There were no refrigerators, cars, or cell phones. Many of us lived through such times. Or recall the Second World War, when it was forbidden to go outside. There was bombing, and a crust of bread was divided among four people. But people quickly forget misfortunes and easily grow accustomed to good things. And, most importantly, we forget about God, we become exactly like the younger son when he received his wealth. We waste the wealth given us, not even considering that we do not deserve it.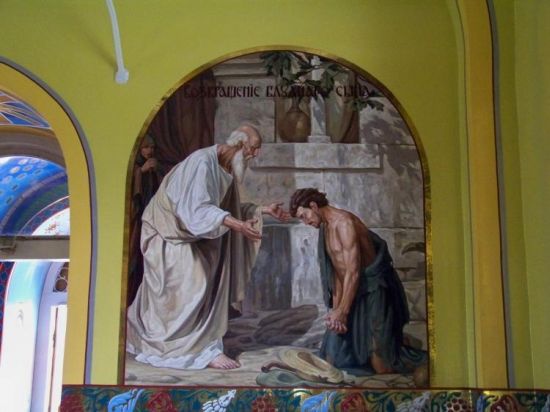 There was a different problem with the older son. He seems to have observed the commandments and done everything seemingly correctly in life, but his heart was not rightly disposed. In these labors it remained callous and embittered. He thought that once he had accomplished everything that had been foreordained for him that this meant he was righteous. And anyone who does not accomplish the same thing should be immediately punished. Sometimes we behave in the same way. People say to me: "Look, Batuishka, at this rich businessman – he bought a yacht, he is a sinner. Why doesn't the Lord punish such people?" The elder son in fact said the same thing: he lived prodigally, why does Father not punish him? And then he set up a whole feast for him.
But the Heavenly Father loves us in any form: both when we resemble the older son, who himself seemingly did everything right, but was envious of others, or angry, or embittered with everyone; and when we resemble the younger son, wasting everything and giving no thought to the Proprietor of this world. The son said: "It's time to return to Father!" He went home, expecting nothing, and receiving everything. The Church makes it clear that we, too, need to return to the Heavenly Father, to return from our prodigal lives. We need to remember God more often. There is a time for this called Great Lent. We begin to pay a little more attention to prayer, bringing sacrifice to God in the form of observing the fast in regards to food, reducing our amusements, and attending divine services in church more often.
Lent is a time of repentance, a time of union between man and God. We should resemble that son who fell to his knees before his father and said: Lord, I have sinned against heaven and in your sight, and am no more worthy to be called your son, but take me as a hired servant! Because even the Heavenly Father's hired servants do not live badly.
Translated from Russian.