Make haste to open unto me Thy fatherly embrace,
For as the Prodigal I have wasted my life.
In the unfailing wealth of Thy mercy, O Saviour,
Reject not my heart in its poverty.
For with compunction I cry to Thee, O Lord:
Father, I have sinned against heaven and before Thee.
Once a year these words are heard during the divine service, on the Sunday of the Prodigal Son, at the Vigil. In some places it is chanted, touching the soul, penetrating to its very depths; in other places it is read, quickly and indistinctly, drawing no attention to itself, not allowing the meaning contained therein to be understood. Whoever has been at a monastic tonsure is in this sense more fortunate: there this troparion is chanted three times, while the one being tonsured crawls from the porch of the church to the altar, from the sinful world, from which he is withdrawing, to this loving embrace.
The Gospel of the Prodigal Son is read at the Liturgy, and contained therein is much that demands our attention, that causes us to give thought, or at least should cause us to. The folly and arrogance of one son. The conceit and hard-heartedness of the other. The food of the swine. The love of the father. His gifts.
Everyone probably gives thought to that which is closest to him at the given moment, to that which for some reason finds an echo in his heart. Or they might not even give it any thought, because it seems to them that just now this parable is already "irrelevant" to them. Although, of course, it is relevant, and just now; it is only that whoever "does not hear it" has already gone to a "far country" – to one of those that is nearby, only one step away. Confidence in one's righteousness, insensitivity of heart, spiritual blindness – are there few such countries…?
… And here, this time, I gave thought to something to which I had not given thought before – it had not occurred to me like this. Was it difficult for the lost son to set off on the return journey? Yes, it is clear that it was not easy. The way is long, and it is shameful, and frightening – and first he needs to "come to himself," as it says in the parable, because previously he had not given any thought to his return. And is it easy, being a son by nature, to be degraded to the rank of hireling? And not by some momentary impulse, but by a conscious decision to ask to be admitted to his native home only in such a capacity, without being embarrassed either by the difficulty of such a position or by his shame at who in this house would have become one of the joint proprietors?
It was difficult for the son… And for the father who opened his arms in embrace, was it easy? Or was it just the same for the Father? We know what happened with the son, how he at first rejoiced, then fell into poverty, suffered, and starved. And what about the Father? This is a mystery… And what do these embraces look like? How does He grant them: is it different for everyone, or the same for all? What are these embraces? This is not an easy question. Perhaps it is even a superfluous and idle one…?
But only in every church is there an answer thereto – it is hardly accidental, hardly futile. In every church there is an icon of these embraces: they are uniform and irreplaceable.
I am not talking about engravings with depictions of various episodes from this parable – these are not found in churches. I am talking about the Crucifixion…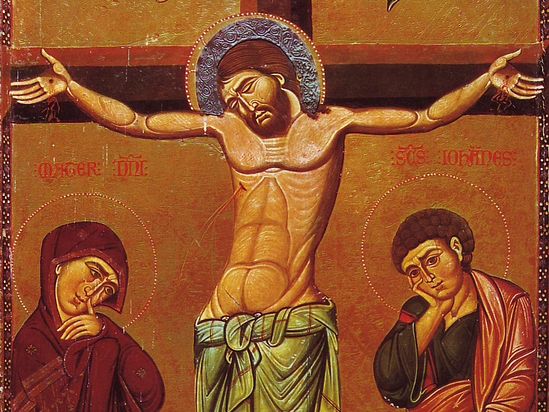 Here they are: the "Fatherly embraces." The hands pierced by nails and nailed to the Cross; the trickle of Blood, running down to the ground. The hands, ready to embrace the whole world and embracing the whole world.
Why is it namely so? Is it because it cannot be any other way – without the nails, the Blood, and the Cross? None of the Holy Fathers or Teachers of the Church give the same answer about why there had to be such suffering, why there had to be such a death…
… It seems that it was also so that we would notice. Notice and believe that this Love did not hesitate to pay such a price for its beloved, in such a way opening His embrace for all, turning away from no one, including us. So that we would be able to overcome fear, shame, and despair. So that we could decide to believe: He is always waiting for us, no matter what we have done, no matter what we have committed, no matter how far we have gone.
The Father undertakes this so that His children, prodigal and sinful, would have it easier. After all, He knows how difficult it can be for them, and He cannot but feel for them…
March 6, 2013.