In the name of the Father, and of the Son, and of the Holy Spirit!
In one Church — in our Orthodox Church — there bursts forth from the depths of souls hurt by loneliness and despondency words, a shout, a prayer to God the Comforter: "Come and dwell in us!" And in the same Church — in our Orthodox Church — there emanate from the bottom of a soul harmed by great fear and a deep realization of its own unworthiness other words: "Depart from me! For I am a sinful man, O Lord" (Lk 5:8).
So, for two thousand years we Christians sometimes call out to God and sometimes run away from Him. Thus faith in our souls can give way to betrayal. Thus from the earliest times until now, the same Church and the same people, we Christians, joyously cry out "Hosanna" one moment, then angrily cry out "Crucify Him!" the next. And our God sees and knows this. He knew it then in Jerusalem and knows it now. He knew what would happen in that city then, He knows what will happen to the whole world now, and that is why He weeps.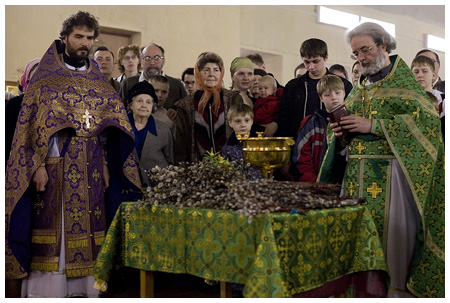 The Evangelist Luke writes about it like this: "And when He was come near, He beheld the city, and wept over it…" (Lk 19:41). Our Lord weeps over us all, and these tears of Christ are a bitter reproach to us all. Simultaneously, however – as surprising as it may seem – these tears of our God are a sign of hope. After all, only yesterday the Lord wept over the dead Lazarus — and now Lazarus is alive! This means that we also have hope for life, this means that all is not lost for us.
Only exulting and rejoicing, one should not forget why God our Savior goes to Jerusalem. He is going there to die. The most terrible thing in the event we celebrate today is that no one among those standing along that short road could know, no one could guess, that the ass's colt carries the Son of God to Golgotha. To Death.
Recall that a week ago we read the Gospel account of how Christ, amidst His closest disciples and friends, had just begun His walk to Jerusalem from beyond the Jordan, taking His first steps towards the Cross. Next to Him were not strangers, not outsiders, but only friends – loving and beloved; the most intimate friends, those whom He had taken to Mount Tabor, who had been enlightened in the very deepest mysteries, James and John. After the Savior's direct words that He would be betrayed unto death, and mocked, and flogged, and spat on and killed, James and John asked Him, as we might say now, for a "place in the sun." "Grant unto us that we may sit, one on thy right hand, and the other on Thy left hand, in Thy glory." But the Lord again tells His disciples about His death and about the fact that He can share with them only this: suffering and the Cross.
The people holding palm branches in their hands there, by the walls of Jerusalem, and we holding pussy-willows in this church today, which today take the place of palms, what expectations do we have of our Lord Jesus? What do we ask of Him now, at the moment when our Savior's path of sorrows to the Cross begins? I know what those crowds in Jerusalem ask of Christ, and what each one standing here asks of Christ. I know, because I myself ask only for this: health, happiness, welfare, a peaceful and secure life. "A place in the sun," to put it simply. And it does not matter at all in what concrete form these universal requests are expressed. After all, the citizens of Jerusalem also wanted simple human happiness and completely reasonable things: freedom from the Roman occupiers, religious and national freedom, bread, and life for themselves and their children. They wanted the same things that we want. And these wishes were not illicit. Just so our prayerful requests to our God and Savior are licit. But the trouble is that none of those crying "Hosanna" understood that in order to resurrect to new life, to rise up against either the Roman occupiers or even sinful passions, one must "strive unto blood," one must die for freedom, one must be co-crucified with Christ. One must drink of the Cup that He drinks.
The people of Jerusalem did not understand this. Five days had not passed before those who had cried rapturously "Hosanna" shouted furiously "Crucify Him."
We must remember this awful mistake. We who stand with pussy-willow branches in our hands to show we are meeting Christ just as they met Him, we must refrain from their delusion. We must understand that Christ is crucified again and again by our sins, by our coldness, and by our calm indifference. We must understand that it is us today, and not the inhabitants of the scorching Palestine of long ago, who expect from God our "place in the sun," while He exhorts us to trust Him and to be co-crucified with Him. If we do not understand this, and we do not trustingly give our hearts, our lives, and our fates to Him without fear of anything that lies ahead, then I am afraid that we will soon shout: "Crucify Him."
In order to commit such a transgression, however, it is not at all necessary to shout that He be crucified. It is necessary only to forget about it. To live as if this horrible execution on Golgotha had not taken place; only to live like millions of people live, without even bothering to ask: "What does God ask of me?"
All Great Lent the Church tried to recall us to a sense of repentance. If we define what this in the simplest words, is is the realization that the Crucifixion is the work of our own hands. The crucifixion became possible because sin grew and multiplied within every person. And we know this now as well as ever, that it grows and multiplies within us, through our shamelessness, our laziness, our greediness, our hatred.
And on the eve of the Passion, when our God begins ascending the Cross, let us try to understand that this is the work of our own hands. That sin and death are our doing. And when we understand this, let us remember our Savior's tears with renewed force and hope, because it was through these tears, this love, and this pity for a man that Lazarus the four-days-dead was raised from the dead. And we, too, will be raised against sin through these tears. And the world will be saved through these tears.
Amen.
Translated by Olga Bondarenko
Edited by Hierodeacon Samuel (Nedelsky) and Michael C. Marge