April 5, 2013
Statement of the Department for External Church Relations' Communication Service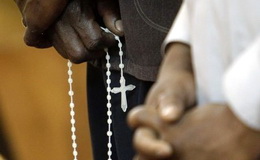 Some 100,000 Christians lived in Libya before 2011 when civil confrontation began. At present they number only a few thousands; cases of violence and discrimination against Christians are steadily on the rise.
Many attacks on Christians, arrests and even tortures happened during recent months. In February-March 2013, a number of attacks on church buildings and priests were perpetuated; dozens of Coptic Christians were arrested and tortured on charges of 'proselytism.' Catholic monastic orders, fearing threats, have been forced to leave the country.
According to Fox News Network and Egyptian sources, forty-eight Copts were detained, tortured and abused in Benghazi in early March. One of them died later.
On 13 March 2013, Office of the European Union in Libya made a Statement on Religious Freedom and Fundamental Rights, expressing deep concerns about religious freedom in Libya and requesting the Libyan authorities to ensure adequate conditions and treatment of detainees. On March 14, a Coptic church was set on fire; there are other facts of persecution and discrimination against Christians.
The Russian Orthodox Church expresses its deep concern about rapid increase in religious tension in Libya. Safeguarding of human rights and freedoms should be a major task of all contemporary states. We have to note with regret that the world community does not pay proper attention to cases of flagrant discrimination against Christian minority in Libya.
The Moscow Patriarchate expresses its solidarity with Christian brothers and sisters persecuted for their faith and hopes that the Libyan authorities will take active measures for keeping Christian presence in the country.
Source: DECR