Today's Gospel is normally read at the Blessing of Waters, so the words we are reading are well known to you all. The Lord Jesus went to Jerusalem and came to the so-called sheep pool, a sad and unclean place where the sick lay and where there were many pagans: pagan inscriptions thanking the gods for healing are still preserved on the walls of this basin. From time to time the water in the basin would flare up and people – pushing, cursing, and shoving one another – would climb into the water, because the first to enter would receive the water's healing power for himself. The more difficult it was to reach it, the more effort each would make. Here there was envy, hatred, quarreling, and the groans of the sick – it was a miserable, frightful place. Most likely many people tried to avoid it. There were five porches, dug deep into the ground; there were steps going down several floors to reach them, and everywhere lay the groaning, stinking, contorted ill.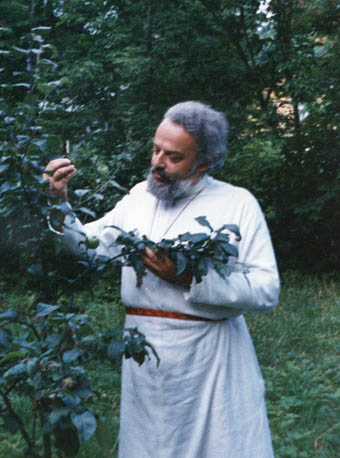 The Lord Jesus came to this kingdom of sorrow to share in these people's suffering. Looking around, His attention was drawn to an old, gray-haired paralytic, lying motionless. The Lord approached him and asked: "Have you been lying here long?" The man said: "For thirty-eight years, my entire life." His entire life… Most likely some well-wishers brought him food and someone turned him over, since he lay like a corpse, but no one could be found to drag him to the water. But his one hope was that the year would finally come when he would be among the first to plunge his body into the water, so that his sickness might leave him. And the Lord said to him: "Have you been lying here long?" "Yes, thirty-seven years. I do not have anyone who can help me." And he himself, even if he were to crawl, straining every nerve, would nonetheless be overtaken by others, who would push him away.
This is the ultimate limit of human humiliation: he has been lying like a stone in this stinking place for his entire life, abandoned by all, sick and lonely – and suddenly he hears the voice of Christ the Savior speaking to him. He did not know Who this was, Who was asking him; he responded as if in a dream or a trance. The voice says to him: "Stand up, stand up, pick up your mat, and go home." And he, as if in a dream, began to get up. Life once again returned to his arms, and his legs regained feeling. The man stood up, not even understanding what was happening to him, and began mechanically to pick up his bed, without saying "thank you," without thanking God. He collected the mattress on which he had lain, turned around, tossed it on his shoulders, and began to walk home.
The Lord Jesus knew what kind of person this was; He knew that his soul was far from spotless. When the healed man was walking home, carrying his bedding, pious people met him and said: "Today is the Sabbath. How can you be carrying anything?" The law of God did not permit this. He replied: "Someone healed me. He healed me, and I am walking." "And who healed you? Who could have violated the law of God on the Sabbath?" "I do not know," he said. "I did not see His face." Later the Lord met him in the Temple, and said: "From now on, sin no more, that it not be worse for you." Looking at Him, the old man recognized Him. Then he went and declared that it was Jesus Who had ordered him to violate the law of God on the Sabbath. The old man betrayed Him Who had healed him after so many years of serious illness, after having waited hopelessly for so many years. He betrayed the Lord, so that He could again be condemned, that He could be slandered, that they could say: "It is He Who teaches people to violate the law of God."
This is the event the Evangelist tells us about today. We can immediately imagine ourselves lying right here in our weaknesses and sins; and we know that there is only One Who can heal us. And if He stretches out His hand to us, we will not be ungrateful to Him. After all, it is He Who became a living source of healing water for us. Just think: there was a fount there that only very rarely became healing, and into which desperate people cast themselves.
But we have another fount: the word of God – that inexhaustible source of life, the Holy Gospel, the Holy Bible – which contains everything needed for human life. Our source is the Holy Chalice that we can approach, along with prayer and life in the Church; this source comes to life not once a year, but always; anyone can approach it at any time. Just touch, just desire, just press yourself to the Lord, and you will feel His healing power.
When the years have bent our backs; when separation, distress, abuse, offense, and frustration – everything that darkens our lives – lie on our souls like a stone; when woe, despair, and the empty grayness of life gnaw at us; when we really do resemble the dead, the paralyzed, and the incurably ill; then remember that we have one Name, the sweetest Name, the Name of Jesus, which raises, heals, and quickens us.
Translated from the Russian.