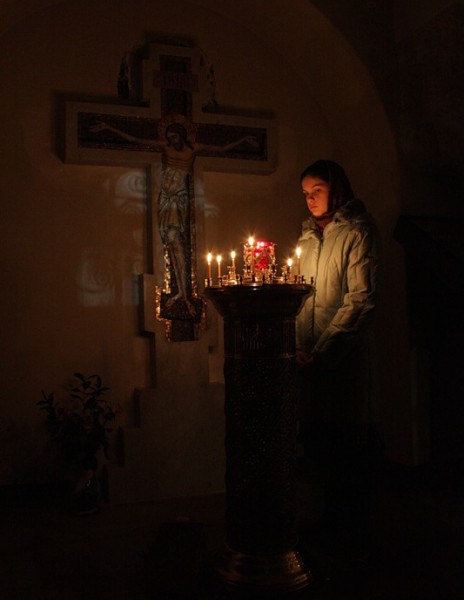 As may know, March 6th marks the beginning of Great Lent, a period in which Orthodox Christians all over the world prepare themselves to celebrate the Cross and Resurrection of our Lord and Saviour Jesus Christ.
Although Orthodox Christians follow slightly different traditions around Great Lent, the basic meaning of these forty days is the same for us. To put it simply, Lent is a journey back to our spiritual home in God, who created us so that He might embrace us and love us, and we might love Him in return.
The Incarnation of Jesus Christ is the fulfillment of God's love for us, for in Him God took human nature to Himself once and for all, making it a part of who He is. And in the Passion of Christ—His suffering on the Cross, His death and resurrection—the divine-human union was completed. God had finally united Himself with human experience, from the cradle to the grave and beyond, to the empty tomb.
Our realization of this astounding and mysterious Fact is the purpose of Great Lent, which is a kind of temporal magnifying glass, revealing in intense, close-up detail the meaning not only of the rest of the year, but the rest of our lives. The coming forty days remind us more potently and poignantly than ever of our calling to continuously return to God's Presence, uniting ourselves to Him daily, moment by moment.
Nowhere is this journey of reunion more perfectly described than in Jesus' Parable of the Prodigal Son. Many of you may know the story, which is told in the fifteenth chapter of St. Luke's Gospel. A young man, perhaps fed up with the tedium and restrictions of life at home, demands his father give him an advance on his inheritance. The son then goes into the world and blows the cash on "fast cars, fast women and recreational chemicals." Predictably, the money runs out and when a famine strikes, the young man is left destitute and starving. He finally hits bottom, working for a pig farmer (the most distasteful kind of job for a pious Jew) and worse yet, yearning for the pigs' slop.
The image of the Prodigal Son, sitting miserably in the pig pen while he yearns for the slop, coming to himself as he remembers his father's household (Luke 15:17), then rising and going back home (Luke 15:20), illustrate precisely the steps we take as human beings in our return to God. Let's take them in order of the parable.
Having spent all our resources trying to master our own destinies, we hit bottom. Perhaps we get sick unexpectedly. Perhaps we lose a job. Perhaps some unexpected event impinges on our lives—a downturn in the economy, for instance… Regardless of the specifics, we find ourselves deprived of the ability to control our circumstances.
Sooner or later (more often later, unfortunately), we come to recognize the need for aid beyond ourselves. We perceive within ourselves a hunger for something beyond the worldly slop to which we have become accustomed.
The philosopher Charles Taylor describes this experience of longing in his book The Secular Age: "[it is] a distance, an absence, an exile, a seemingly irremediable incapacity ever to reach this place; an absence of power, a confusion…. We lose a sense of where the place of fullness is, even of what fullness could consist in, we feel we've forgotten what it would look like, or cannot believe in it anymore. But the misery of absence, of loss, is still there, indeed, it is in some ways even more acute."
Having recognized our need for that "absent something" beyond ourselves—defined as "God"—we embark upon a process of bringing ourselves and our lives in all their brokenness back to Him. In Orthodox tradition, this is known as repentance, which is not merely feeling bad for our sins, but the continual act of returning our hearts and minds back to the One who is the source and meaning of our lives.
How do we do this? Fasting is the primary means by which Orthodox Christians discover the spiritual absence within us. Orthodox Christianity provides a rigorous rule of fasting during Lent, a practically vegan diet that reduces our dependence on food to the bare minimum. The Lenten fast is not an individual effort. We do not ask, "What are you giving up this Lent?" Even those Orthodox Christian who must adapt the rule to their circumstances—such as those who live with small children, infirm elders or non-Orthodox relatives—do so not on their own, but with the guidance of their parish priest.
The primary purpose of fasting, however, is not to unite our community under dietary rules—a Christian version of keeping kosher. Reading food labels or finding vegan substitutes for non-fasting foods may preserve the letter of the Fast, but it fails to recognize and fulfill its most important purpose, which is hunger.
By simplifying our diet and eating less in the spirit of the Fast, we cultivate within ourselves a physical hunger that leads us to ask, "What is the reason for my hunger?" And our answer—"Because I am obedient to the Church"—leads us to hunger from the Bridegroom, whose return to our souls we are awaiting. (Matthew 9:15) The hunger of our bodies leads us to the hunger of our souls. The absence of the earth's food drives us to seek the food of heaven. Ultimately, this is the real purpose of the Lenten diet.
If fasting allows us to discover the absence of God within us, though, the actual return to Him begins with prayer, which is indispensable to the Lenten journey. Prayer, simply defined, is the act of bringing our minds and hearts back to God. And in the Orthodox tradition, prayer is most fundamentally expressed in the tradition of saying the Jesus Prayer, called Hesychia. Building a habit of quiet prayer in this way is the first and most important task of Great Lent. Our goal is to spend a few minutes every day (preferably in the morning), seated or standing, with the our minds focused on our physical hearts, repeating quietly and with attention some form of the Jesus Prayer: "Lord Jesus Christ, have mercy upon me." This simple act, performed faithfully every day, is the biggest possible step we can take back to our Father's kingdom, which is nowhere else but within our hearts.
Returning to our hearts' true home in prayer is also a corporate act. The Church offers many opportunities to participate in its liturgy throughout Lent, particularly in the "Presanctified" liturgy served on Wednesdays and Fridays, not to mention the many services of Holy Week and Pascha. Increasing our prayer in this way involves forethought and planning. Beginning in the weeks leading up Lent, we can clear our schedules of extra work and social commitments during the forty days. Guided by our parish priest, we can set reasonable and doable restrictions around entertainment and hobbies, and so make time to return to our spiritual home with our brothers and sisters in the Church.
The extra time we clear in our weekly schedules can afford us another opportunity to return home to God—by giving both publicly and secretly to others, and so ministering to Him in the least of our brothers and sisters. (Matthew 25:34-45) Giving of these kinds can take the form of social outreach (caring for the poor and needy in our communities), but they can also involve taking more time to spend with our children and spouses—those, in other words, who are most easily sidelined in the busyness of our daily lives. Charity and almsgiving, then, can take the form of simple, concrete acts of kindness and love to those who are closest to us, whether or not they are aware of what we have done.
As I have said, all of these activities—fasting, prayer, charity and almsgiving—are not isolated acts, things we do once a year for a few days. Rather, they are an intense forty-day close-up on the lifelong human journey back to God. And whether you celebrate Lent or not, the next forty days are certainly an appropriate time to explore for yourselves a simple question: "Where do I stand in the journey back to God?"
Perhaps you are still partying with a pocketful of cash, like the Prodigal Son in his heyday. If so, consider that the party may end with the pigs. Perhaps you have hit bottom and are sitting in the pigpen. If so, consider the possibility of a better life beyond what you can imagine. Or perhaps you are already on the way home, rehearsing your speech of repentance, in which case consider that your Father may have been watching for you since you left, and is even now waiting to embrace you without conditions or expectations, waiting to give you the ring of a son and feed you with the food of divine life.
Wherever you find yourself this year—in riches or poverty, in health or sickness, in belief or unbelief, in peace or in war—the God who loves you and gave Himself for you has a message: come home.