I wrote this today because it was on my mind.  It is probably too preachy and predictable.  Nonetheless, it may encourage someone, so I offer it.
There are five Sundays between Pascha and Ascension.  The first two Sundays focus on people associated with Christ's resurrection.  The next three Sundays focus on Christ coming to people with various problems: The righteous who suffer, those who fail in their theology and morality, and those who just don't see.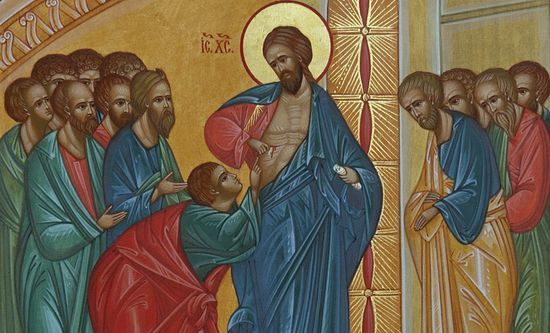 The first Sunday after Pascha focuses on the Apostle Thomas, often called Doubting Thomas.  Thomas doubted the resurrection of Christ even though the other disciples had already seen Him alive.  Thomas doubted, but he did not leave the fellowship of the disciples.  Thomas remained with those who had seen the resurrected Christ even though he doubted their testimony.  And because Thomas stayed with those who had seen, Thomas himself saw.  Thomas not only saw the resurrected Christ, but he touched his wounds and put his hand into his pierced side.  Because of Thomas' doubt, the certainty of Christ's resurrection is made more clear.  And not only is the physical resurrection of Christ confirmed through Thomas' touching of Christ's resurrected body, but Christ's divinity is also affirmed, for it was Thomas, the former doubter, who first boldly declares that Jesus Christ is both Lord and God.
We too sometimes doubt.  Sometimes we go through long seasons of doubt.  Doubt is not necessarily a sin.  It all depends on what you do with it.  If you allow doubt to drive you away from the Church, from those who are confident in Christ's resurrection, then that doubt has surely led you to sin.  However, if despite your doubt you nonetheless trust those who have seen, that is, those who spiritually  see or who through miraculous occurrences are sure, or who merely have a simple heart and the gift of faith, if you stay with the Church, with those who do believe, then like Thomas you too may also "on the eighth day" touch Christ.  This reference to the eighth day is not a reference to time, but to eternity.  Even if we live our whole life struggling with doubt, on the eighth day, on the day we enter into eternity, we will know as we are known.  On the eighth day all doubt will vanish, and we will all be embraced by the Light that knows no evening.
The second Sunday after Pascha focuses on the Myrrh Bearing Women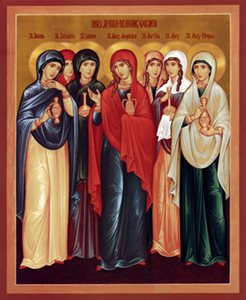 and Sts. Joseph and Nicodemus.  The Myrrh Bearing Women were the women who "followed Jesus from Galilee and ministered to his needs" (Mat. 27:55).  These women were the ones who cared for Jesus' physical needs: procuring and preparing food, finding Him a place to sleep at night, repairing his torn clothing or sandals.  The way these women expressed their faith and love for God was to look after the physical humanity of the God-man Jesus Christ.  And even after his death, for the women did not yet understand about the resurrection, the Myrrh Bearers continued to care for the body of the Saviour.  After the crucifixion these women, along with Joseph of Arimathea and Nicodemus, brought spices and myrrh to the tomb to care for the body of the Lord.  And because of their care for the physical needs of Jesus, some of the Myrrh Bearers are the very first to see the resurrected Christ.
The Myrrh Bearers are an example for all of us of how faith and love are expressed through the care for physical things.  The Church as the Body of Christ has both physical and spiritual aspects.  Love for God and neighbour is expressed by caring for both.  Spiritual worship is an essential part of our life with God, but spiritual worship can easily become delusional without also caring for the physical needs of the Church (the building, the priest, the various activities and organizations that allow the Church to function.)  Similarly, if we only care for the physical needs of those who suffer, as worthy and important as that is, without also providing spiritual comfort and teaching, we run the risk of becoming nothing more than just another NGO like the Red Cross or the United Nations.  These NGOs do good work, no doubt; but they are not the Church.  Only the Church can preach the Gospel.  Only the Church can offer the Bread of Heaven and the Water that springs up to eternal life.  Physical and spiritual: both are important.  Like the Myrrh Bearing women we express our faith and love for God by caring for the physical needs of the Church and by caring for the physical and spiritual needs of those around us.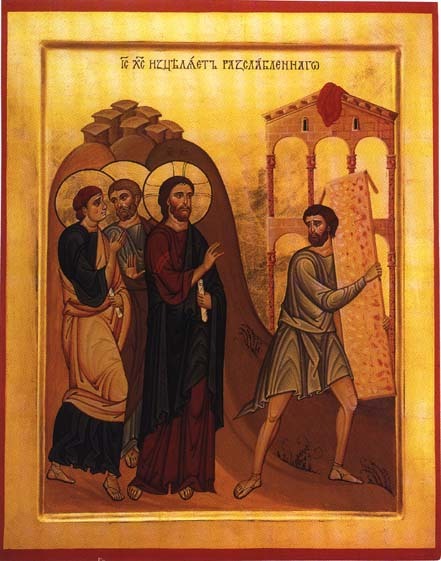 The third Sunday after Pascha is the Sunday of the Paralytic.  This man is apparently a faithful believer.  For thirty-eight years has had himself carried to the temple almost every day to wait for a miracle.  What faith this man has!  He waits by the sheep's pool in the temple for a miracle and for thirty-eight years, nothing good has happened to him.  Maybe he has seen others healed.  Certainly he has heard the stories of others who received a miracle.  He trusts in God and believes that he too can be healed.  And so in faith he waits, and waits, and waits.  He waits for a Man to come.  That Man finally came.  Jesus Christ the Son of God came to him and asked him if he wanted to be well.  After thirty-eight years, and without a hint of cynicism or sarcasm, this man simply explains his problem to Jesus.  And Jesus heals him and tells him to take up his bed and walk.
Many of us are like that faithful man.  We go to Church regularly, we pray, we believe, we ask and we wait….  And nothing much seems to come from it.  We hear about others who experience miracles.  We hear of saints who have received amazing power from God.  We believe that God could also deliver us from our suffering, from our very real need.  And so we pray, we believe and we hope, maybe even for thirty-eight years or longer.  Like the Paralytic at the sheep's pool we may be tempted to cynicism or to sarcasm wondering why God blesses others with miraculous signs, but our prayers seem never or very seldom to be answered.  Like the Paralytic, we must wait for God's timing, we must wait for Christ and continue to simply explain our problems to Him.  Thirty-eight years is a long time to wait in faith for a miracle, but this is the lesson of the Paralytic.  Ours is to trust and wait.  God's is to save us when and how He sees fit.
The fourth Sunday focuses on the Woman At The Well.  This woman who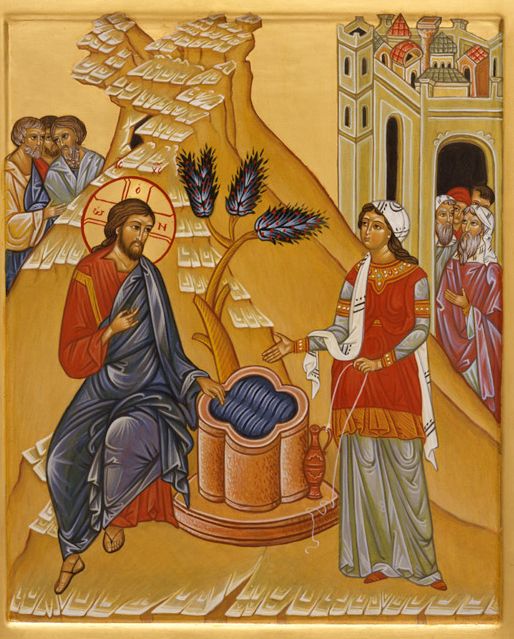 met Jesus at a well in Samaria was an immoral heretic.  She held the faith of the Samaritans, a heretical sect of Judaism.  She also slept around.  She had had five husbands and the one she was with now was not her husband.  Yet despite her heresy and immorality, Jesus came to her.  Jesus not only came to her, but He asked her a favour: "give me a drink."  It may be surprising to us that Jesus came to a sinner and a heretic, that Jesus even asked her to do Him a favour.  However, just because her faith was in error, doesn't mean that she didn't also believe some things that are true, particularly that the Messiah would be coming.  And it was this little bit of truth hidden in the falsehood of the heresy that enabled her to suspect, and first, and then to believe that Jesus is the Messiah.  Jesus gently confronted both her theological and moral errors, yet these errors did not keep Him from giving her the Living Water that springs up to everlasting life. 
Like that Samaritan woman, some of us have failed morally and perhaps hold heretical beliefs, beliefs contrary to the Church's teaching.  However, no matter how great our moral failure or how far we may have gone astray theologically, Christ still comes to us and asks us for a drink.  That is, He asks us to give Him what we have, to come to Him with whatever bits of true faith we have.  Certainly the time will come when we will have to correct our theology and repent of our moral failures, but this is not where our life in Christ begins.  None of us can wash ourselves clean, none of us can be clean enough to come to Christ.  We all just come, as we are, with what little faith we have, bearing the burden of all of our failings.  We give to Christ ourselves through the little we have, and He receives us.  As Jesus came to the Woman At The Well, so the resurrected Christ comes to all of us who have failed, failed morally, failed theologically; Jesus comes to us and asks us for a drink so that He can give us Living Water.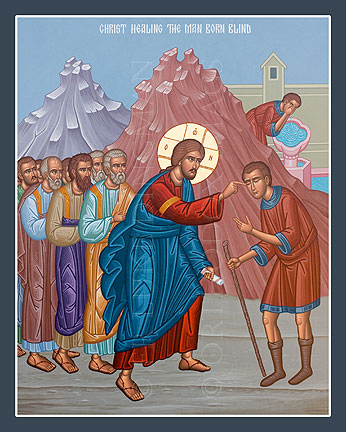 The fifth Sunday after Pascha is the Sunday of the Blind Man.  We don't know the name of this Blind Man, we only know that he was born blind.   We know that his blindness was not caused by any particular sin, either his own or his parents.  And we know that he was probably young, about thirteen or fourteen years old.  Interestingly, Jesus did not speak to this man before He healed him.  He did not ask him what he wanted, as He did the Paralytic.  Jesus merely made a little clay and rubbed it on the man's eyes and told him to go and wash it off.  The man did what Jesus said, and was healed.  This man gained physical sight and spiritual sight—that is faith in Jesus—even though his parents and the religious leaders who witnessed the miracle remained spiritually blind.
If the Paralytic represents those with true faith who must wait and the Samaritan Woman represents those who believe but fail morally or theologically, the Blind Man represents those who just don't see, just don't get faith at all.  Spiritually blind from birth, these are the ones who just cannot see any meaning in religion, who seem to have no spiritual intuition nor the faith to believe in a higher power of any kind.  These are the spiritually blind, and the resurrected Christ comes to these too.  When Jesus comes to the spiritually blind, just as when He came to the Blind Man, He often comes to them in a surprising way, with no warning, and asks them to do something.  Many a spiritually blind person has come to faith by doing good, by helping others or by helping out the Church in a time of need.  There is great spiritual power in a small act of obedience.  I know many stories of men or women who have come to Church only because of their believing spouse.  Then one day, through an act of generosity, an act of service or some other godly obedience to a desire to do good, faith begins to dawn in their heart.  
The five Sundays between Pascha and Ascension each focus on specific people or events that help us understand how the resurrected Christ continues to come to each of us.  Regardless of our strengths or weaknesses, of our faith or doubt, of our failures or even our blindness, Christ comes to all of us.  He seldom comes when or how we expect, but if we offer to Him the little we have, the small obedience, the little faithfulness, the continued endurance in suffering, whatever it is, if we offer to Christ what we have, then Christ is able to take care of all that we don't have.