In the Name of the Father, and of the Son, and of the Holy Spirit!
Once St. Gregory the Theologian, praying in the church in Constantinople on the feast of the Nativity of Christ, addressed the people with an enthusiastic speech that began with these words: "Christ is born! Come out to meet Him! Christ descends from Heaven in order to raise us up!"
St. Gregory was not only a great theologian of the Church, but also a great poet and composer of church hymns. His words: "Christ is born! Come out to meet Him" was so beloved by the inhabitants of Constantinople, that each time they repeated them, and even created from them a hymn that precedes the feast of the Nativity of Christ. From this Sunday we have already begin to chant these irmosoi: "Christ is born! Glorify Him! Christ is from heaven; go and meet Him." The Nativity Fast has begun, and we are preparing ourselves for the Feast of the Nativity of Christ.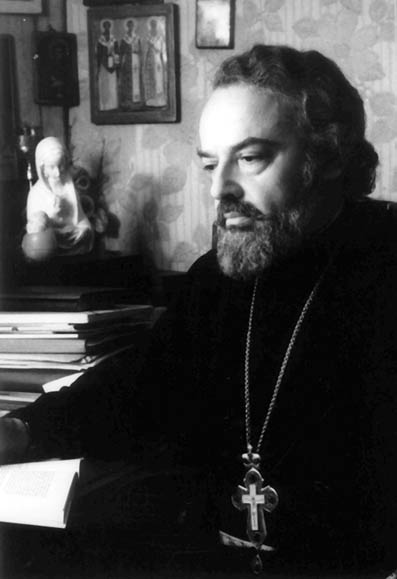 We should not think that the feast is just a pleasant time when we can rejoice, congratulate one another, and be comforted in our sorrows! No, the Feast of the Nativity of Christ is a reminder that the Lord came to earth to die and suffer along with us, so that each one of us would receive eternal life, so that each one of us might join in salvation. And this feast is a day of choice: some accept it, and others reject it.
For us, who have received the Word of Christ, preparing for the feast is a preparation for encountering the Lord Himself! Yes, He Himself as it were comes anew to earth in order to visit you in your life, to ask you how you lived, that you might bring out the treasure of your heart and your deeds. Christ is born, go out to meet Him, prepare yourself for Him!
The Lord Himself, in various parables, spoke of how people should prepare for this encounter. In Holy Scripture, in the Prophet Amos, there are these fearsome words: "Prepare to meet thy God" (Amos 4:12). This does not mean that we need to prepare ourselves only for God's Last Judgment, but that the Lord comes here and now to each one of us. He comes and requires of us an account, just as the master required of those to whom he had given the talents. We should not think that the Lord's parables contain anything superfluous: in them, each words counts.
Let us recall the parable of the ten virgins. They were to await the bridegroom; they should have stood on guard. But he lingered, and they fell asleep. So it is with us: it may be that the Lord will linger to reveal Himself, and we sleep spiritually while we should be on guard. Always be ready – always, at any moment, because He can require an accounting from us. This encounter will only be joyous if we have at least done something, if we have at lest somehow prepared. When you await a special guest, how sad it is, how embarrassing it is, if he comes suddenly, before you have had a chance to clean house, if you have not prepared the table. So it is with man. But when we await the Lord Himself, Who will visit us, bless us, and enlighten us with His Holy Spirit – how must we prepare our "house," that is, our soul and our heart! How must we cleanse it! How can the bright guest – Christ, Who is born – enter into the dirty habitation of our soul that has not been cleansed?!
And now, my dear ones, I would like that the Nativity Fast be for you not just a time of abstinence, but a time of preparation, that you would believe and hope that, on the Feast of the Nativity of Christ, you might all feel His real coming, His closeness, and His grace-filled power!
Let us prepare and cleanse our hearts through prayer, repentance, and tirelessly delving into the Word of God, Holy Scripture. Let us battle with all that is unclean in our hearts and in our actions, laboring for one another, and preparing to attend to the Lord. And each Sunday we will hear sound forth the words that remind us of the proximity of the holy day: "Christ is Born! Glorify Him! Christ is from heaven; go and meet Him!" Prepare to meet Him: our Lord is coming!
Amen.
Translated from the Russian.