At that time, Jesus lifted up His eyes to Heaven, and said, "Father, the hour is come; glorify Thy Son, that Thy Son also may glorify Thee: as Thou hast given Him power over all flesh, that He should give eternal life to as many as Thou hast given Him. And this is life eternal, that they might know Thee the only true God, and Jesus Christ, Whom Thou hast sent. I have glorified Thee on the earth: I have finished the work which Thou gavest Me to do. And now, O Father, glorify Thou Me with Thine Own self with the glory which I had with Thee before the world was. I have manifested Thy Name unto the men which Thou gavest Me out of the world: Thine they were, and Thou gavest them Me; and they have kept Thy word. Now they have known that all things whatsoever Thou hast given Me are of Thee. For I have given unto them the words which Thou gavest Me; and they have received them, and have know surely that I came out from Thee, and they have believed that Thou didst send Me. I pray for them: I pray not for the world, but for them which Thou hast given Me; for they are Thine. And all Mine are Thine, and Thine are Mine; and I am glorified in them. And now I am no more in the world, but these are in the world, and I come to Thee. Holy Father, keep through Thine Own Name those whom Thou hast given Me, that they may be one, as We are. While I was with them in the world, I kept them in Thy Name: those that Thou gavest Me I have kept, and none of them is lost, but the son of perdition; that the Scripture might be fulfilled. And now come I to Thee; and these things I speak in the world, that they might have My joy fulfilled in themselves" (St. John 17:1-13; reading for the Fathers).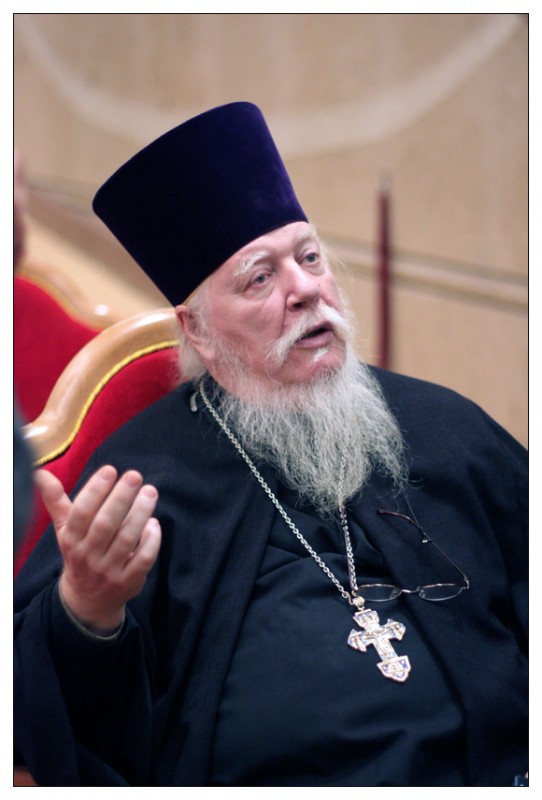 Today we remember the Fathers of the Six Ecumenical Councils; the Gospel reading tells of the prayer our Lord Jesus Christ offered to the Heavenly Father. Since we are by calling disciples of Christ, it is very important for us to try to understand what the Lord prayed for before His death on the Cross and His Ascension into heaven, following the completion of His work on earth. He prayed for those whom His Father had given Him, that is, for His disciples: I do not pray for the world, but for them that Thou hast given Me, for they have known eternal life. Further the Lord says: And this is life eternal, that they might know Thee the only true God, and Jesus Christ, Whom Thou hast sent (John 17:3).
Eternal life is knowledge of God, and the Apostles knew God through Jesus Christ. They confessed Him to be the Son of God, thereby declaring that they saw the life of the Heavenly Father manifest in Christ. Why did Christ not pray for the whole world? After all, He came to save the whole world and every person, wherever he might be living. It is no accident that the Lord said that the last day of this world would come only when the Gospel had been preached throughout the whole world, so that every nation might hear the word of God and there be no corner of the earth where the word of the Gospel has not penetrated.
We happen to live at a time when there is practically no language on earth into which Holy Scripture has not been translated. The word of Christ has been heard everywhere, but not everyone has responded to it. In order better to understand why this is happening, we can present this image: a harp with untuned strings is lying on the ground. If a tuned harp be next to it, the loose strings of the first harp will not resonate. But if we adjust each of its strings in unison with the tuned strings and start playing it again, the newly-tuned strings will begin to vibrate and respond. They will begin to resonate, even if we do not lay a finger on them. In physics, this phenomenon is called resonance. Something similar happens in the spiritual life.
Why do we consider a tree to be beautiful? Why are the color of the sky and the scattering of the stars in heaven considered beautiful? Why is the sea beautiful? We were created by the very same Creator, so between us and the sea, trees, and stars there is a harmony to which our soul responds. But alongside this external harmony, there is also an inner, spiritual harmony – and the Lord also appeals to this harmony in our soul. The Heavenly Father speaks to us through the Divine Word, sending the Second Person of the Holy Trinity, the Son of God, Who proclaims the truth to us.
If the strings of our soul are not weakened, if our soul is not completely paralyzed by sin, then it begins to respond to these words of truth one hears in the Gospel. At first one might not hear all the words: certain sounds of this divine music might seem incomprehensible. Meanwhile, every vulgarity that pours forth from television is more comprehensible, because the soul lives in earthly filth. Here there is vulgar filth, but when they hear "love your enemy," it sounds alien, strange, and even unpleasant. That is, our soul will respond to whatever music it is tuned at any given moment. Once we found ourselves in church, this means that our soul has grown in some way to the point that the light of Christian faith has begun to dawn upon it. It means that some of its strings have resonated in response to the word of God. But we need to get our entire soul into a state in which the music that resounds in the heavens will resound in us – moreover, in unison. Then we will have a shared life with God, when every one of God's words will resound in our soul. Every one of them, that is, and not just some selected ones, since often we accept the word of God only in a limited manner: this I accept, but this I do not; and I will avoid this one, without even noticing that I am protesting against it.
Given our sinfulness, given the damage that has been to the spiritual harp of our souls, we cannot accept the word of the Gospel in all its fullness. But if we want to attain eternal life, we need to strive to do so. We need to reconfigure our soul; we need to tighten its strings to a pitch at which they will resound along with heaven.
This work is very difficult, considerate, and meticulous. Everything in us needs to be rebuilt, resealed, and changed; one has to take an entirely different attitude towards one's soul, gestures, behavior, words, smiles, clothes, friends, and books – towards everything. That is, one's entire life needs to be restructured in a heavenly tone, because otherwise we will not know God. We will only know about God: yes, there was the Son of God, He came to earth, and He said something-or-another. We might even remember certain words by heart, but they will not become vital to us. This is because we will be living as we did before, with worldly notions. Something might be considered good by a certain part of humanity, and so will we, whether or not Christ considers it to be good. But we need to discard all human notions, replacing them with entirely new ones. Then the spiritual life will begin.
It was for this reason that our earthly life was given to us. Unfortunately we, on the contrary, try to live in an earthly manner; we try to play these worldly and sinful songs in our soul. Therefore, we might go to church, but we are still drawn to sin, because our soul has been corrupted by the world in which we live.
Therefore, we need to reconstruct our lives. How is a harp tuned? From "la" on the tuning fork, and then all the other strings are tuned from that note. Our tuning fork is Holy Scripture. Take any commandment: Blessed are the poor in spirit. I do not hear or understand what this means; I do not feel anything, my heart does not respond. Fine, take another "note": Blessed are the merciful. What is mercy? Let us tune ourselves to it by trying to be merciful. Adjust this string, and all the others can be adjusted from it. What does Blessed are the poor in spirit mean? What does Blessed are they which are persecuted for righteousness' sake mean? What about Blessed are ye, when men shall revile you?
And so on for the rest of our lives, for there are very many such strings – God's commandments – and they all speak about the same thing: love, harmony, and beauty. Some people are amazed: there is no love in my heart either for God, or for my neighbor, or even for my wife. There is some sort of feeling, but no real love, no sacrifice, no willingness truly to deny myself and serve another, because love is the totality of all perfections.
When all the strings are tuned, there will be divine music when you touch them. But if one string is one way, another strong some other way, a third just hanging there, and a fourth has fallen off – then what kind of music will there be? To what kind of love will it lead? The Kingdom of Heaven is the Kingdom of love, the Kingdom of perfection, righteousness, and beauty. Therefore, only he who has given up his life in order to tune this divine instrument – his immortal soul, placed in us by God – will enter the Heavenly Kingdom. He will enter the divine orchestra that resounds in the heavens; he will become a partaker of the Divine life; and he will begin to see the Creator, Who is the conductor of this music that resounds to us from heaven and that, because of our sins, we neither feel nor hear.
The Lord says: Be ye therefore perfect, even as your Father Which is in heaven is perfect (Matthew 5:48). This is the perfection we should attain within the Church; this is why we were baptized; this is why we gather every Sunday for prayer; this is why we partake of the Holy Mysteries of Christ; this is why we repent of sins in Confession.
What is Confession? In the Gospel, this and that are written; but the day before yesterday I did this and that instead, which do not correspond. Here is "la," but there is "do." Therefore this "do" needs to be raised to a "la," and then it will match. We need to arrange our entire life so that it will sound in unison with God's commandments: whatever God's commandment is, that should be my action; whatever Christ requires of me, such should be my thought and my word.
Imagine a scene with two orchestras and two conductors. Is it possible to play in both orchestras simultaneously? No, it is not possible. There will inevitably be cacophony. Therefore, in order to perfect our soul we need to break away from the world completely, to that nothing worldly would harm us. This does not mean going off to the desert somewhere. No, we need to go into the inner chamber of our heart, where there should be quiet, peace, rest, and equanimity – not meaning indifference, but spiritual equanimity. We need to overcome the passions, because the waves that rock the boat of our life come from the heart. Everything that worries us: envy, for example – or any other sin – comes from our heart. From where does all the agitation in our life come? From pride, judgment, and all the sins that fill our heart. If we will work on our hearts, then the Lord Himself will help us in this effort, because we will become His disciples.
In order to learn music, one has to listen to it – otherwise it is impossible. In order to understand what the Heavenly Kingdom is, in order to know God, it is necessary to follow God's commandments. Some people say: I neither see nor feel God. Why? Because they live in sin. Begin following any one of the commandments, and you will grow closer to God. What if you follow two? Or three? Or one hundred? You will grow closer and closer to God.
If we strive to make every visit to church a step towards encountering God, and not simply a "pious" habit, then our life will not pass by in vain. Every day of our life should be another step towards God. We need to live in such a way that we stand fast in those commandments of which we are aware – stand fast, that is, and not fall down. But we have constant falls: someone annoys us, and we get annoyed; someone offends us, and we get offended; someone tells us off, and we tell him off in response; we lose something, and we begrudge it. It is like this in everything, and the soul is lost for the Heavenly Kingdom. We need to reexamine our entire life.
This is what the Lord was praying for: I pray not for the world, but for them which Thou hast given Me (John 17:9). Because we did not come to belief on our own, through our own powers, but faith was simply given to us as a gift. It might not have been given to someone else because he was not yet ready, but it has been given to you. Therefore, we need to develop and cultivate this precious sprout, that it might grow into the Heavenly Kingdom; that, as the Lord says in His prayer, your joy may be full (John 16:24). Therefore, by God's mercy, let us strive not to waste time, but rather to abide in continual spiritual labor, so that neither a day, nor an hour, nor a month might go to waste. Amen.
Translated from the Russian.