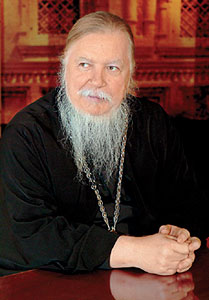 The kontakion for the service of the Sunday of the Blind Man reads: "Being blinded in the eyes of my soul, O Savior, I come unto Thee, O Christ, as did the man who was born blind. And in repentance I cry to Thee: Of those in darkness art Thou the most radiant light."
An entire Sunday is dedicated to the celebration of this event from Gospel history, since it is of enormous spiritual significance. In connection with this, it will be quite opportune for us to talk about what spiritual blindness is and where it comes from, as well as what the eyes of the soul are, why they do not see anything, and what they should in fact see.
The exapostilarion states: "Do Thou, O Lord, enlighten my noetic eyes, blinded by the gloom of sin; and instill in me humility, O Compassionate One, cleansing me by tears of repentance." "Noetic eyes" is a spiritual notion. Our soul differs from the soul of an animal in that it possesses immortality; the mark of this immortality is reason. The soul is reasonable and, therefore, its senses are also reasonable: it has noetic eyes and noetic ears. But they have been darkened by sin. Therefore, when we are born – and we are born into sin from sinful parents – our souls cannot see. Our souls are blind from birth.
"Being blinded in the eyes of my soul, O Savior, I come unto Thee, O Christ." Our souls have lost the ability to see God. Therefore, only "tears of repentance" can cleanse the eyes of the soul. With what does this spiritual vision begin? One person, for instance, says that he sees the future; another sees the past; a third sees certain "auras"; a fourth sees angels; and a fifth sees prophetic dreams. Is this spiritual vision? No, not by any means. Spiritual vision means seeing the truth.
The truth is – and this should be deeply understood and assimilated – that we are sinful and fallen people, cast away from God. Thus, true spiritual vision begins with our sins being shown to us. Someone who is still almost totally spiritually blind will be able to distinguish in himself only those sins that are as big as mountains: murder, adultery, stealing, offending someone terribly. If he repents, that is, if he recognizes the horror of what he has committed – "What have I done? What a nightmare! How vile!" – and mourns for his sin, crying out to God for forgiveness – "Lord, forgive me!" – then these lumps of sin will crumble. Only their memory will remain, like scars on the conscience.
When someone sees that his sins are like the sands of the sea, he becomes confused. He begins to understand that no one, no human or nonhuman power, can rescue him from this sea of sin; he begins to understand that he cannot cleanse himself. It is then that he approaches Christ, asking: Lord, if Thou wilt, Thou canst make me clean (Matthew 8:2). He begins to cry out to God day and night, thirsting for purity. And God begins gradually to wash this sea of sand from his soul. The image of Christ begins to manifest itself, brightening the soul until it permeates it.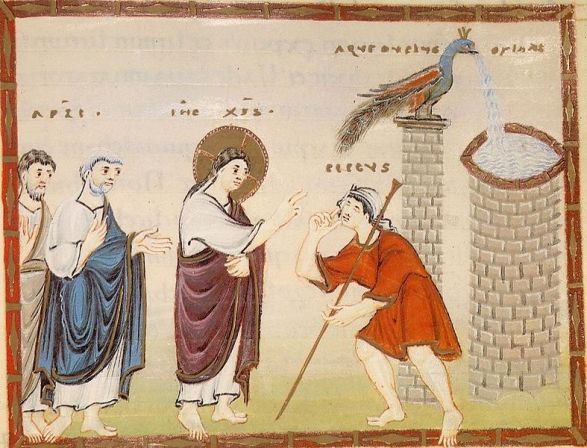 This Gospel says: Blessed are the pure in heart: for they shall see God (Matthew 5:8). With what should we begin, if today we decide that we want to see God? We always need to begin with prayer to the Savior Himself. When we turn to God, the Lord immediately shows us something: we immediately feel a sting in our hearts. In our memory, in our mind – because the eyes of the soul are noetic – sin rises to the surface: here is where I have sinned.
What should we do when the Lord, in His mercy, shows us our sin? From that point, we need to recognize the vileness of this sin, to repent of it, and to wage war against it. We need to appeal to God daily, and the Lord will help us. If we nonetheless happen to sin during the course of the day – but not one hundred times, as we did yesterday, but only ninety-five times – then that shows that we have taken five steps forward. Later, when this sin will have been almost entirely blotted out from our souls, the Lord will reveal another one of our sins – and then another, and another. And thus will we move forward, step-by-step, towards the light. Our lives will gradually become filled with the joy, purity, and truth of Christ.
Unfortunately, many people who go to church – and not just for five, ten, or twenty years, but for forty or fifty – remain in a state of complete spiritual blindness. Why, you might ask? Someone goes to Confession, venerates the icons, and receives the Holy Mysteries of Christ. Why does he still remain blind? Because such blindness is healed only by shedding tears of repentance, only by making use of the work of the soul for purification. Only by battling against sin can we gain the ability to see the truth.
By no means everyone standing here will attain the Heavenly Kingdom; many will be in a state of great perplexity after they die. Because, on their way to the Judgment, they will be thinking: "Glory to God, now the Heavenly Kingdom will be opened!" But then the doors will be closed before them, and the Lord will say:
"I never knew you: depart from Me, ye that work iniquity (Matthew 7:23). Because, after Baptism, all you have done is accumulate more sin. When you were Baptized in infancy, you still had angelic souls. But look at your now! I gave you grace – and what have you turned it into? Into fornication, and gluttony, and avarice, and drunkenness, and infanticide, and treachery. Is there anything besides filth and defilement in you? And you want to enter the Heavenly Kingdom? No, that is not possible."
The Lord said in a parable: How camest thou in hither not having a wedding garment? … Bind him hand and foot, and take him away, and cast him into outer darkness, there shall be weeping and gnashing of teeth (Matthew 22:12-13). Someone will say: "Lord, how can this be? After all, I prayed to You!" Yes, you prayed by asking: you asked for an apartment, and you got one; you asked for health, and you recovered; you prayed for your daughter, and everything worked out. But did you want the Heavenly Kingdom? Did you, or did you not, need the Heavenly Kingdom? No, you did not need it – which means that you will not obtain it.
Only he will obtain it for whom this was the goal and meaning of his life; who devoted his entire life exclusively to seeking this Kingdom; and who, like the merchant, gave up everything to acquire this pearl. When the Lord sees true yearning for the Heavenly Kingdom in the heart; when He sees that the whole heart is zealous for it; and that it wants to see God, paying attention to nothing else – only in that case will He grant it. Only in that case can the Heavenly Kingdom be attained.
This is why we must to strive to attain spiritual vision: to see the sin in ourselves and to see the path of Christ along which every one of us can enter the Heavenly Kingdom. Amen.
Translated from the Russian.