Thy will be done on earth, as it is in heaven (Matthew 6:10).
When we embarked on Great Lent, brothers and sisters in Christ, the words of the Gospel – words spoken by the Savior – stood before the eyes of our mind and spirit: But if ye forgive not men their sins, neither will your Father forgive your sins [Matthew 6:15]. These words are primarily about non-condemnation, about how condemning one another prevents us from entering the Kingdom of Heaven, of being with Christ, of being with God. It is non-condemnation that leads us into the Kingdom of Heaven and unites us with Christ. It is in this spirit of non-condemnation that we ask forgiveness of one another on the Sunday of Forgiveness before Great Lent.
We entered Great Lent and began to follow the path characterized best of all by
the Prayer of Ephraim the Syrian
, which we repeat many, many times during the first week of Great Lent – not just daily, but hourly. In that prayer, we ask God's help that those bad things in us, of which there are so many, would not stay there. We asked and implored God to give us chastity, humble-mindedness, patience, and love, as well as the ability to see our sins and not to condemn our brothers. We repeated and repeated this prayer many times hourly, and not just daily. During the first days of the first week of Great Lent some of us heard, and others read, the Penitential Canon of Andrew of Crete, which taught us to see our sins and not to condemn others.
I want to say here literally two words about non-condemnation – about the power of non-condemnation. Close to our great Russian saint, Seraphim of Sarov, lived the simple monk Paul. He did not undertake any ascetic struggles: not the struggle of repentance, nor the struggle of prayer, nor of fasting – nothing distinguished him from ordinary people. But when Paul reposed, Seraphim of Sarov, to whom heavenly mysteries were disclosed, said: "Look! Brother Paul, who was in no way distinguishable from ordinary people by ascetic struggles, has in fact entered the Kingdom of Heaven for the mere fact that he never and nowhere condemned anyone!" It is in this spirit of non-condemnation that the Church calls us to live and to undertake all struggles: both the penitential struggle of fasting and all others.
We pay great attention to the regime of eating during the fast – it has a special significance, but we need not attribute greater significance to it than it really has. One should not think that potatoes and vegetable oil lead one into the Kingdom of Heaven. No, it is rather the struggle of non-condemnation of people and of patience. "Yea, O Lord and King, grant me to see my own failings, and not to condemn my brother, for blessed are Thou unto the ages of ages. Amen."
The Prayer of Ephraim the Syrian, "O Lord and Master of my life," accompanied us throughout the entire first week. It taught us how to live, and what to live for, in order to be with Christ and to be with God. And we tried to live this way during the first week of Great Lent, performing this prayer and having it constantly not only in our memory, but also in our hearts and our mouths.
The first week of Great Lent passed by. The first Sunday of Great Lent arrived, which the Church dedicates to the Triumph of Orthodoxy. What triumph? What does this triumph consist of? Of course, in the establishment of the veneration of icons, since it is this event that the first Sunday of Great Lent commemorates. But we did not celebrate it as an historical event; rather, we celebrated the dogmatic meaning of the establishment of the veneration of icons.
Many, many years ago Christians did not know how to regard icons. Many, many years ago there was a dispute among Christians. "No, icons should not be venerated. How can one depict God, Whom no one has ever seen? God has never been seen and, therefore, He cannot be depicted." So, more than 1,000 years ago, the Seventh Ecumenical Council gathered and decided: God can be depicted! This is because between the prototype and the image of God ("icon" is a Greek word meaning "image"), and between God and the icon, there is a living, actual, and real connection. In venerating an icon of God we are venerating neither wood nor some kind of sculpture, but rather God Himself, because this connection is such that certain qualities of the Prototype (in this case, God Himself) extend to the depiction, to the icon, to the image of God. Therefore icons are a meeting place between man and God, man and saint, and with holiness. Certain properties of that which is depicted on the icon – either of God or a saint – are conveyed to this icon. This holiness becomes a property of the icon itself. Therefore, in bowing down before an icon and venerating it, we are venerating the holiness and partaking of the power it has within it as a property of the saint, or of God Himself, or of the Mother of God depicted thereon.
The meaning of the Triumph of Orthodoxy lay in the fact that a new truth of the Orthodox Church had been brought to light. After this first Sunday of Great Lent we entered the second week along a new path. What was this path? The fact of the matter is that an icon depicting God, as the Holy Fathers who established the veneration of icons taught, can be united with certain properties of God, inasmuch as God the Creator Himself has inscribed in every person His image, His icon. Everyone bears within himself this living image of God.
So, having entered the second week of Great Lent, we came to know well that the image of God is in us. This image of God has in itself properties of God Himself. The goal of the striving of fasting, the striving of all our struggles – of repentance, prayer, and our entreaties – is to aspire toward the unveiling in us of the image of God inscribed in our nature and essence by the hand of God the Creator Himself. It becomes easier to breathe, life becomes better, and we become purer when we see where we are going, why we are going, and what we should ask God for.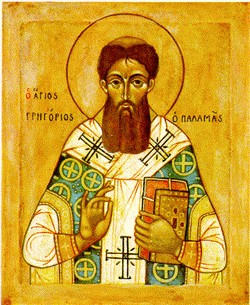 The second week of Great Lent went by in this manner, leading us to today's Sunday. The second week, the second Sunday of Great Lent, always places the gaze of our thoughts and spirit before the teachings of St. Gregory Palamas about the image of God in us, because we ask ourselves: "Just what is this 'image of God' inscribed by God Himself in us? How is this? What is it? What does it mean?" Gregory Palamas answers precisely this question. St. Gregory Palamas wrote many works, but one of his greatest and most important is his so-called "Tomos of Faith." In it, St. Gregory Palamas says that the image of God in us is first and foremost light, but not physical light, but rather that light with which the Lord Jesus Christ shone on Tabor in the hour of His glorious Transfiguration.
This is the meaning of the teaching of Gregory Palamas about the image of God in us, which is imperishable and possessed of the power of the Divine energy. Once we know about this, then in the following week we will go forward even more lightly than we had previously. This is what we have within ourselves, this is what we can unveil!
Let us return to St. Seraphim of Sarov. St. Seraphim of Sarov had a disciple named Motivilov. Once Motivilov asked: "Elder, Father, what is the Kingdom of Heaven, the glory of God of the Heavenly Kingdom?" Seraphim of Sarov said: "I will show you" – and he showed him. He was entirely illuminated, and immediately entered a brilliance of extraordinary beauty and extraordinary light, and Motivilov experienced perfectly that which the disciples of Christ had experienced at the foot of Mount Tabor – and for them it was so good (you remember this) that Peter said: "Lord, we do not wish to leave here. Let us build three tabernacles and stay here." When Motivilov saw this light in Seraphim of Sarov, it was good in just the same way for him. This was because that light was a divine light, a reflection and ray of the divine glory that appeared on Mt. Tabor. It is present in us, it is given to each of us in the image of God inscribed in everyone.
Let us walk on the path along which the Prayer of Ephraim the Syrian, "O Lord and Master of my life," leads us; let us walk on this path with even more confidence than before (normally we go along more confidently during the third week of Great Lent), because we know that within us is that which can be uncovered along the paths of real and true repentance.
Gregory Palamas begins his "Tomos" with remarkable words, words taken from the Apostle Paul: "We are partakes of the Divine," St. Gregory Palamas says. The Apostle Peter put it even more strongly: we are partakers of the divine nature [2 Peter 1:4]. This is who man is; this is what man is!
Among those listening to me now are people involved in literature, music, and the arts, who know better than I, of course, how many great – the very greatest – minds of mankind remarked that the meaning of life lies in man finding himself. The great northern writer Ibsen happens to speak about this in one of his major works: "Man is searching for himself, and he must seek and find himself." The hero of this great classical writer also became the hero of a famous musical composition by another northerner, the musician Grieg (I am reminding you of this so that it will be easier for you to follow what I am saying). But what does it mean to "find oneself"? This in fact means finding in oneself, seeing in oneself, the participation of the Divine, and to arrange one's life in such a way that this participation of the Divine would be made manifest.
This is made manifest when one follows the path of faith in God and faith in man, of which the Church preaches. This participation is disclosed, and this image is made manifest in man, along that same path of which the Prayer of St. Ephraim the Syrian speaks. The Mother Church maternally takes each of us by the hand and leads us along that path by which man will certainly find himself in the very most elevated sense of these words: finding the participation of the Divine in the depth of his being. Of course, the Kingdom of God exists objectively outside us, but never forget that Christ said that the Kingdom of God is also within us. So, in order to uncover this within ourselves, we need to obey the Church, we need to accept its maternal guidance, and we need to give our hands to the Mother Church. And she, taking us by our hand, will surely lead us to the happiness of the disclosure in ourselves of the very best and most holy thing there can be: partaking of the divine. "We are partakers of the Divine," as Palamas said.
Amen.
Translated from Russian.