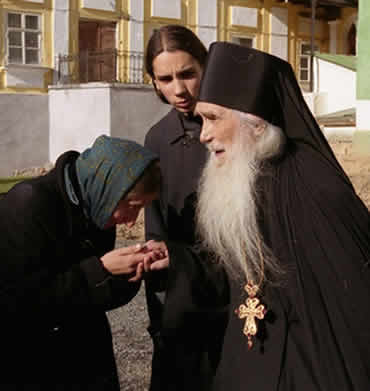 Commemorating our departed ancestors in Christ today, it is timely for us to speak for our edification about a question of importance for each and every one of us: the future life beyond the grave. The question of the future life is one to which every right-thinking person whose heart has not been corrupted – both those who are religiously inclined and those who are indifferent to religion – is compelled to give thought. Everyone is occupied with the thought of how we will live after death, of how our future life will be arranged, and of what will transpire there.
The life we live on earth is precarious and vain. That which is best, clearest, and most joyful is often overshadowed by earthly sorrows and misfortunes that come to us expectedly. Our happiness on earth is uncertain and our joy stands next to grief: poverty is not far from wealth, sickness is not far from health, and our life itself can be unexpectedly halted by death. This is all so uncontrollable and fleeting that we do not remark how the days allotted to us here pass by. It is sad when one sees the precariousness and impermanence of earthly goods, but it becomes all the sadder when one remains inconsolable all the while.
Where should one seek consolation, but in the firm faith that the present life does not end with death, but that we should await a new, future, and eternal life beyond the grave? Regarding this, the Holy Apostle Paul addresses Christians with these words: But I would not have you to be ignorant, brethren, concerning them which are asleep, that ye sorrow not, even as others have no hope. For if we believe that Jesus died and rose again, even so them which sleep in Jesus will God bring with Him (1 Thessalonians 4:13-14). For one who believes, faith in the future life, and the expectation thereof, amounts to a source of true consolation and reassurance amidst all the sorrows that befall us in this earthly life. Only one who finds no consolation in the hope that his life will continue after death laments, mourns, and sometimes even reaches complete despair, finding no reprieve.
Thus, the thought of our lot in the future life should seemingly occupy our heart and mind more than anything else. Unfortunately, in our days – as a consequence of the influence of the false spirit of our times – there are many people who completely deny the future life beyond the grave and, understandably, the lot that awaits them as a result of this denial. Such unbelievers and deniers either completely lose heart in this earthly life and can see no meaning therein or, if they do live, it is only a base and brutish life, following the Epicurean rule: let us eat and drink, for tomorrow we may die! The dominion of sensual-brutish passions and coarse material forces, and the suppression of anything spiritual or moral – this is where the denial of faith in the future life leads.
But there are also people of another sort who, although they do not deny the future life, show extreme indifference to their lot beyond the grave, giving it no thought whatsoever. They will surely enter the future life, but their faith is so weak that such an important subject does not trouble their hearts at all and they only very rarely give thought to it. They believe in the immortality of the soul and that everyone will get their recompense: eternal blessedness or eternal torment. But they do not reflect upon what it means to abide in eternal blessedness or in eternal torments that are terrible and will never abate for a moment.
The future life is not here; it, as with future blessedness and torment, has not yet begun. But we do have the present life, with its pleasures and displeasures, for which reason it so easily overshadows the intangible future. That is why so many people remain indifferent to this question, one that is so important for the moral life.
There are various reasons why people are indifferent towards faith in the future life: undue attachment to the world and its goods, or enslavement to various sins and passions. But the Holy Church, showing concern for our departed kinsmen and for us, awakens faith in us through special communal divine services. Today is the Saturday before the day of the Holy Trinity. We have gathered together for the following reason: on the day of Pentecost, the Holy Spirit descended upon the entire Church of Christ; and on the day of Pentecost we seek from the Lord the grace of the All-Holy and All-Sanctifying Spirit, the Comforter, both for ourselves and for the departed. Therefore the Church has established prayers for them both on the preceding Saturday and on the feast day itself, since on these days the Lord is especially well-pleased towards all, even towards those confined to Hades. The Lord is the God of the living, and everyone is alive in Him. But "there is no man that liveth and sinneth not," and therefore death finds us indebted to God. Man can perform good deeds in this earthly life; there is nothing he can do beyond the grave to better his position. Therefore, fulfilling Christ's commandment to love our neighbors, we pray for the forgiveness of the sins of all who have departed in faith. There are many examples that give irrefutable testimony to the benefits and necessity of these prayers.
With the saints give rest, O Christ, to the souls of Thy servants, where there is neither sickness, nor sorrow, nor sighing, but life everlasting! Amen.
1962
Translated from the Russian.