And when Jesus was entered into Capernaum, there came unto Him a centurion, beseeching Him, and saying, Lord, my servant lieth at home sick of the palsy, grievously tormented. And Jesus saith unto him, I will come and heal him. The centurion answered and said, Lord, I am not worthy that Thou shouldst come under my roof: but speak the word only, and my servant shall be healed. For I am a man under authority, having soldiers under me: and I say to this man, Go, and he goeth; and to another, Come, and he cometh; and to my servant, Do this, and he doeth it. When Jesus heard it, He marveled, and said to them that followed, Verily I say unto you, I have not found so great faith, no, not in Israel. And I say unto you, that many shall come from the east and west, and shall sit down with Abraham, and Isaac, and Jacob, in the kingdom of heaven. But the children of the kingdom shall be cast out into outer darkness: there shall be weeping and gnashing of teeth. And Jesus said unto the centurion, Go thy way, and as thou hast believed, so be it done unto thee. And his servant was healed in the selfsame hour (Matthew 8:5-13).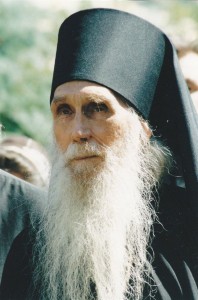 In the Name of the Father, and of the Son, and of the Holy Spirit!
Beloved brothers and sisters in Christ, today we have been offered the wondrous Gospel account of the miraculous healing of the Roman centurion's servant by our Lord Jesus Christ. The Capernaum centurion whose servant was healed by Jesus Christ was a very bright and kind person who can serve as an example for our salvific emulation. This man was a pagan, but he found such faith before the Lord that Christ was astonished: as the Savior Himself testified, He had not found such faith in Israel.
In what way exactly did the Capernaum centurion display that special faith at which Christ the Savior marveled and from which we should learn?
It was, above all, in the centurion's petition for the healing of his servant that his heartfelt and firm faith in Jesus Christ's omnipotence was expressed: Speak the word only, he said to the Savior, and my servant shall be healed. For I am a man under authority, having soldiers under me: and I say to this man, Go, and he goeth; and to another, Come, and he cometh; and to my servant, Do this, and he doeth it (Matthew 8:8-9). The centurion reasoned, as it were, like this: "Thou art the Sovereign of all the world, Who disposes of its powers and of God's gifts; Thou art the Almighty Wonderworker, Who accomplishes all that Thou wilt by a single word."
Such was the firm faith in Jesus Christ's omnipotence that was so well-pleasing and acceptable to the Savior; such was the faith that He required above all from all those who turned to Him with various needs and requests: Believe ye that I am able to do this?… According to your faith be it unto you (Matthew 9: 28, 29).
If we, brothers and sisters, also desire that our petitions on earth be heard by God, this requires, first of all, that we have a heartfelt, living, and firm conviction that God is everywhere, all-seeing, and all-knowing; that He is wise, all-powerful, and omnipotent; and, moreover, that He is good, merciful, and loving. Because of all this, He is both able and willing to fulfill the petitions we address to Him. It is good and pleasing to the Lord when we give Him glory and confess His greatness; by our firm faith we manifest this confession before Him.
The Word of God tells us truthfully: Whoseover (having firm faith) shall say unto this mountain, Be thou removed, and be thou cast into the sea; and shall not doubt in his heart, but shall believe that those things which he saith shall come to pass; he shall have whatsoever he saith (Mark 11:23). But he that wavereith, the Holy Apostle James tells us, shall not receive any thing of the Lord (James 1: 6,7). God says: If any man draw back, My soul shall have no pleasure in him (Hebrews 10:38). Let us learn living and firm faith from the centurion, free from wavering, doubt, and duplicity!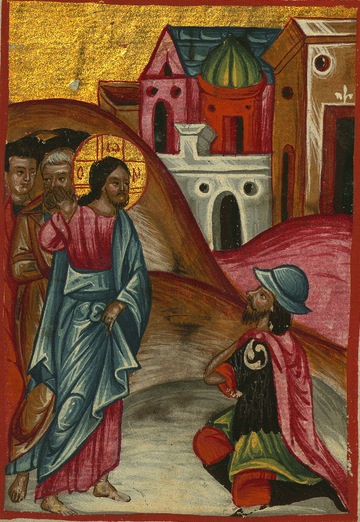 Furthermore, the centurion's petition showed humble faith: the faith of one imbued with a deep awareness of his own unworthiness. Jesus Christ wanted to go personally to the centurion's sick servant, but the centurion replied: Lord, I am not worthy that Thou shouldest come under my roof: but speak the word only, and my servant shall be healed (Matthew 8:8). Behold what humility, what awareness of his insignificance before the Almighty Savior the centurion displayed! Indeed, faith that is heartfelt, firm, and true is necessarily connected with humility. Where God's omnipotence and greatness are confessed, there man's nothingness before this greatness and omnipotence is simultaneously clearly confessed.
Brothers and sisters, when we, too, address some petition to God, we should have a humble awareness of our unworthiness, of our impotence and weakness, of our nothingness and cursedness; we should not think that we are of any significance before God or that we in any way deserve His mercy. We need to drive away all such proud thoughts from ourselves, for these are the very reason God does not grant our petitions. The Holy Apostle Peter writes: God resisteth the proud, and giveth grace to the humble (1 Peter 5:5). The Lord says: To this man will I look, even to him that is poor and of a contrite spirit, and trembleth at My words (Isaiah 66:2).
Finally, the centurion's petition showed faith that was joined with love for his neighbor. It was out of love, out of compassion for his neighbor – not for a relative, but for an outsider, for his servant – that the centurion took care, worried, and humbled himself before the Savior. The humble centurion, sensitive to the suffering of his neighbor, cried out to the Savior: Lord, my servant lieth at home sick of the palsy, grievously tormented (Matthew 8:6). Divine Love responded to this love, immediately expressing willingness to fulfill this petition of faith.
It often happens with us, brethren, that we petition God while still bearing hatred and enmity towards our neighbors. It also happens that people (although perhaps only a few) petition God to punish their enemies with disasters and calamities. How can we want the Lord to hear and fulfill such requests when He says: For if ye forgive men their trespasses, your heavenly Father will also forgive you: But if you forgive not men their trespasses, neither will your Father forgive your trespasses (Matthew 6:14-15)?
It also happens that, although there is no hatred and enmity for our neighbors in our hearts, during prayer coldness and indifference reign in our soul and we do not show them mercy, although we could. With what thoughts and spirit will we then petition the Lord for our needs? Do we rely on our faith alone? But only faith which worketh by love has value in God's eyes. About the unmerciful it is said: Judgment is without mercy to the one who has shown no mercy (James 2:13).
Thus, dear brothers and sisters, let us petition God with living, heartfelt, and unquestioning faith, filled with love for our neighbors. Then the Lord will hear and grant our petitions, for He Himself said: But seek ye first the kingdom of God, and His righteousness; and all these things – that is, everything needed for our earthly lives – shall be added unto you (Matthew 6:33).