March 21, 2013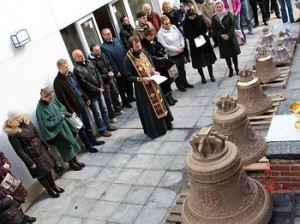 On 19 March, 2013 bells for the Church of St Mary Magdalene, Equal-to-the-Apostles, which is now under construction, were blessed in Madrid. Thirteen bells with total weight of 3600 kilograms were cast at the "Liteks" factory in Moscow.
They were blessed by the Rector of this Church under construction, Archpriest Andrei Kortochkin in presence of parishioners and guests, and the head of the Russian Centre of Science and Culture in Spain E.A. Sokolov was among them.
"This Church is being built not only for those who will pray in it but also as a testimony for those who are outside it and outside the Church. Today we have prayed that sound of bells should echo in their hearts as a calling to communion with God and to spiritual labors," said Father Andrew in his sermon to those present at the blessing.
The construction which is being carried out with support of the charitable foundation "Transsoyuz", is to be completed at the end of April. Services for Holy Week and Easter should take place in the new Church, reports the website of the diocese of Korsun.
Source: Pravoslavie.ru