Interview with His Grace Bishop Panteleimon of Orekhovo-Zuevsk, President of the Synodal Department of Church Charity and Social Work of the Russian Orthodox Church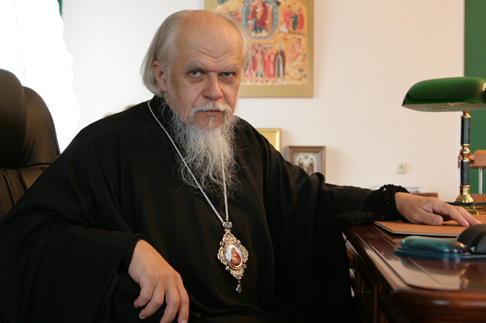 Your Grace: we were happy to learn that you expressed the willingness to participate in the 13 th All-Diaspora Russian Orthodox Youth Conference scheduled for San Francisco, CA, in June-July, 2014. This event will be devoted to missionary work in the area of charity and social work. What specific directions, in your opinion, are more important in society today, whether young people live in Russia or the "near" or "far" abroad?
It seems to me that the main efforts in social work surround working with the suffering. Whether a person is lying on the street, suffering in the hospital or feels abandoned in his three-room apartment makes no difference. Our challenge as Christians is to extend them a helping hand.
Today the world suffers from a lack of love, which is the source of social problems. So our mission in social service is first of all in warming within ourselves this gift of love, which begins with communing with the Mysteries of the Church. From this light of Christ's love, the lantern of our good work can be ignited. Remember the remarkable prayer the priest reads at the end of the reading of the first hour: "O Christ, the True Light, Who enlightenest and sanctifiest every man that cometh into the world: Let the Light of Thy countenance be signed upon us, that in it we may see the Unapproachable Light, and guide our steps in the doing of Thy commandments, through the intercessions of Thy most pure Mother, and of all Thy saints." This is the prayer of service for our neighbors.
Throughout the world we see the destruction of the traditional family. The unity of people which we once called the family is crumbling. Not least of the reasons is the desire of certain groups to force upon others their conceptions of good and evil, of truth and deceit. We as Christians must firmly resist these efforts. But we must do so with love.
What does this mean ? Let us take a simple example. While explaining to a woman that she should not abort her child, one should not only talk about the miracle of a new human life, but offer real assistance—material, humanitarian, if needed, help her find a place to live, for instance.
Or take a drug addict, for example. For denouncing this person's sin will hardly help a person suffering withdrawal symptoms. One needs medicine, and help with rehabilitation. Church communities can concentrate on such service. Glory to God if a person then comes to Christ as a result, but if not, we should not be disappointed. Remember how Christ healed the ten lepers? Only one of them returned to praise God. That is why we should not falter. Even if one solitary person, seeing our love, turns to God—this will be a great joy.
Why did you choose this method of missionary work? Is it connected to your medical background before you became a clergyman?
In my youth, after finishing school, I was tormented by the question of the meaning of life. I read a great deal, trying to find an answer. I thought that one could find truth through art. But one day, as I was passing by a hospital, I thought that maybe one of the ways to find the answer to this angst-ridden question could lie in working in a hospital, side by side with people and their sufferings. So I decided to be an orderly. There I understood that the real meaning of life is in service to others. Then, after I was baptized and became a priest, I was appointed the rector of the First City Hospital in Moscow. Some people then came to church and wished to establish a community of nurses. And so gradually the St Dimitry Sisters of Mercy was established, a nursing school and other social projects in Moscow.
What forms of youth missionary work in the social-service area do you think it is important to discuss at the All-Diaspora Conference? Which are not worth discussing?
I think that young people living abroad will find serving people who emigrated from Russia and live in poverty especially important. Many of our compatriots are now living in the diaspora. Those who went in search of employment need friendship, support, often not even spiritual, but material. In many Western countries the quality of medicine is high, and our compatriots go there, they take their relatives, their sick children for treatment. Sometimes they need to live abroad for several months at a time. It would be very good if young people from Orthodox churches abroad would target these people for help: meet with them, help them find housing and to adapt to a new way of life.
Source: ROCOR