April 1, 2013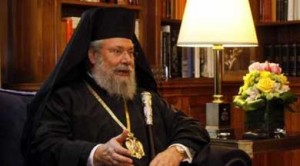 With Cyprus imposing austerity measures on the order of international lenders and beginning what promises to be a long recession, the leader of Cyprus' Orthodox Christian church,  Archbishop Chrysostomos II, said he would use its financial resources so that ordinary people "won't go hungry" or without basic needs.
He said the church's property belongs to the people, but "dignity" prevents them from asking for help. He said he has instructed parish priests to discreetly seek out those in need. Chrysostomos said after the March 31 liturgy that the church would help create jobs "so that smiles can return to our people's faces again."
Cyprus' jobless rate now stands at 15 percent, but that is expected to rise quickly, as it did in Greece where the same lenders of the European Union-International Monetary Fund-European Central Bank (EU-IMF-ECB) Troika ordered pay cuts, tax hikes and slashed pensions that created a record 27 percent unemployment, and closed 68,000 businesses in three years.
Earlier in March, as Cyprus was negotiating terms with lenders that turned out to be confiscation of up to 80 percent of bank deposits over 100,000 euros ($130,000) the Archbishop said the church was willing to securitize some of its property in the free part of the island and allow the money raised to be used to service the country's debts.
Archbishop Chrysostomos told Interior Minister Sokratis Hasikos that the properties were given to the state by Archbishop Makarios, who was President of Cyprus in the 1970′s. Although the properties have been recorded in the country's land gegistry as belonging to the state, they have always been managed by the Church but not securitized.
They are estimated to be worth 80 million euros, some $102.3 million. The church is expected to lose about 100 million euros ($130 million) through the bank confiscation tax at the same time, depleting resources that could be used to help the poor.
Source: GreekReporter